We had quite the weekend! Some hiking, some decorating, some envelope opening (much more on that later after we share the news with our families on Thanksgiving!)… it's enough to wear ya out.
Sunday was cold, in the 30's all day. In the afternoon, everyone crashed, so I took advantage of the peace and quiet in the kitchen.
My favorite candle was lit and Christmas music was on (yes, I know, it's too early. I caved). I sautéed onions and simmered tomatoes, knowing that only a creamy soup would do on a day like that.
It's funny how the kitchen has become my personal haven. It wasn't always that way, but now there isn't much I savor more than a few uninterrupted hours of solitude and delicious smells. Stirring and tasting relaxes me and gives me time to explore my thoughts and reflect on this life that I'm grateful to live.
Whew, deep thoughts for a Sunday afternoon! Back to the soup…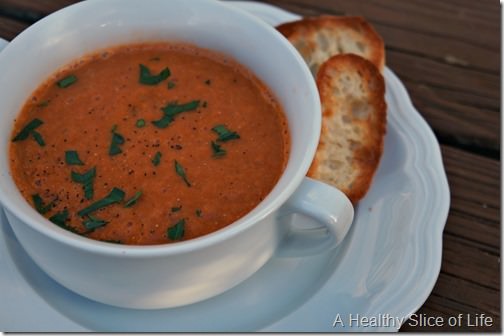 It turned out to be exactly the creamy comfort we needed on a frigid November day.
Even Hailey got in on the action. I mixed her portion with brown rice, because soup + toddler = epic mess. She happily downed it.
I threw in a simply dressed salad and grilled cheese for David and me, which reminds me that I've been loving this simple homemade dressing lately.
And who couldn't use a little more apple cider vinegar in their life? It is cold season after all!
For recipe, click HERE.
What is your favorite soup for a cold day?