Last year I almost missed strawberry season, which in North Carolina is from mid-April until late May. Late last May I decided to take the girls but when I looked around, all but one tiny farm were closed. Luckily the small farm was beautiful and we had a wonderful time. But this year, I wanted to beat the heat that tends to come and settle in quickly, so this past Saturday morning, we were some of the first people to arrive at Patterson Farms.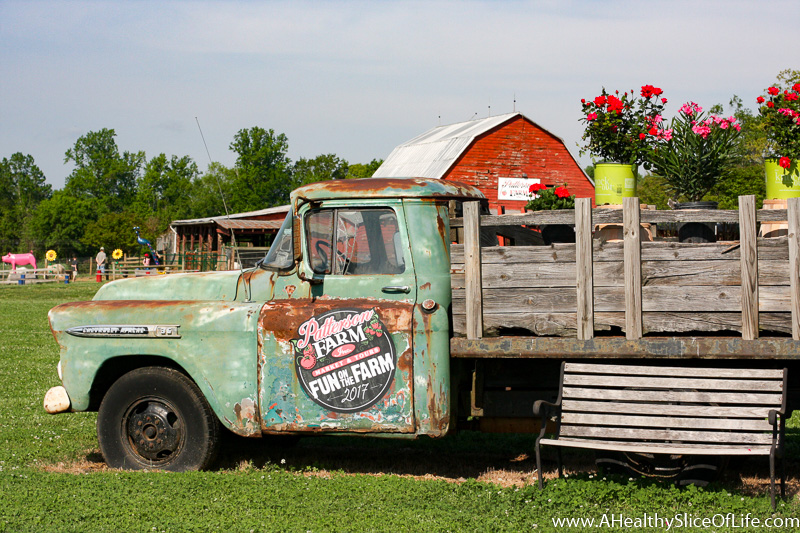 The temperature was barely skimming 70 when we pulled up.
The girls headed towards the field but then ended up squatting by the corner at the entrance to scour for strawberries until I pointed out that the entire field was full of them.
They worked slowly and methodically, picking only the brightest red berries and plopping them one at a time into their over-sized baskets.
The breeze was blowing, the girls could wander at will, the sun was shining, and we could hear the sheep bleating in the distance. I must have exclaimed "this is the perfect day to be out here picking strawberries!" no fewer than 15 times. And it truly was.
Top (currently 40% off! I'm wearing a petite small for size reference) / Sunglasses / Sandals / Shorts (old)
After filling their baskets only about a quarter of the way, the girls realized they could sample the literal fruits of their labor. Quite quickly, picking strawberries turned into alternating one for the basket and one for their mouths.
I have no clue where they got that idea from.
After 30 minutes or so, their attention began to wander, so David and I started picking up the slack.
But once the girls spotted all the other fun available to them, it was all over.
The place might as well have been Disney World in their eyes. From cows pulled by four-wheelers
to cows set up for milking, the girls giggled and shrieked as they ran from setup to setup.
David and I meandered behind them, happy to be at a place where we could just let them just run free.
Thus what prompted yet another "this is the most perfect morning ever" to come from my mouth.
We made our way through the playground and into the barn, where baby animals abound. It took all my willpower to not buy a couple baby chicks or ducks to bring home for the backyard. Thank goodness I got distracted trying to ensure this sign's warning didn't come to fruition.
All in all, the morning was pure spring perfection and by the time we were leaving, the place had filled up. There was a line for the cow train and kids were flooding the playground and gem mining station. It appeared to be a great kick-off weekend for Patterson Farms and if you are local, I highly suggest checking it out. I swear they've added so much more in the past couple of years.
It was a perfect kick-off spring weekend and now I have to figure out what to do with a couple gallons of strawberries! I'm thinking jam and plenty to prep for the freezer!
Do you enjoy pick-your-own places?
I'm on the hunt for a blueberry farm (anyone know of any?!) and this fall, I am determined to finally follow through and go apple picking. Such a fun experience!