Also known as, just what the therapist ordered! Not literally, but after all the emotion I was feeling on Friday it was a very mentally refreshing weekend. I usually like to fill it with friends or family, but being just the four of us made for a rejuvenating several days.
We kicked it off Friday with some boat time. Our boat club allows reservations 45 days out, so I mark the big holiday weekends on my calendar 45 days in advanced so I can get our favorites. Friday at 3:00 we had a tritoon. It was a great option for the evening's activities of cruising, swimming, and dancing on the boat. Our favorite game is where we pass around the phone opened to Spotify and everyone gets to add a song to the queue. We end up listening to everything from Elvis to Paula Abdul to Zach Bryan.
To keep things easy we pulled the boat on shore and got an early dinner at Eddie's. I had the crabmeat nachos. Because I sometimes get asked about lake dining, Eddie's has a great patio but the food is always just so-so. It has a great lake vibe atmosphere though!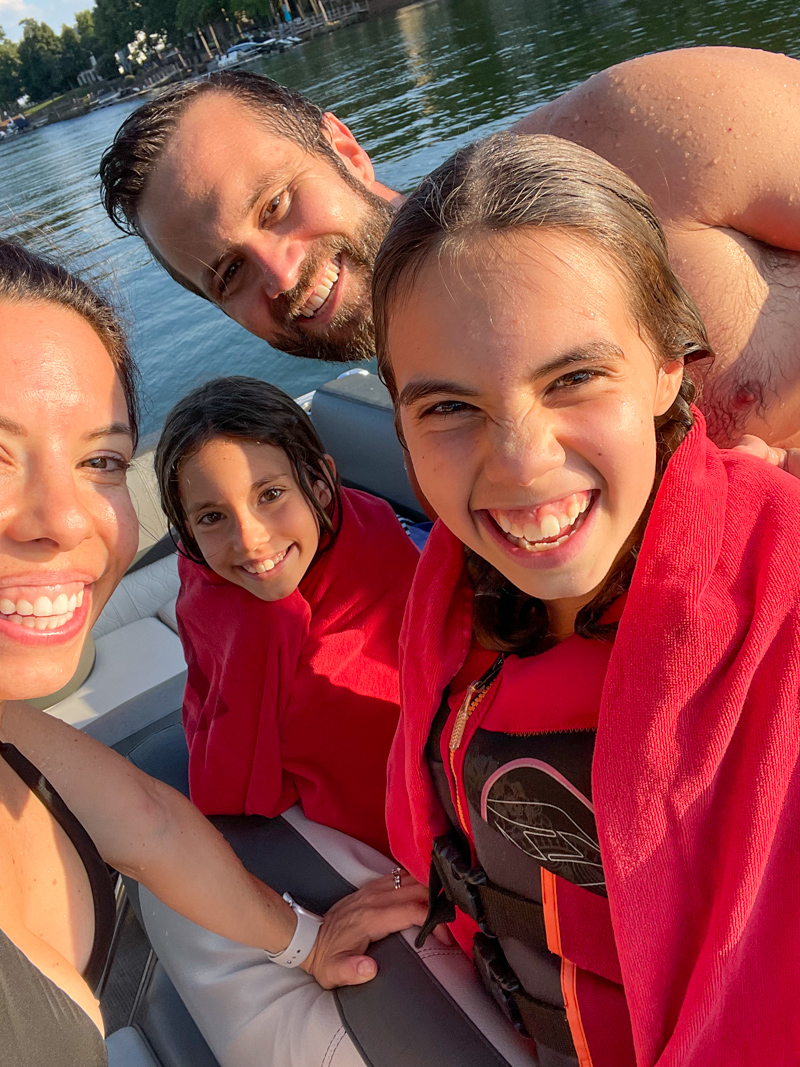 Saturday morning we were up and back on the water, but this time with a surf boat. We were determined to get both girls up, so I spent two soggy hours floating in the lake to help them hold the board while David drove the boat, but we had success- they both got up!
David gave me a crash coarse on driving the boat so he could have a turn surfing and while it's not my comfort zone (I get nervous trying to watch for other boats and watch the surfer), we made it happen. I surfed a bit, too, though I still can't successfully drop the rope. I asked Hailey to snag a picture of me surfing and I think it's safe to say she nailed it.
Saturday afternoon was all about food and football. Hailey helped me make White Chicken Chili Corn dip and we ate it as part of a snack spread of veggies, grilled wings, dips and grapes. We cheered on my Georgia Bulldogs to a victory over Oregon and then went for a late evening family walk, taking turns hiding from Finley and having her sniff us out. The kids loved that.
Sunday felt like a bonus weekend day. We worked out, we picked up the house, then the girls and I went shopping at World Market. I've loved that store lately because the offer free hot tea and all the fall items are out. While on the topic, can I say that I 10/10 recommend decorating your home with items you like? Obvious, right? I've always lacked confidence in my decorating abilities and am just now embracing that I don't need a home that is designer approved; but rather a home that makes me feel warm and happy when I look around it. And I'm loving it.
Sunday evening we grilled hotdogs, I made slaw, and we watched more football while playing a couple games of Scrabble. Last time we tried with the girls they weren't quite ready for it, but this time they both ended up loving Scrabble and have been playing it on their own own a lot, too.
Monday morning I had a chiropractor appointment, then David talked me into a 90 minute Bikram yoga class. We both keep talking about returning to some hot yoga, something we've enjoyed together a lot through the years, but y'all… jumping right back in to 90 minute heated Bikram was intense!
I loved/hated it but we survived and felt completely wrung out, in a good way. We grabbed some Clean Juice afterwards and headed home for an an afternoon of downpouring rain, a slight crawlspace flooding, some schooling (we started our new Gather Round Farming & Food unit), and some relaxing. I made Greek pasta salad for dinner, we played Scrabble, and we cheered on Georgia Tech to a pretty solid first half.
And now I'm entering our first week of full activities (co-op! soccer! swim!) feeling peaceful and appreciative of the solid few days of downtime. I hope you had a great weekend, too, and that your short week is off to a great start!