The amazing thing about babies is that things change day to day.
The terrifying thing about babies is that things change day to day.
When we brought Hailey home, I had to abandon any concept or hope of a daily routine and just take every hour as it came. But around the 6-week mark, I definitely started to see some more patterns in her needs.
Thankfully, that allowed me to plan ahead at least a little bit, and try to schedule other things through our day.
At six weeks old, I started to feel more comfortable going out with Hailey, because I also felt more confident in my abilities to calm her.
I owe this largely to the fact that she was a good baby and didn't really fuss unless she was hungry, tired or needed to burp 🙂
Even as a crazy Type A scheduler, I knew that I wouldn't be able to count on a strict schedule at 6 weeks (and I really didn't want to — I loved all of the surprise developments I saw with Hailey. I know that if I had pushed too hard to follow a pre-determined routine, I would have missed some of the joy of just being with her).
But for both of us, I tried to find a few consistencies in the natural ebb and flow of daily life and create a loose schedule around that.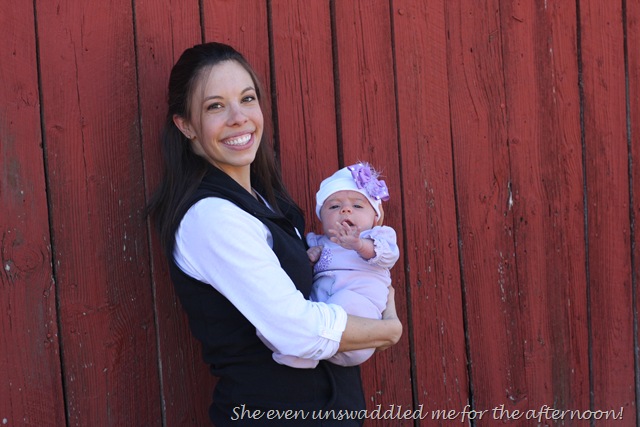 I documented an average day with a 6-week-old baby and since I always love to sneak peeks at other family's lives, I am sharing it here with you!
A Day in the Life of a 6-Week-Old Baby
| | |
| --- | --- |
| 7:15 AM | Wake up. Feeding takes about 15 minutes. Change diaper. Dress Hailey and play until I see clear signs of sleepiness. |
| 8:45 AM | Hailey goes down for a nap. I quickly get dressed and run to the computer to blog. |
| 9:45 AM | Hailey wakes up. Change diaper. |
| 10:00 AM | Feed again. Takes anywhere from 20-30 minutes if we take our time. Usually she 'works things' through while eating (FYI: breast milk acts as a laxative) and that drags things out. During this I play on twitter and read blogs on my phone. Again, we play (go on walk, tummy time, make faces, sing songs, wiggle, etc) until I start seeing big yawns and sleepy eyes. |
| 11:15 AM | Change diaper and put Hailey down for a (hopefully) long nap. During this time I return emails, do work, prep dinner, do laundry, make phone calls, run errands, eat lunch, etc. |
| 1:15 PM | Hailey wakes up and it's time to eat again. Usually we change another diaper, too. And, we play! Then I see sleepy signals… |
| 2:30 PM | Hailey goes down for another nap. I try to squeeze in some more work and emails. Also, I'll stock diapers, empty the trash, pick up the house, acknowledge Koda, etc. Truly, it's amazing how efficient I am nowadays. |
| 3:15 PM | Hailey is up. Let's change another diaper. Why not, right? That's usually the last real nap of the day. From here on out, it's mostly Hailey time. |
| 4:00 PM | Feeding time! |
| 4:30 PM | From here on, it's a mixture of playing and cat napping. Once 5pm hits, I turn on the news to feel connected to the world. During a cat nap, I'll finalize dinner prep (or call Hubbs and ask him to pick something up depending on how the day has gone ;)). We also wander outside, check the mail, let Koda run and chat with the neighbors. |
| 7:00 PM | Time to eat. Hailey eats again, and Hubbs and I eat sometime between now and 8:30, too (depending on when he gets home). Play, rocking in the glider and cat naps continue through the evening while we work in the office, chat or watch TV. We change a diaper or two throughout this time, too. |
| 8:30 PM | I pull out the 'ol pump and pump both sides (usually results in about 7-8 oz of milk total). During this, Hailey gets tummy time on dad's chest. She loves it! |
| 9:15 PM | Hubbs gives Hailey a bottle (sometimes well, sometimes it's more a challenge). She eats about 3.5-4 oz. |
| 9:45 PM | If it's a bath night (about every 2 days) we give her a bath. She loves it. Then we towel her off and use a hair dryer on low to make sure we dry the creases really well so she doesn't get neck cheese. It's real. And it stinks! |
| 10:00 PM | Hailey gets a fresh diaper, then Hubbs swaddles her nice and tight, using 2 blankets. We put her into the Moses Basket by our bed and turn on the hair dryer. I turn off the overhead light while we brush our teeth and get ready for bed. We crawl into bed about 10:15 and I turn off the hairdryer and turn on the Sleep Sheep. Good night to all of us! |
Like I said, this wasn't exactly what everyday looked like, but it's close to what most days mimicked.
In terms of sleep, Hailey was really good — ranging from 10pm to 4:30-7:30am.
If she woke up before 5:30, I'd feed her (a quick one, about 10 minutes total), change a very dirty diaper and then put her back down so we could both get a little more sleep.
If she woke after 6:15ish, I did the same routine, but I'd usually stay up and get a jump start on computer work.
This is what we did when we had one baby. When we grew to a family of four…well, things changed.
You can see all of my motherhood posts here!