Remember when link-ups were all the rage? (WIAW… need I say more?) I haven't participated in a while, but today I'm excited to join up with Maggie, Marquis, Aubrey, and Carolina for a fun topic- marriage after babies. Each of us has written on this specific topic and you can find their posts by clicking on their names. Don't just read though, join in the #MomTalkTuesday conversation on social media and on this post. I love hearing your insight!
Just like there are different seasons in motherhood, I've also experienced different seasons in my marriage. That initial honeymoon phase was sweet, flirty, and fun. We traveled, went out to dinner, and basically still got to maintain our own ways of doing things. Then came pregnancy, which was exhilarating and exciting. We spent evenings wondering what this new life would look like, but also still maintaining a normal we always knew. Then came the phase of actually becoming a family of three. While I'm well aware of the nine months leading up to the transition, it still all seemingly happens overnight. With the sweet cry of a newborn, we went from being Brittany and David to being mom and dad.
freshly out of the hospital- happy, delirious, and already exhausted
It's a whirlwind of emotions you can't fully understand until you go through it, no matter how many blogs or books you read ahead of time. It's life changing in all the incredible ways you hear about, but it also rocks the structure of life as we knew it. In between trying to learn how to implement the 5 S's and how to eat with one hand, we also were seeing each other in new roles for the first time. Seeing David take on fatherhood filled me with a deeper love for him than I even knew was possible. However, when life was taken over by diapers and sleep schedules and nursing bras, it took some time to learn how to balance us as a couple and us as parents.
It took some time, and getting to a point of more reliable sleep, but we learned how to be us again. Not the us we used to be, but an even stronger and more in love us than we were before. Having a baby is one of life's most pivotal moments, and like all pivotal moments, it can break you apart or make you stronger than ever. It's taken us intention and effort, but we're still in the latter camp. Here are five things that have helped us stay connected after kids.
5 Ways to Stay Connected to Your Husband After Kids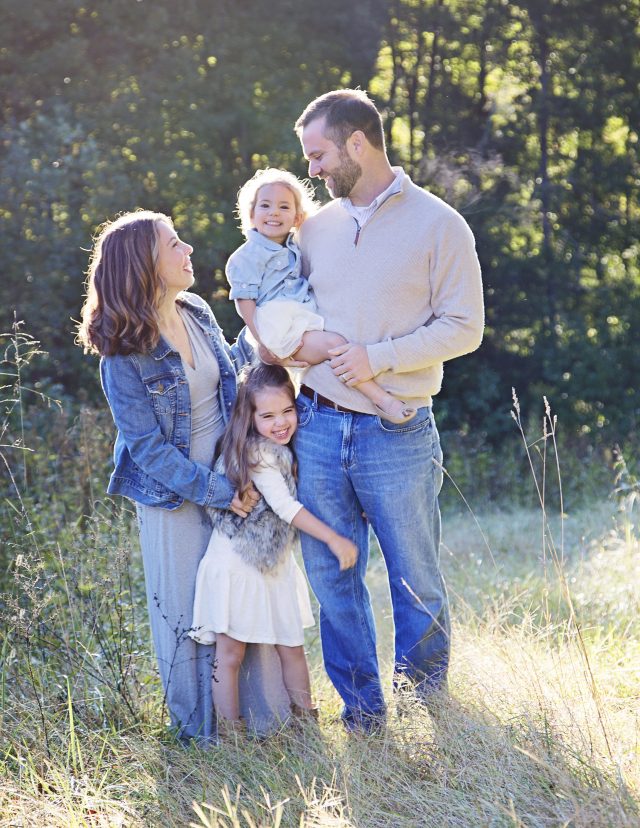 (Re)Define rolls and responsibilities.
Even if you had responsibilities down to a science before kids, it's going to change afterwards. After a little poor communication and silent frustrations, we found it was beneficial for us to sit down and comb through it all. We discussed everything from grocery shopping to trash duty to oil changes and middle of the night wake ups. We didn't necessarily assign jobs and never waver from them, but it helped to know how we each felt about certain jobs and roles. For example, I don't mind deciding what is for dinner and implementing the plan, but I'm totally grossed out by toilets and would reallllly prefer not to have them on my responsibility list.
Talking through the household responsibilities and creating a plan together helped ensure that we were on the same page. After having a baby, it's like you have a brand-new relationship in many ways—meaning everything is up for renegotiation.
Maintain a friendship.
We've worked to make it a priority to know the details of each others lives by asking questions and expressing genuine interest. As a new stay-at-home mom it was really easy for me to get caught up in what I was doing all day long, but sometimes forgot that David had just as many hours of the day he was spending in his world. That renegotiation he was going through at work was as important to him as nailing the perfect nap schedule was to me. It helped us both to share these things that were a big part of our days and lives and feel like the other person truly cared.
Friendship in marriage has to be nurtured or it faces the danger of becoming a business relationship. A week or two of falling into the roommate trap is normal, but if we wait too long to intentionally pull out of that cycle, then it's easy for the emotional intimacy to fade and for resentment to develop. Research shows that the emotional connection that married couples share is said to be five times more important than their physical intimacy. (more research finds here)
Keep evenings sacred.
Or mornings. Or whenever works for you. For us, evenings were (and still are) vital. We worked hard to create bedtime routines for the girls as soon as was appropriate and possible. In the early years, we'd put the girls to bed, then enjoy dinner and conversation together. Sometimes we'd just bum and watch a show together on the couch. Whatever we did, it was nice to have that time to ourselves, as it gave us time to just be a couple.
I noticed that when we had a baby, our couple time quickly became family time. While family time is wonderful, so is time spent just the two of us. Even though it isn't as plentiful as it was before baby, it's still important, and by keeping the evenings to ourselves, it helped us keep that connection as a couple.
Have sex. Even if it means scheduling it.
Is there anything more deeply personal than your sex life? I sure can't think of much! So I'm not going to dive into the details of ours anytime soon, but I can't talk about staying connected to your partner after having kids without mentioning it. The fact is that just like roles and responsibilities, you have to rebuild your sex life from the ground up, too. For us women it make take some time to feel comfortable physically and emotionally connecting in that way after kids and that's totally ok. The best thing we can do is get comfortable talking about it with our partner and both parties being willing to be vulnerable about our wants and needs.
It's going to look different for everyone, but in case you're curious – a meta-analysis of over 25,000 people found that the optimal frequency of sex for couples, no matter how long they have been together, is once a week. A 2008 survey of 50 sex researchers found that the perfect stretch of time for intercourse is…seven to 13 minutes.
Talk through money. Then talk through it again.
Financial issues are about so much more than money: They're about our values, identity, security, and deep-rooted fears. It's no wonder that finances can be such a touchy subject.
David and I combined our finances from day one. He's been a huge advocate of both of us understanding all our finances from life insurance to 401ks to investments and taxes. While I don't have it all mastered, I'm a part of every meeting we have with our financial advisers and we have very open and honest conversations about where we currently are financially and where we want to be by when.
We honestly thrive on these conversations because they are so closely linked with getting to dream together about the kind of life we are building. While this means we do have to discuss not-so-fun issues (like how the HVAC is on its last legs or how high our credit card bill crept up last month), it also keeps us on the same page and has us both clear about where our money goes. It's nice to have a plan and feel that we are tackling it together.
There are a million other little things I could add. Goodness knows we've definitely learned a lot along the way (read how we met and our ups and downs of dating here). I feel there is so much more that I could elaborate on, like these three simple ways to show up for each other in marriage. But while some principles may be cornerstones, the truth is that a happy marriage looks a little different for each couple.
I'd love to hear your perspective on this one-
What has helped you stay connected to your spouse after becoming parents?