Did you know it was possible to bake an entire loaf of bread with a giant bubble/hole through the center of the loaf?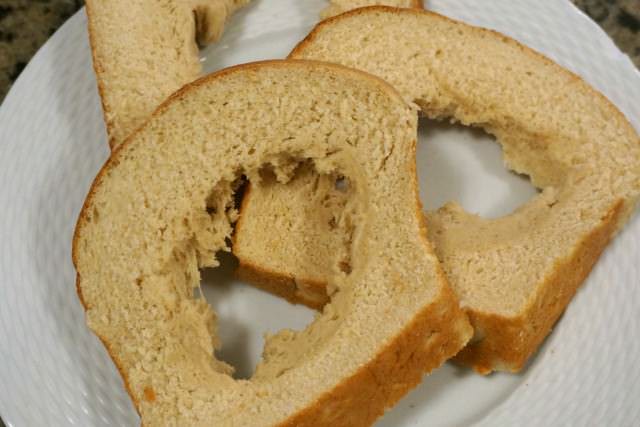 Well, it certainly is when you take the dough out of the bread maker and bake it yourself in the oven. But no worries, as the saying goes, when life hands you bread with a hole, make breakfast!
Not the saying you're familiar with? (Shrugs shoulders)
I've been baking up a bread storm recently, which I need to get in check because eating a loaf every 2 days by myself is getting excessive. Still, I'm loving it. With the help of my bread maker (I have this one) I've enjoyed freshly baked bread for cheaper than a bakery and with no artificial ingredients whatsoever. It not only tastes (and smelllssss) amazing, but it's saving us some money too.
Recently we've cracked down (yet again) on our grocery budget. It's been rising (yet again) and we wanted to take a closer look as to why. I know one definite reason is we've been eating at home more, which we will continue to do for sometime after Saturday night's circus at Bad Daddy's.
High chairs are not Kaitlyn's thing. The girl likes to be in the action. Maybe we'll try dinner out again in about 3 years.
I digress…
The focus on the budget isn't to make the bill as low as possible (though lower certainly is better, amiright?), but to be more aware of what we are spending and keep it in check. Here are 5 ways I'm reining in our grocery expenses…
1. Using up the freezer inventory. Recently we were gifted about 15 pounds of grass-fed beef in different cuts. I know, I know, incredible! I'm making sure to incorporate it into our weekly plan, but while filling the freezer, I came across some frozen chicken and a couple bags of frozen vegetables that had been in there a while. In effort to not let them expire and go to waste, I am writing them into the meal plan. That goes for the pantry too!
2. Making a list to avoid grabbing pricey extras. I'm pretty great at sticking to a list, but sure enough as I'm checking out I see one of these beauties and can't help myself. Though I love them, I need to account for them in the budget and not just consider them a freebie, as tossing a few in the cart will jack up the bill quickly. So instead, I pull a Santa and make a list, write it out twice (I know I'm not the only one), then stick to it.
3. Add in at least one cheaper meal per week. THIS IS BRAND NEW INFORMATION said none of you ever, but I got out of the habit of vegetarian meals, cheaper cuts of meat or leftovers and now that I'm incorporating them again, it's easy to see a difference in the grocery bill. This crock pot black bean soup is a regular in the rotation, as David says it is his favorite meatless meal at the moment.
4. Buying alcohol separately. The grocery store really isn't the cheapest place to buy beer and wine, but I find myself doing it anyway because, well, motherhood requires it but doesn't allow for shopping at multiple stores on a regular basis. This month we created a separate budget for alcohol and bought it all ahead of time. I considered Total Wine, but actually found better prices at Walmart.
This bottle of Josh wine is usually $14-$15 at my grocery store.
5. Investing in from-scratch items. I groaned a little as I had to buy more flour (my favorite) and a new bottle of yeast, together totally about $10. However, once I considered how many pizzas or loaves of bread it would make me, I realized how it is saving me money overall, and for a higher quality product.
I hit up both Whole Foods and Harris Teeter for this week's food haul and it totaled about $165, including 15 cans of no-salt-added green beans for Koda and a couple non-food items like tin foil and an aluminum pan to take some of these to a friend. I feel pretty good about that, especially since we are eating at home now for the foreseeable future.
BONUS: Along the idea of from-scratch, I like to use every ingredient to it's maximum capacity. Last night's roasted chicken remains went into the crockpot with my freezer broth bag (#8 here) and is now ready to be used in Thursday's vegetable beef soup. Last Friday's extra pizza dough was frozen, then used for Hailey and Kaitlyn's dinner last night. Leftover rice can be put into soup, etc. I realllllly hate to throw away food and try to get creative about incorporating leftovers wherever I can.
*Looking for lunch ideas? I was too and y'all gave me a ton of great ideas (thank you!) on my facebook page, so check them out if you're in a rut.
Do you keep a close eye on your grocery bill?
What do you find makes the biggest difference in how much you spend?