For the past month or so I haven't paid much attention to what I've eaten. That doesn't mean it was unhealthy because I truly enjoy eating natural foods that energize me. However, in my attempts to keep up with Hailey, my meals have been a bit more 'grab what you can when you can', meaning more carb heavy. I haven't thought much about it, but now that she will be one month old tomorrow and I'm closer to feeling normal (though I'm not healed yet), I want to really start focusing on my post baby body goals.
Today I decided to bring back the calorie count version of WIAW- out of curiosity. Does this mean I'm going to count calories everyday? Heck no. I don't have time for that. But I am going to try and be more conscious about balancing out my carbs with those other nutrients and making sure vegetables appear more often in my meals.
The good news is I'm clearly doing OK, because Hailey isn't having any problem packing on the ounces… just look at those cheeks!
Here we go…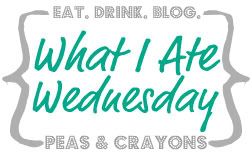 Breakfast
A hot cup of decaf with 1 Tbsp Pumpkin Spice Creamer.
With 1/2 whole wheat bagel topped with 1 Tbsp chive and onion cream cheese (redued fat), 1 1/2 eggs (3 eggs, split with mom!) with mushrooms, peppers, onions and spinach.
Calories 327
Carbs 41.42
Fat 11
Protein 16
Snack
I've been loving this combo lately, even though it may sound odd! A bed of spinach topped with 1/2 cup quinoa (I made a big batch on Sunday to eat all week) and 1/2 cup kidney beans. Microwave for one minute, then top with goat cheese and a drizzle of Newman's Own Lightened Up Balsamic Vinaigrette.
Calories 352
Carbs 46.2
Fat 9.95
Protein 17.95
Lunch? Another Snack 🙂
A honey Chobani with 2 tsp chia seeds and raspberries.
Calories 213.97
Carbs 28.02
Fat 3.6
Protein18.51
Snack
I quickly grabbed 1/2 a turkey sandwich… downed it… and proceeded to make another half. So, 1 turkey sandwich with mustard on wheat.
Calories 277
Carbs 42
Fat 2.5
Protein 23
Dinner
Steamed (in the microwave!) broccoli, topped with nutritional yeast.
And stuffed shells from my make-ahead-and-freeze meal. They were great!
Calories 420
Carbs 60.9
Fat 11.2
Protein 24.65
Dessert
A scoop of delicious ice cream (it's 1/2 vanilla and 1/2 caramel in the same container!!) topped with supersized dark chocolate chips.
I also ate my (unpictured) Juice Plus gummies!
Calories 256
Carbs 32
Fat 12.5
Protein 4
~~~~~~~~~~~~~~~~~~~~~~~~~~~~~~~~~~~~~~~~~~~~~~~~
Daily Total
Calories 1845.97
Carbs 250.54
Fat 50.75
Protein 104.11
Thoughts: I'm happy with the amount of whole foods I got in yesterday. I must be honest and say that it hasn't been like that everyday (usually a bit more Kashi GoLean Crunch and turkey sandwiches and apples sneak in- you know, basics).
What is your favorite grab 'n go healthy food?
I'm always looking for new, easy ideas!