Lately (after the holidays), I've really focused on eating as many whole, non-processed foods and vegetables as possible. I'm really quite proud of the amount I've been able to consume each day. Sometimes I run into a rut of boring ways to eat veggies, which is why I love these WIAW posts. I often find myself clicking back through my old ones to get idea of things to eat  I hope they offer you some ideas, as well!
I love healthy foods, but I certainly would get bored eating the same thing everyday… unless it was Mexican. I'd be fine with that.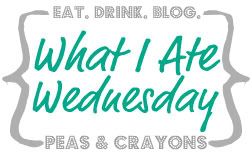 Breakfast
2 clementines and a handful of almonds, plus the remains of Hubbs' green monster. (Hubbs' green monster?! Oh yea, you read that right).
It was quick and easy because I had to blog, eat, feed and dress Hailey (and myself) and still be at the gym by 8:15 for pilates. Somehow I made it work! However, taking a picture of myself as inconspicuously as possible did not work out as well.
Elevensies
(I eat like a hobbit)
A big bowl of leftover veggie lentil stoup, drizzled with Texas Pete.
Snack
Above is the Caribou Coffee Vanilla Pomegranate Oolong Latte with skim. It's so good!
I was at Caribou meeting up with my new chicken friend and her baby girl for the first time. We ended up hitting it off and I'm thrilled to have found a friend who in the neighborhood next to us!
Lunch
Spinach, romaine, tomatoes, carrots, celery, onion, goat cheese and a cut up veggie burger, drizzled with Newman's Own Light Balsamic.
Plus 2 celery sticks smothered with Wild Squirrel Peanut Butter.
Dinner
It started with another side salad (I told you… so many veggies, right?!) and ended with Jenna's dairy free stuffed shells.
These have NO dairy in them whatsoever. Instead they are stuffed with a mixture of tofu, nutritional yeast, olive oil, spinach and salt. It was my first time trying them and I was shocked at how much the tofu tasted like ricotta!
I let Hubbs eat them before telling him what it was and he said he was surprised, too because they were pretty good (though he would have said they weren't my best batch
).
Then I watched Biggest Loser, made fun of their obvious product placement (Jennie-O) and called it a night!
Have you been getting in your veggies lately?