After coming home from Hilton Head I went to the grocery list-less. It resulted in a few spontaneous purchases and an overload of produce, so yesterday I was determined to try and eat up a bunch of it.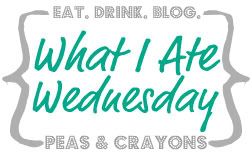 Side note, I don't leave Hailey in the bumbo on the counter. She likes to watch what is going on, so I put her in there if I am within arm reach. She did enjoy helping me assemble smoothie ingredients though.
Peanut butter, spinach, 1/2 a banana, frozen cherries, spinach and this gem of a find:
Silk Dark Chocolate almond milk. Woah baby. This stuff is seriously awesome and I could drink a a whole glass of it by itself, which I can't usually do with almond milk. However, this stuff just tastes like chocolate milk. David agrees, so you know it's true.
Oh, I added MILA, too, for some chia omega-3 goodness! MILA is dissolves beautifully into smoothies.
So basically, it tasted like dessert for breakfast. I'm ok with that.
Hailey graced me with a 2.5 hour nap yesterday morning, and I kicked some serious productivity butt, including throwing a bunch of veggies and lentils on the stove for lunch.
Indian spiced (turmeric, curry, etc) carrots, sweet potatos, onions, tomatoes, celery and lentils over spinach. I had two bowls, then Hailey joined me.
She had carrots and sweet potatoes and I split 2 whole milk mozzarella string cheeses with her.
After many-a-errand, we returned home. Another nap for Hailey and another snack for me.
I used this pouch t create a tuna salad (tuna celery, sweet pickles cubes and plain Greek yogurt) over romaine.
Plus carrots and hummus that I didn't fancy up for you.
When David got home I squeezed in 2 miles in 22 minutes
then showered in record time to make it out the door with David and Hailey for more errands. It ended up taking David over an hour to find a place for a TB test (work related), so Hailey and I sat in the car, read books and played on twitter.
Obviously things took longer than we anticipated, so we decided to grab dinner out. I knew just where to go- BluStar Grill. Yes, I'm becoming quite smitten with them and their fresh food!
I had the bison burger (only 1/2 the bun) and split the roasted broccoli (which is incredibly fresh and flavorful) with Hailey.
Back home, I ended the night with #fitblog, 3 dark chocolate Hershey kisses and a top-notch photo… ha.
Whew- doozy of a post, huh? Hope you're still reading so I can wish my handsome hubby a very happy THREE YEAR ANNIVERSARY!
It just keeps getting better <3