Have you ever wanted to see what I do all day on a minute by minute basis?!?!
…I didn't think so, but with the number of pictures I snapped yesterday, you'd think otherwise.
The days started. Seeing that 5 on the clock when my alarm goes off sets off two emotions in me. Dread- uuuughhhh I'm so tireddddd and enthusiasm- I have so much time to get things done before H wakes up!
Giving myself that much time means I'm super productive and it also gives me time to think up really amazing ideas, like let's put everything I eat all day long on a holiday platter! Whee!
2 scrambled eggs with spinach, salsa and cilantro, half a bagel and veggie cream cheese
Are you feeling festive? Because that's what I was going for.
Yesterday morning we ventured to the Mooresville library, which has an amazing kids area. Computers, activity tables, books, nice people and story time!
Somehow this fills up the entire morning. Add this to my list of things I didn't know before being a mom. When a mom says they are going to story time, that means they are booked from 9am-11:30am. How does that happen when story time is only 30 minutes long? Still a mystery to me.
Anyway, we got home, Hailey hit the hay and I hit up the kitchen. I made lunch- success!
Simple spinach salad with tomatoes, feta and balsamic, leftover Chobani butternut squash soup and an apple.
And I tried out a new recipe- failure.
It happens. More often than I admit.
Lately I've been all about the afternoon cup of coffee. It's decaf, but still makes me feel cozy. Especially when paired with an Oreo ball. Have I mentioned I love cookie exchanges?
Seriously? Still using the platter? YUP.
The afternoon was beautiful and we filled it with crafts and outside playtime.
…and if there is anything cuter in this world than a toddler's bouncy run, I've never seen it.
Seeing Hailey run reminded me that I should do the same, so the remainder of the afternoon filled up with the gym (3 miles ON THE DOT in about 33 minutes), tupperware playtime and a bowl of Kashi cereal.
I've started using Hailey's Smart Balance Milk. I always thought whole milk would taste so thick. It doesn't. It's actually quite good! Don't forget you can grab a $2 off coupon on my sidebar if you want to try it. Over there —->
David came home, Hailey went down and I went back to the kitchen to play with these…
Have you seen these Miracle Noodles? Swanson Vitamins, an awesome online vitamin and health food store, hooked me up with a gift card, so I decided to try them out.
The verdict?
They actually held up much better then I expected. They aren't mushy at all, instead they are a bit rubbery. They stretch a little and are flavorless. David didn't mind them and said they reminded him of a soba noodle. They freaked me out a little bit, but I wouldn't say they are bad, just odd. I'll bet they'd be most enjoyable in an Asian style soup.
I still prefer my whole wheat thin spaghetti.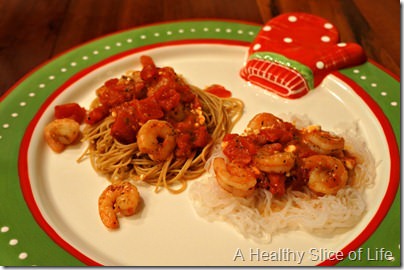 By the time dinner is over and the kitchen in cleaned up, it is usually 8:15 or so. From here on out, I'm worthless. Think feet kicked up, snuggled with Koda and catching up on the series finale of Gossip Girl. It really is the end of an era… sniffle.
As always, thanks for hosting WIAW, Jenn!
Ever tried the miracle noodle? Thoughts?
What's the weirdest food you've ever tried?