Thank you so much for all your sweet comments on yesterday's post. I promise I wasn't intending on fishing for compliments, but you all made me feel so special. Maybe it's just my crazy hormones, but I might have teared up once or twice reading your kind words.
The hungry belly was back in full force yesterday…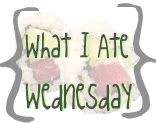 Breakfast
Half a whole wheat bagel with house cream cheese (picked up from my favorite- NY Deli!). 1 egg, 1 slice of natural bacon and some spinach leaves. A few slices of fresh pineapple on the side- YUM.
Oh yes, there was a cup of decaf with 1/4 c 2% milk as well.
calories 412.5
carbs 47.5
fat 15.5
protein 17.5
sodium 692.5 (darn that cream cheese and bacon for making the sodium so high!)
Morning Snack
I switched up my schedule a bit and ended up getting my wog in yesterday instead of yoga. Too busy to make it to yoga 🙁
I tried to get the Baby D in the picture, too, but it didn't work out so well. 3.5 miles in about 1 hour. And it's crazy how my heart rate gets up so quickly!
A Chobani Champion Very Berry (Promise I'll go back to buying the grown up version next time I buy it!) with chia seeds.
calories 134.5
carbs 15
fat 3.75
protein 9.05
sodium 41.2
Lunch
A La Tortilla Wrap (my favorite!) with Roots Garlic hummus, cucumber, mushroom, roma tomato, onion, feta, spinach and a drizzle of Newman's Light Balsamic.
calories 296.65
carbs 36.38
fat 14.04
protein 13.53
sodium 571.92
Afternoon Snack
I was out and about and suddenly felt really faint, so I grabbed what was close by. A small decaf Java Chip Light Frap from the 'bucks.
calories 160
carbs 30
fat 3.5
protein 5
sodium 180
And followed it up with a real snack once I got home
Granny Smith apple, sliced, with 1 Tbsp of PB&Co's White Chocolate Wonderful on the side. Like dessert!
Plus my JP Gummies and prenatal… on a wrinkly hand 🙂
calories 206
carbs 35.5
fat 7
protein 3
sodium 17.5
Dinner
We met some special guests that are in town visiting us for dinner at The Salty Caper, a local pizza spot. I arrived starving and started of with a salad.
A mix of romaine, artichoke hearts and tomatoes. A little lackluster, but it got food in my system!
Then we ordered a veggie pizza. It's thin crust with lots of veggies, only a little cheese and lots of spinach on top.
I devoured 2 delicious slices and guessed best I could on the nutrition content. I ended up using Pizza Hut Thin Crust since The Salty Caper doesn't have nutrition info available.
calories 466.28
carbs 58.8
fat 18.6
protein 19.6
sodium BOMB 1353.39
****************************************************************
Daily Totals
Calories 1675.93
Carbs 223.18
Fat 62.39
Protein 67.68
Sodium 2856.51
My thoughts: probably a little low on calories. Funny how I feel like I eat so often, but my calories end up possibly being a little low for what they should be, especially with my exercise. I eat whenever I'm hungry, though, so I'm not too concerned with it.
Sodium is way too high, but what do I expect with eating pizza out at a restaurant?
What was your favorite thing you ate yesterday?
Mine was breakfast- I love bagels 🙂