Maybe it was a protein-filled breakfast… or maybe a sign of labor?! Nah… probably not 😉 but my appetite was odd yesterday. I wasn't all that hungry all day, which is definitely weird for me. So here's my day of simple eats… calories totaled for your enjoyment!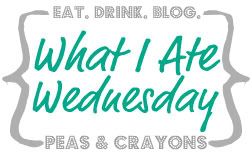 Breakfast
Breakfast on the back porch- loving this cool morning weather! A slice of wheat toast topped with a thin schmear of veggie cream cheese and 2 scrambled eggs. I ate the remainder of my cantaloupe, too!
Calories 336.4
Carbs 34.26
Fat 13.8
Protein 18.54
Snack
As a pre-yoga snack, I chowed down on a Clif Bar in the car… only to find out that yoga was cancelled. Argh.
No biggie, Koda and I got in a nice walk instead and missed the EARTHQUAKE. My first one, and I totally missed it- bummer!
BTW- Clif Bars are incredibly filling! This little guy held me over for a long time.
Calories 250
Carbs 43
Fat 6
Protein 11
Lunch
Lunch was kind of stretched throughout the afternoon. My schedule was off because I just wasn't all that hungry. Around 2:00pm I made a salad monster full of romaine, spinach and other greens, cucumber, carrots, feta, chick peas, onions and jalapenos. Odd combo, right? But yummy! Topped with Newman's Light Balsamic.
A few hours later, I was ready for the second half of lunch… whole grain penne, sauce and 5 frozen turkey meatballs.
Calories 615.4
Carbs 79.91
Fat 15.55
Protein 34.69
Dinner
After a N.E.W. Lifestyles meeting, I got home around 8:00 and even though I wasn't too hungry, Hubbs and I threw together some sandwiches.
Mine was on whole wheat, with cheddar, onions, lettuce, tomato and cucumber. Extra tomato and carrots on the side.
Calories 369.15
Carbs 50.01
Fat 12.35
Protein 9.74
Bedtime Snack
We finally watched the season finale of Master Chef (I'm so glad Christian didn't win! What an arrogant guy…) and I snacked on these delicious little guys during the show.
I also ate my Juice Plus gummies to keep Baby D healthy and happy 🙂
BTW- this was my first time trying these almonds- holy deliciousness! Just a hint of chocolate made these a perfect little snack.
Calories 136
Carbs 12
Fat 8
Protein 3
~~~~~~~~~~~~~~~~~~~~~~~~~~~~~~~~~~~~~~~~~~~~~~~~~~~~~~
Daily Totals
Calories 1706.95
Carbs 219.18
Fat 55.7
Protein 76.97
~~~~~~~~~~~~~~~~~~~~~~~~~~~~~~~~~~~~~~~~~~~~~~~~~~~~~~~
Happy thought of the day:
Live everyday like a dog 🙂
I don't know about your pup, but Koda treats every morning like Christmas morning, bouncing around and wagging her whole back half of her body like she hasn't seen me in years. It never fails to make me smile. Dogs rule!
What makes you smile today?