Yesterday's eats were a little all over the place, thanks to the fact that I'm all thrown off because of the short week. Not that I'm complaining about a 3 day weekend 🙂 Yesterday I made it to the grocery store late afternoon, so before that, I had to improvise… here's what I mean…
Breakfast
Hubbs had a late start to the day as well, so without any food in the house, we decided to head to our local diner, The Daily Grind, for some morning grub.
I started with a decaf coffee and asked for them to bring a side of skim milk for me to use in it instead of the creamer. I tend to like a little coffee in my milk, rather than the other way around, so this way I get more bang for my buck!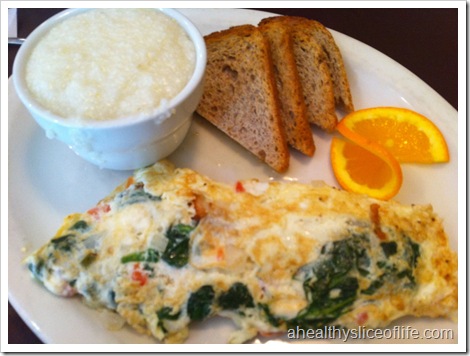 I ordered the Greek omelet (tomatoes, onions, spinach and feta) made with egg whites and requested they use as little oil as possible. There's nothing I hate more than an omelet sitting in a pile of grease. After a bite of the grits, I gave them to Hubbs and only ate 2 halves of toast (with jelly!) instead of the 4.
Total estimated breakfast (just FYI, even when I request no oil, I always factor in 1 tsp because I feel like they add it in somehow. So breakfast is calculated off my best guesses)
Calories 439.25
Carbs 39.85
Fat 17.19
Protein 21.68
Sodium 544.02
Snack
I scraped together an apple and the measly amount of leftover ROOTS hummus for a late morning snack.
Calories 111.76
Carbs 22.06
Fat 3.23
Protein 1.36
Sodium 41.38
Lunch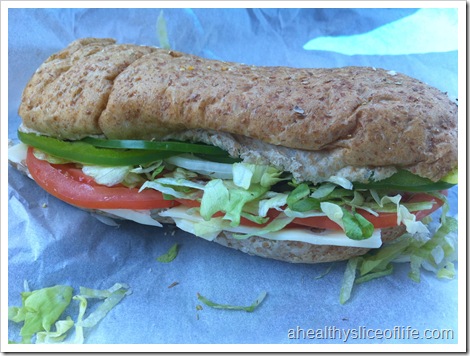 This sub from a grocery store saved the day. By the time I got my hands on it, I was starving! Wheat bread, 2 slices swiss, lettuce, tomato, onion, green pepper, banana peppers and spicy mustard. No deli meat for another few months…
Then because the car thermometer said this:
I decided I needed one of these:
It was a good decision 🙂
Calories 512.96
Carbs 65.84
Fat 19.07
Protein 10.48
Sodium 644.69
Afternoon Snack
I used up the rest of my mixed greens in what I guess you could call a 'simple salad' with a drizzle of Annie's Natural Roasted Red Pepper dressing. On the side, some Juice Plus gummies, of course!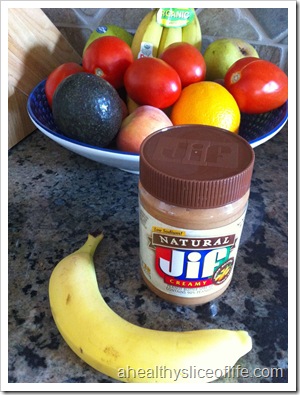 I also munched on a banana with tablespoon of JIF to celebrate the fact I made it to the grocery store and now have a fully stocked produce bowl.
Calories 270.89
Carbs 40.07
Fat 11.33
Protein 6.6
Sodium 228.51
Dinner
Dinner was a crowd pleaser… if you count a crowd to be Hubbs and me 🙂
BYOB's for all!
I ate one and snacked on a few chips and some salsa, too.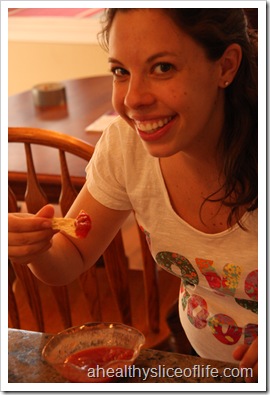 Calories 517.37
Carbs 61.47
Fat 20.16
Protein 30.84
Sodium 1087.16
Dessert
A simple peach. I love warm weather and all the fresh fruit and veggies it brings!
Calories 58.5
Carbs 14.31
Fat 0.38
Protein 1.37
Sodium 0
Grand Totals
Calories 1910.73
Carbs 243.6
Fat 71.36
Protein 72.33
Sodium 2545.76
I think I did pretty darn well- all things considered. Even my sodium isn't too outrageous. Plus, with the heat, I'm downing water like it's my job.
I'm such a creature of habit and missing my Sunday grocery shopping routine has thrown me for a loop, but I'm managing…
What day do you typically get your groceries for the week?