Whew, was I tired yesterday. I'm hoping it's a fluke and that my remaining 8 weeks of pregnancy won't have me this drained. Usually when I'm sleepy I eat a whole lot, but yesterday after lunch, I never really got hungry again…
Breakfast
Breakfast was the delicious Greek omelet I featured yesterday with a cup of (decaf) coffee with cream. Love this mug- it reminds me of how fun Christmas was last year!
*Fun fact: For coffee to hit 'decaf' standards, it must reduce it's caffeine content by 97.5%, meaning that each cup of decaf coffee only has 2-4 mg of caffeine in it.
I also snacked on 1/2 a wheat deli thin with natural peanut butter and chia seeds. Please disregard the odd focus- I'm learning how to use a new lens!
Calories 347.92
Carbs 26.14
Fat 19.39
Protein 19.41
Lunch
Mid-morning, I hit the gym. I'm getting more and more stares nowadays… I wonder why…
Since I missed out on a morning snack, I was ready to chow down when I got home, so I started with a simple salad of spinach, romaine, tomato, onion and kalamata olives. Topped with Newman's Own Light Balsamic. I'm obsessed with that dressing.
We had leftover pizza dough in the fridge from the weekend, so I tore off a chunk and made myself a personal pan pizza! Whole wheat dough, pizza sauce, diced peppers, onions and mushroom, fresh mozzarella and half of a veggie sausage, which I got to try out for free, thanks to some free coupons I got from Liz!
Calories 637.7
Carbs 71.32
Fat 26.96
Protein 26.3
Snack
Yesterday afternoon I created a masterpiece in the kitchen! For the first time I made up my own cookie recipe from scratch and they were AMAZING! I can't wait to share this recipe for these huge, delicious cookies!
Calories 347.88
Carbs 49.2
Fat 15.98
Protein 4.93
Dinner
I never really got too hungry again, what a magical cookie ;), so I snacked through the evening on a tomato and basil salad with balsamic vinegar…
A few Pretzel Crisp crumbs with homemade hummus…
And a whole fruit bar for dessert. OK, these have to have added sugar because it was so sweet!
Calories 400
Carbs 64
Fat 13
Protein 7
~~~~~~~~~~~~~~~~~~~~~~~~~~~~~~~~~~~~~~~~~~~~~~~~~~~~~~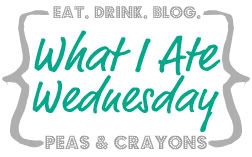 Daily Totals
Calories 1733.5
Carbs 210.66
Fat 75.33
Protein 57.64
I'm excited for tomorrow's Baby D update post because I'll have pictures to share from the nursery!!
Anything else I should include in tomorrow's prego update?