I've totally been guilty of googling 'how many calories does a 14 month old need?'
Some days I just feel like she is so hit or miss with meals and I have that common mom worry- is she getting enough? I'm not about to start calorie counting for Kaitlyn just yet, but to take a closer look at what and how much she is eating, I decided to document an entire day for this month's Munchkin Meals (first Thursday of each month!). It's not the most glamorous day of food, but here's how it went…
I try to make a smoothie for her once a day. I fill it with frozen banana, whole milk, almond/peanut butter, a date and some sort of vegetable. Sometimes it's raw spinach and sometimes I use these frozen purees (Giggle Bites). The spinach and zucchini blends in really well!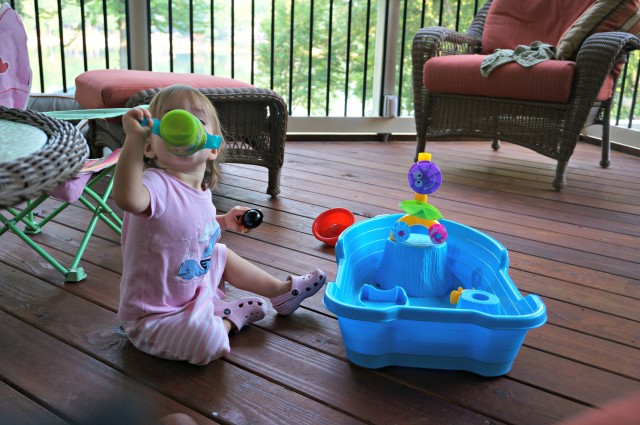 Sometimes I'll add a little protein if she is sharing it with Hailey, but otherwise I just stick to the basics. She'll usually drink a full sippy cup's worth, or close to it.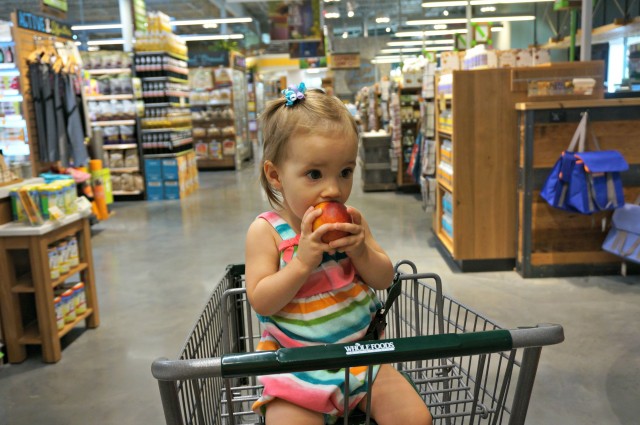 We don't always do morning snacks, because we usualy do early lunch, but if one happens to pop up, I'll offer it to her. This sweet nectarine was a hit.
Lunch was picnic style at a local park.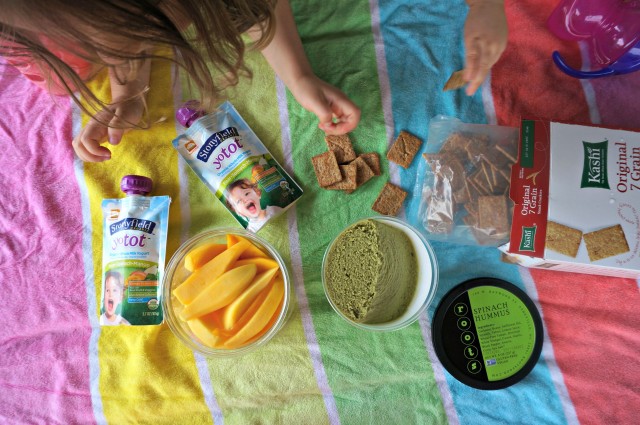 She ate about 4 crackers with hummus, 4 slices of mango and about 1/3 of the yogurt pouch.
In the afternoon she ate the rest of her yogurt pouch, a graham cracker and a few raisins. Then came dinner.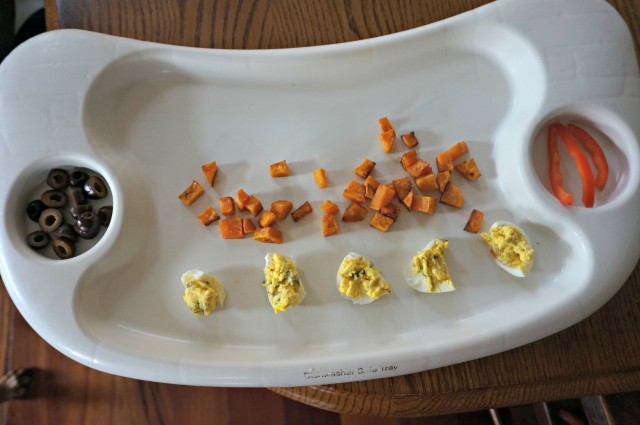 I almost held off, wanting to show a more cohesive meal, but the truth is a lot of the girls' meals are pretty piecemeal. Black olives, roasted sweet potatoes in olive oil with a sprinkle of salt, deviled eggs and red pepper strips.
No surprise what she went for first.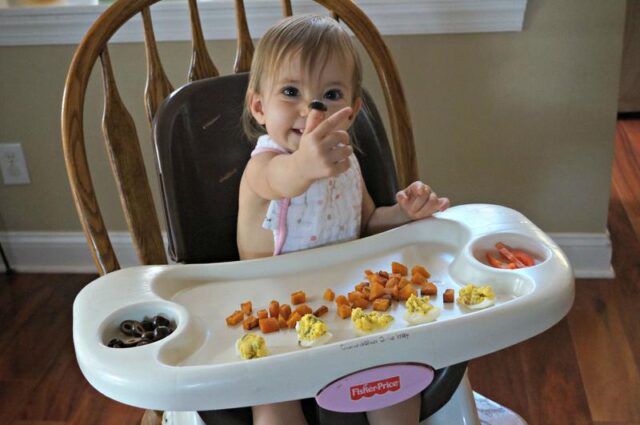 Girl loves poking her fingers in the black olives and gobbling them up.
And the finish… tada!!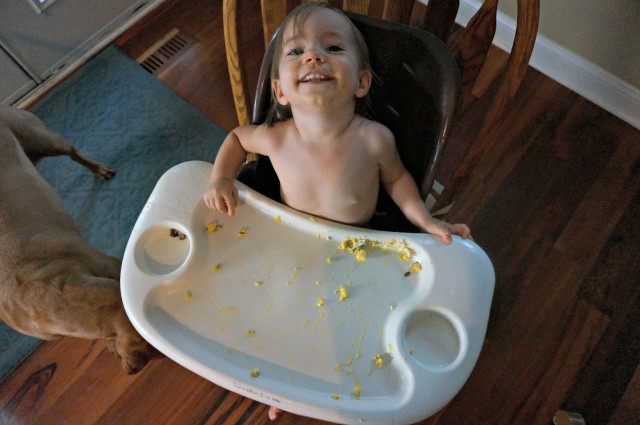 Just kidding. This is a bit misleading, as she swiped some of her food right off the tray, to Koda's delight.
She ended up eating all the olives, most of the egg, half the sweet potatoes and 1 out of the 3 pepper strips.
She doesn't drink milk, though I keep offering, but sips on water all day long. She still nurses once in the morning and once in the evening before bed.
What have your kids been eating recently?
Any must try foods?
Related Posts:
Munchkin Meals: 13 Month Eating Challenges
Munchkin Meals: A Day of Eats for Hailey at 14 Months Old