I'm trying to type this post with a puppy curled up on my lap. Sure, she's about 40 lbs now but still thinks she's itty bitty. I kind of love it, even though it's making typing a bit more difficult, so I'll keep it short and sweet today. More Finley updates to come soon, as I've really been trying to step up my training with her.
But for now, let's talk food! It appears my March grocery spending has been more controlled than February's (not that that is saying much….😬). I'll have to wait until the end of the month to know for sure, but by shopping my freezer and pantry and checking out the store ads while meal planning, I've been better able to eat well while spending bit less. Here's what I've been eating lately:
Plain Greek yogurt with blueberries, mango, pecans, and chia seeds,
Scrambled eggs with salsa and fresh herbs, chicken sausage and blueberries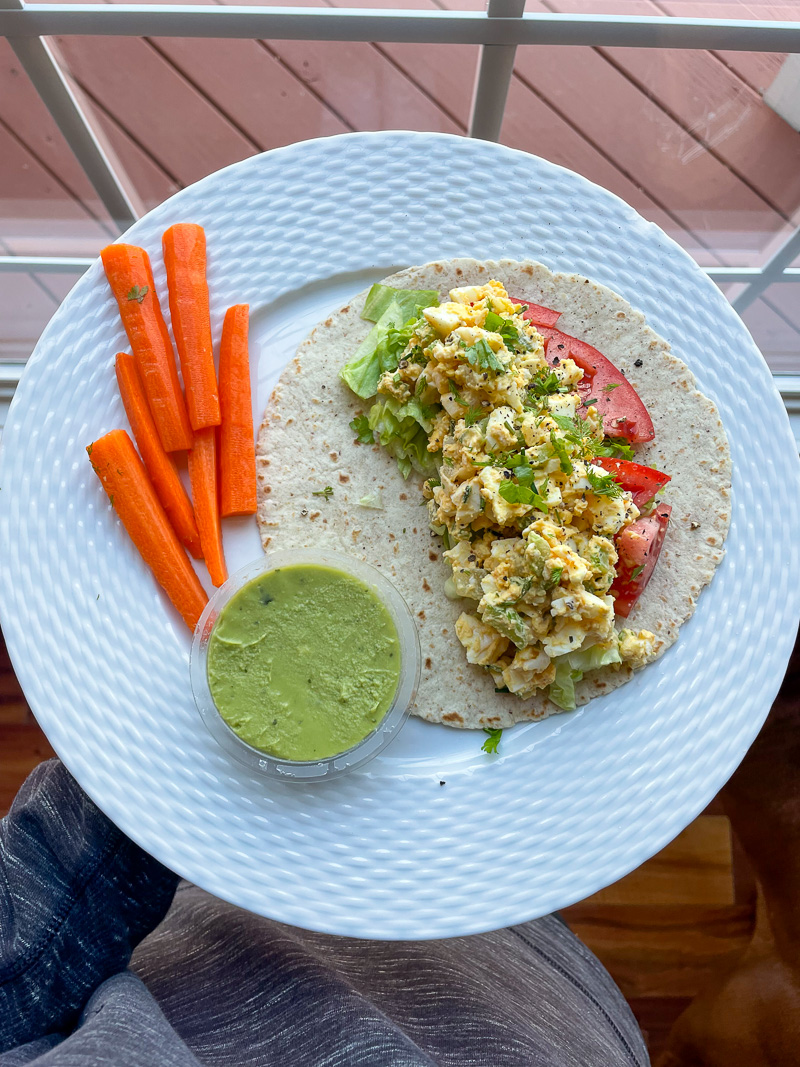 Egg salad and tomatoes on a tortilla with carrots and guacamole.
Big ol salads, with matching dippable version snack plates for the kids.
Grilled Butcher Box ribeye steaks with roasted green beans and an absolutely delicious farro and arugula salad. I used this recipe as the base but went rogue and switched up a few things at the end, including adding feta. Highly recommend.
A burger bowl, though this one is more salad like. Lettuce, tomato,, red onion, pickles, avocado, dill pickle kraut, burger and special sauce.
A gluten-free lasagna (I used lentil and rice lasagna noodles from Whole Foods because I was bringing one to a GF friend who just had a baby and they were great!) and my go-to chopped kale salad.
Lemon garlic mahi mahi with salad and roasted golden potatoes.
Slow cooker carnitas, crisped up in the oven, with sour cream, guacamole, pico, and cilantro.
Sheet pan chicken gyros with feta tzatziki. These were great, and the feta tzatziki really made the dish, so don't skip it if you opt to try this one.
I forgot that Chicken Picatta is actually a fairly quick meal to cook (and I love the capers!). I served it over buttered linguine and with roasted green beans.
Chicken tortilla soup, but I let it cook in the slow cooker all day. Topped with sour cream and cilantro.
For St. Patrick's Day I made Shepherd's Pie (or is it cottage pie if made with ground beef?). Either way, my family devours this recipe, which I double.
Now that it's officially spring, I'm hoping to incorporate some more seasonal items, maybe even make it to a farmers market?! It's been too long (thank you Saturday morning, soccer ;)). If you've eaten anything great lately, send it to me, I'm always looking for new meals to try. Happy mid-week, friends!