Day three started off on a peaceful note. David and I both woke up early so we decided to sneak out and check out the nearby Gazebo Trail. It was a short half mile walk to the start of the trail from our villa, and only a half mile up. However, it is seriously strenuous at parts with loose gravel and a steep slope. It certainly got my heartrate up!
The view from the top was well worth the effort. There was a gazebo at the top where we learned that back in the early 1900's they would set up a string quartet to play music to flow down to the guests at the resort during the day. Fancy!
We made it back to the villa around 7:30, just as everyone was getting up and moving for the day. We got dressed and took the short walk down to the main lodge for the breakfast buffet. The omelet station was a big hit!
After breakfast we loaded up into the resort vehicles and took off for our first activity of the day- 5 stand shotgun shooting. I shot guns on my Nannie and Pawpaw's farm growing up and have a few times since then, but it had been a while since I had done shot guns. I was thrilled to see my aim was still pretty decent after being so terrible in archery!
It was the first time for my nieces and nephews and they LOVED it. Hailey had shot before but was able to do it by herself this time. Kaitlyn was rattled by the initial kickback, but came back asking to try again, with success thanks to the help of David.
The guides were wonderful, and walked us through all the safety protocol, proper form, and patiently gave us tips for better aim. After an hour or two in, we were enjoying calling our stations and having good success with hitting the orange clay discs as they went flying through the air.
We headed back to the ranch around noon for some lunch. They afternoon activity was slated to be mountain biking and the ranch offers ebikes, which is a much easier way to cover a wide terrain. However, they didn't have ebikes in kid sizes, so Chris and his group went biking while our crew and Mema set off to explore by truck.
We found out they had some geocaching and immediately decided that would be a great activity. They gave us a GPS and we set out to find the hidden treasure. The first coordinates took us to a hidden cemetery that was over a hundred years old. It freaked Hailey out a little but the girls were overcome with excitement when they found the metal box with a card telling us the history of the area and a golden Vermejo coin to collect as a prize.
The second coordinate took us up an old road to an abandoned coal mine. It was my first time really doing geocaching and we are HOOKED. It was such a fun real life treasure hunt and it took us to see some sites we otherwise would never have found.
After our geocaching expedition we decided to check out one of the on property lakes, Merrick Lake. They keep kayaks and small boats on the shoreline for you to take out as you please. We took a short spin around the small lake, savoring just how quiet and peaceful the area was.
From there, we decided we had enough time to drive the additional 30 minutes up to what is deemed "the high country." The girls rode in the back of the truck and had a ball while we sat inside and watched the terrain change from wide open prairies to more mountainous terrain, covered in Aspen trees. The temperature dropped, too, and it was just incredible to get more perspective on just how much land they own.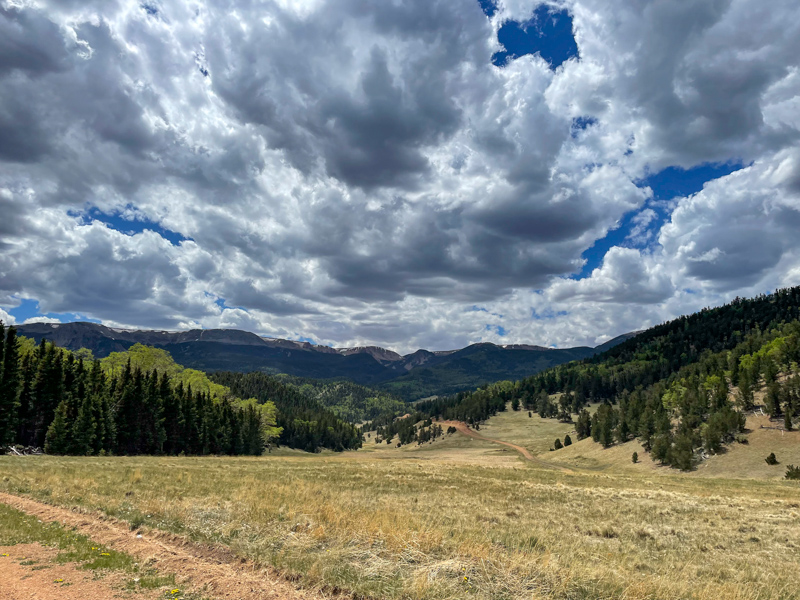 We arrived back late afternoon, in time to wash up real quickly and head to dinner. I finally got to order the Bison wings as an appetizer, which proved to be a crowd favorite over the course of our stay. Hailey went with the charcuterie board as her appetizer and David with the elk stew. It was great to get to try so many unique proteins that we don't usually have at home.
And that concluded another full and fun day on the ranch! I absolutely love the flow of ranch life: early mornings, plenty to do but without feeling rushed, new places to explore, animals to see, and great food to eat. And then, early to bed! I was tucked in by 9:30ish each night- just the way I like it.