With our bodies still on east coast time, we all were up and at 'em at about 6:15 AM. We took our time getting dressed, then loaded up to grab breakfast at East Coast Cafe in downtown Colorado Springs. It was a hearty breakfast and with full bellies, we headed south for New Mexico.
We met up with David's parents and his brother and my nieces and nephews in Raton, New Mexico. It's a very small town with a great, authentic Western store. To get in the right mindset for our family adventure, we all got cowboy hats. Then we loaded up and took the 45 minute scenic drive that began paved and ended up on a gravel road into our intended destination, Vermejo Park Ranch in New Mexico.
Vermejo is a Ted Turner Reserve that boasts over 550,000 acres of land, 1,200 bison, 19 fishable lakes, and a beautiful, diverse landscape, among other features. They focus on preservation is woven through every aspect of what they offer from the guest experiences to the metal straws.
We were welcomed to the stunning main lodge by friendly guest service professionals who helped us set up our boxed lunches on the deck. We devoured our sandwiches and soon after, our villa was ready for us to check into. We were able to reserve a villa that could house all 12 of our group and wasted no time getting our things settled then wandering over to the disc golf course to play a round.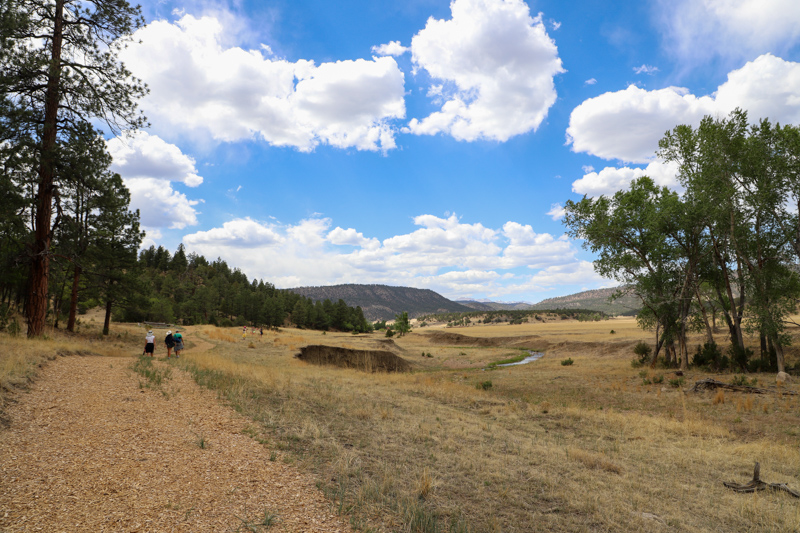 The weather here is impeccable. Temperatures are cool at night and warm up to about 80 degrees during the heat of the day. The best part? No humidity! At least to what we're used to in the southeast.
We played a round, while mostly taking in the views, then came back to wash up and change for dinner. We played a few rounds of Scattegories and Monopoly Deal then took the short walk down to the main lodge to enjoy some relaxing on the porch before dinner.
Dinner on our first night blew us away. The offerings were everything from elk chop, to venison tenderloin, to bison and antelope. As a table we ordered a wide variety of offerings and not only was everything presented beautifully, it was expertly prepared.
I started with the shishito peppers, then was drawn in by the salmon preparation. It was served with ramp butter and I've been on a hunt to find ramp dishes because I was recently told by a chef friend that they have such a short season. It was excellent, as was the venison Grandpa ordered and generously shared with me.
Kaitlyn could barely keep her eyes open through dinner. Between the activity, the excitement of being with family, and her body still being on east coast time, she was toast. I walked her back to the house at the end of dinner and she went out like a light.
I walked back down to meet the rest of the crew for some back porch sitting and smore making. We chatted it up with the chef and the staff about everything from the onsite greenhouse to the craft sessions they offer for kids while we watched the sun sink lower in the sky. The we all headed to bed so we could be fresh for our first full day on the ranch!