This post includes affiliate links. Thanks for supporting A Healthy Slice!
Mother's Day is next weekend. Honestly, I'm not sure if I ever understood the real value of this holiday growing up. Of course I knew to celebrate it and thank mom for being so wonderful (and my goodness did I ever get lucky with a incredible mom), but I figured moms knew we appreciated them so why the big fuss? And while we are at it, when was the official kids' day?!
Every day is kids' day, you ingrate. 
wink.
Of course now that I'm a mom myself, I get why there is a day. In fact, it may mean more to me than my birthday and almost every holiday too. Why? Because being a mom accounts for every minute of my every day. I'm not saying that's all I am, but at this stage in life it's a big ol chunk of who I am. I pour my love, my hours, and much of my sanity into those two sweet girls that call me mom.
There isn't anything else is the world I'd rather be, but it isn't always easy. I'm fortunate that I have a husband that appreciates and acknowledges all I do on the regular. I even have two kids that hug me daily and tell me thank you for making them lunch. I am truly grateful, but there is something about having a day, a day that is all about moms, is really beautiful to me. I know it may sound selfish, but so much of motherhood is self-less, that a single day really doesn't seem to be asking too much.
Now I'm not saying that the celebration has to be over the top. Gifts are not my love language. Words, gestures, thought, appreciation– those most certainly make up my love language. However, there are still a few things I think would make really nice Mother's Day gift ideas, so ladies, if your husband or kids need a little direction (because husbands/dads should be contributing to the celebration also), feel free to forward this along.
Personalized Jewelry
Personally, I love the look of a delicate bar necklace. Having it engraved with the girls' names, initials or birth dates would make a gift like this truly unique and meaningful. I've also seen stackable rings with a similar concept that would make for a touching gift.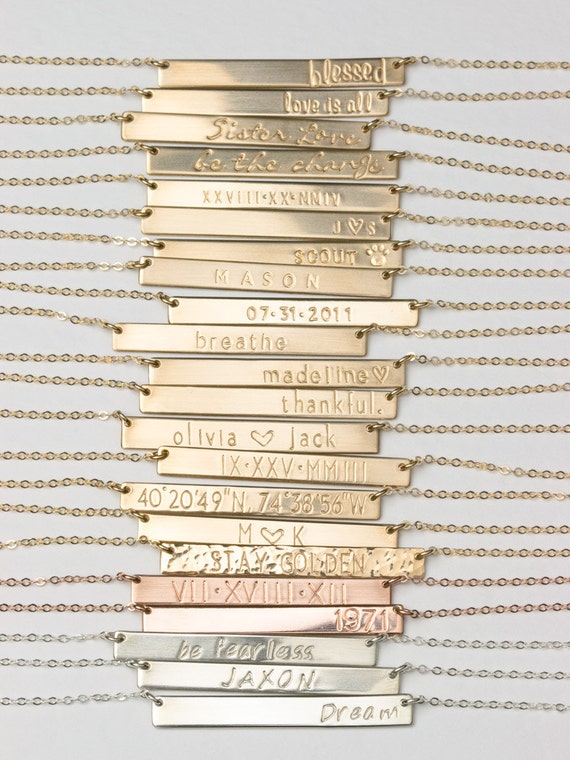 Coffee Mugs
It's cliche for a reason; moms need their fuel. Whether coffee or tea, a fun mug can bring serious joy to a mom that is reheating it 5 times a day. I love this one because it so accurately captures how I feel about my family, but I also love a lighthearted take on motherhood like this one a grown child could give to mom or this one which may hit a little too close to home (wink, giggle)
For to-go mugs, these are pretty amazing. You know you you can relate.
David gave me a personalized mug from the girls 2 Christmases ago, and it's still one of my favorites. Check out Zazzle for some super cute customized options. Oh! And if you go the coffee-themed route, maybe add a French press to the mix, like this beautiful copper one, and some fancy coffee too.
Clothing
I'm not a guru in this territory as we all know, but I do know the excitement that comes with opening up a Stitch Fix box. If she's more into fitness, then a gift to Fabletics would be a fun surprise. There is also Wantables, an intimates delivery service. So many options for deliveries, right?!
If you aren't into mail, then I don't know a mom who wouldn't want a cute and comfy pair of pajamas. I think these are so darn cute and I know I'd love a soft but light summertime robe. Is a new mama on your list? She'd LOVE a nice, nursing-friendly nightgown like this one that isn't her husband's old over-sized t-shirt, trust me.
Or, a personal rec, I have a nightgown very similar to this one that is super comfortable, flattering and feminine. Highly recommend.
Little Luxuries
One of these days I will actually own my favorite candle, so it would certainly make a great choice for a Mother's Day gift.
Breakfast in bed.
Flowers (I love Bouqs selection and quality!)
Simple studs for everyday wear, like these.
And though it may sound 1950s, anyone who loves to cook would love a cute apron. Fact.
If she likes popcorn, make her day with this. Oh my gosh, I want one.
But honestly, at the end of the day, making a homemade card, giving a big hug and hearing thank you from her family is all any mom really wants. She wants to know she was thought of, appreciated and loved. So buy all the things or none of it, but don't forget to acknowledge the day, in a way that feels fitting.
Moms, what is the best Mother's Day gift you ever received?
Or what would be the best gift you would want from your family?