I'm still working on getting my feet back underneath me after an incredibly memorable 40th birthday trip. I always have to breathe and take a minute because I want to share everything, so it takes me a little time to organize my thoughts (and 1,000 pictures). I believe it would be most helpful to start by setting the scene and giving a detailed look at the place we chose to stay in the form of this Under Canvas Zion Review.
I've had my eye on Under Canvas for years. Under Canvas is an upscale camping (or "glamping") experience with twelve locations scattered between some of the most sought after national parks. We chose the Zion National Park location for this celebration, hoping September would be a good time to explore both Zion and the somewhat nearby Bryce Canyon National Park.
Let's start from the beginning. We flew into Las Vegas and rented a car through Turo, which we picked up from the airport. We then drove the two and a half hours through Nevada, Arizona, and into Utah to arrive at Under Canvas Zion. The drive was easy and the view upon pulling in is quite impressive.
And (spoiler alert) it only gets better from there.
We drove to the main "lobby" area to check in where we were greeted with cold waters and a smile, as we were given the rundown of the camp, including what critters we might see, dining hours, etc. Then we were given our tent number (tent 67) and went to settle in.
Under Canvas offers several different tent set ups. We were bringing the kids, so we opted for the Deluxe Tent, which sleeps 2 people in a king bed and has a private bathroom, with a neighboring kids' tent, a teepee set up with two single beds, great for kids. We had mentioned upon booking that it was my birthday and they had added colorful pennants on the exterior of our tent as a special nod to the occasion- so thoughtful!
Our tent set up was incredible. We were on the edge of the camp, so no one was in front of us, giving the illusion we were truly out there camping on our own. The tent was spacious, the bed was very comfy, and everything felt fresh and clean. There was a wood burning stove, supplied with wood, for cool nights or mornings, a pull chain shower, a flushing toilet, and a sink and mirror station. The kids were set up right next to us in a kid tent, teepee style.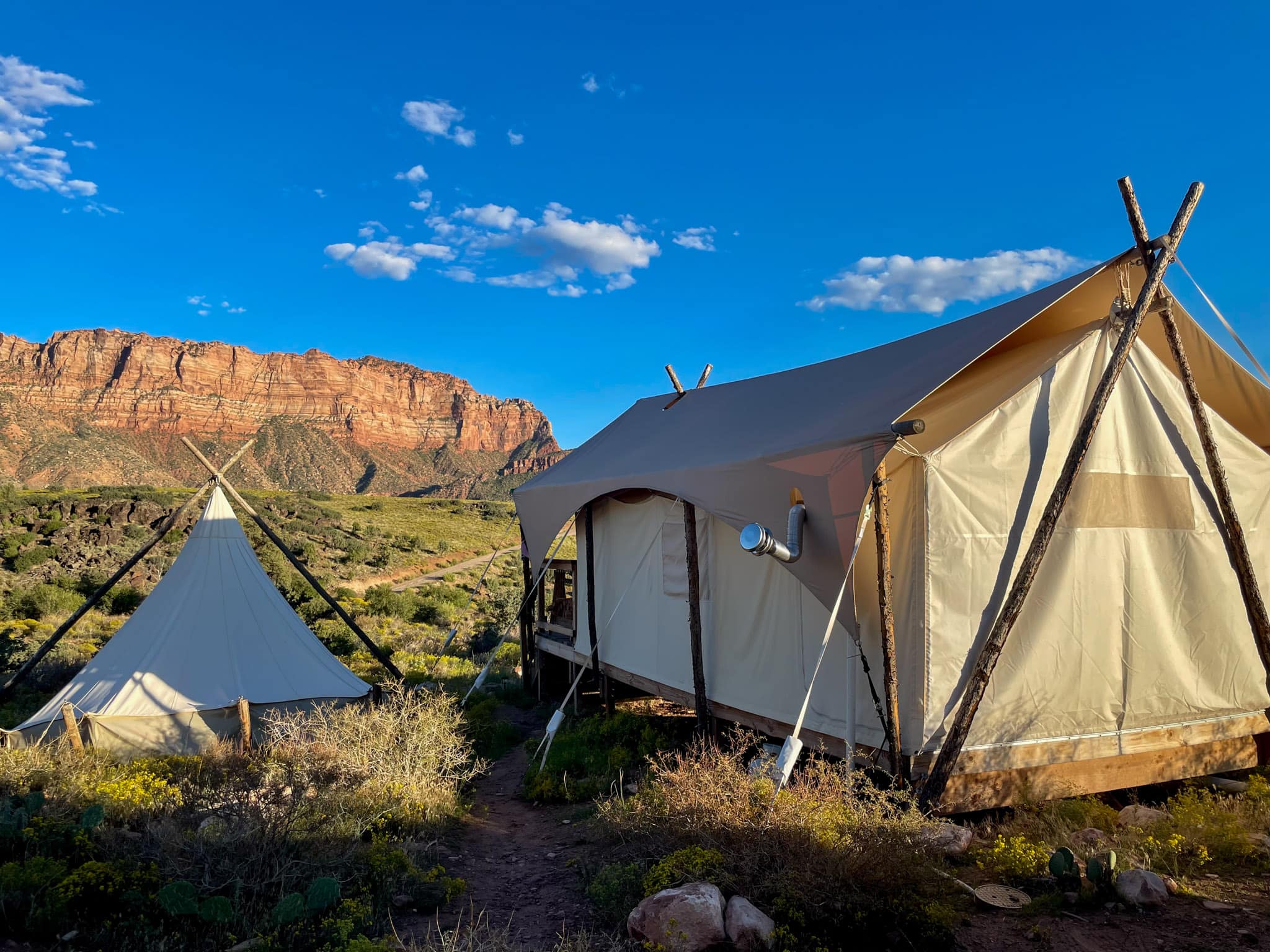 After settling into our tents, we walked the path up to the main area. I'm not sure what they call this space- lobby? Lodge? Either way, it serves as the main hub of the camp. Here you'll find campfires, tables, chairs, games, dining, complimentary water, coffee, and tea 24 hours a day, the main desk, the adventure desk for booking excursions, and a small retail area as well as grab and go food options.
In the evenings there is often live music and a planned activity of the night, though quiet hours begin at 10:00, which I appreciated. It's a really great set up for fostering community among guests. You can certainly set up by yourself, but several times we enjoyed engaging with other guests, hearing about their adventures of the day.
They offer complimentary smores every night, board games and puzzles for the borrowing, and one of our kids' favorite features was complimentary postcards- just write, color, and address them and Under Canvas will provide the stamp and mail them for you. They also offered a guitar for the playing, which David wasted no time taking advantage of.
Oh gosh, and tetherball! I almost threw out my shoulder with all the playing of tetherball we did and the kids are now obsessed and asking David to install one at home.
Under Canvas Zion is about a 20 minute drive to the entrance of Zion National Park and the town of Springdale. We didn't mind the drive though, given that at camp it was really nice to feel away from any hustle and bustle.
We ate several breakfasts and dinners at camp during our stay and the food was very good. They offer a solid menu for both meals, along with a rotating special. Everything from eggs and oatmeal to trout and steak. They also offer a selection of espresso drinks, beer, and wine.
The real gem of Under Canvas Zion though? It's their people. I had heard the service was good, but it was truly on par with any of the nicest resorts at which I've ever had the pleasure of staying.
Their staff is friendly, helpful, and honestly they just seem happy to be there. One gentleman chatted with us about local knowledge and directed us to some hidden dinosaur prints. The activity director gave our kids a private gem hunt and jewelry making class one evening. The front desk guy was quick to give us a solution to our need to wash a few pairs of socks. If service is your main factor in picking a place to say, you'll be thrilled with Under Canvas. They people were so personable and helpful!
Would I change anything about the experience? Hm. I would add a door to the ensuite bathroom of the deluxe tent for a little added privacy. And I would probably crank up the temperature of the pull shower (it was warm; just not scalding like I usually prefer- ha). However, if you keep in mind that this is a camping experience, those are pretty picky points to make.
Would I do it again? 1000%! I absolutely loved the feel of being out in the elements, being part of the land, while enjoying some creature comforts of modern day life.