We just arrived home from spending a few days in Deer Valley, Utah for a family ski vacation. After falling in love with the area on our trip to Deer Valley in 2019, we were giddy to return! There are more safety precautions now, of course, but I'm happy to share our experience traveling and our first time skiing together as a family the whole time with you!
We flew out Wednesday morning, our first time on a plane in 12 months. We weren't sure what to expect but I was pleasantly surprised at how smoothly it went. First of all, I have to give a shoutout to The Parking Spot. It's hands-down the most convenient way to park at the airport. Their shuttles are on-demand and their people are so helpful and kind. Plus the kids love the "Swiss cheese" bus! I won't ever park anywhere else.
Right now the rule at the airport is that everyone must be masked at all times and fortunately the kids are at ages that they aren't bothered by that. The security line at the Charlotte airport moved quickly. There is plexiglass between the rows and hand sanitizer offered everywhere. While the plane was full, I felt everyone was really respectful of each other. Drink service is no longer a thing, but the flight attendants handed out plastic bags filled with a sanitizing wipe, a small bottle of water, and a bag of pretzels. Though it certainly felt different, it was kind of nice that it had a normal feeling to it as well, seeing people out and about.
We arrived in Salt Lake City around 1:00 local time. We had arranged a van to pick us up, so we went straight to it. The service allowed stops on the way, so I made a grocery run and David made a liquor store run (unlike here in North Carolina, to get a full strength beer, wine, or liquor, you have to go to a liquor store). It was nice to check all those boxes and show up at our place at 3:15, ready to check in.
This time we stayed on a Deer Valley property (as opposed to a VRBO last trip), The Lodges at Deer Valley. We were welcomed heartily into the beautiful lobby and the girls were immediately offered a fresh baked cookie and hot chocolate, which won them over immediately.
Our 2 bedroom/3 bath condo was ready and we were all pleasantly surprised at how spacious and nice it was. There was plenty of room to spread out and the finishing felt fresh and updated. Little things like quality cookware and a comfortable couch go a long way!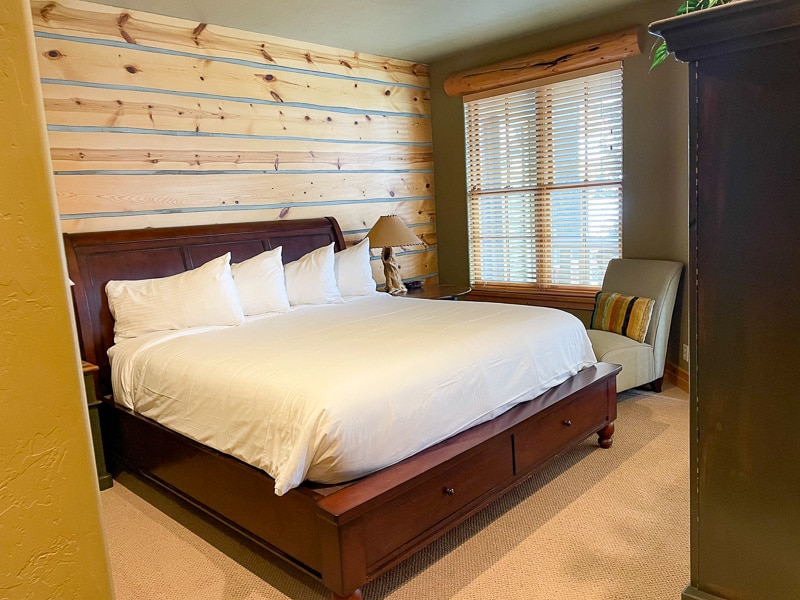 We unpacked our things, put the food away, then the service we used for ski equipment rentals showed up. It was out first time using a service that comes to you and I have nothing but wonderful things to say about Skis on the Run. The man showed up to our room carrying boots and skis and fitted us right there in our living room. Then he dropped out equipment off to the ski valet in the lobby on his way out. It was incredibly convenient!
After settling in, we changed and walked out the condo door about 50 feet to the hot tub. It was large and not another soul was around, so we very much enjoyed relaxing and playing in it while flurries fell from the sky.
After our fingers were well-wrinkled, we went back to the condo for chicken fajitas. We made all our dinners in the condo, and I kept the meals simple. While on a return trip I'd love to revisit some of the incredible dining we experienced last time, this time it just made more sense to stick to dinners in the condo.
The girls had asked us if we could ski as a family the whole trip this time, as previously they've always done at least a couple days of ski school. I was hesitant at first, but being this was their fourth ski trip (we first took them to Snowshoe at ages 3 and 6, followed by Deer Valley the next year, and then Solitude Mountain last year), we were open to giving it a try.
The nice thing about not enrolling in ski school is there is no need to be somewhere at a certain time. We woke up Thursday morning (early because of the time change), but took our time. Complementary breakfast was included in our stay, and the walk to The Brass Tag restaurant where it was held took all of two minutes. The offering is usually a buffet, but currently it has changed where you sit, then a server brings you your selections. It was such a nice way to start the day, as there was a wide variety of breakfast foods offered and I didn't have to do any cooking or cleaning! It was such a nice perk.
After breakfast we went back to get ready, which any skiing family will tell you is not an easy feat. I'm putting together a post just on tips and equipment to have to make skiing with kids go more smoothly, but one of my best tips is this- lay out all the kid gear, then get yourself 99% ready. Have the kids go potty, then get them dressed and outside as quickly as you can. Inside the will cry and moan about itches and discomforts, but once outside, they are magically distracted.
Getting to the slopes was a breeze. We simply walked to the lobby and hopped on a shuttle. They have them running every 5-10 minutes. The first time to the mountain, we carried our skis, but Deer Valley offers complimentary ski storage at the base of Snow Park Lodge, so we used that every other night for ultimate convenience. The shuttle ride is about 2 minutes, as it just take you up the hill.
The girls wanted to start out on the bunny hill, so we did. I was glad to see they remembered how to get on and off the lifts, so besides reminding them "tips up, stand up" the first time or two, they were good to go.
We practiced our French fries and pizza skills down the ski school hill a couple times before we moved on to the real lift. The wonderful thing about Deer Valley is that nearly everywhere on the mountain has green runs available, so you can really get out and explore it all with any skill level.
Lift line changes include the "arrive together, ride together" aspect, which means very often you'll see only two riders on a quad lift. Also, face masks are required in line, which isn't very bothersome considering it's cold out. We bought these balacavalas for the kids and these balacavalas for us and they worked like a dream for warmth and mask purposed!
We skied for about two hours before we needed a warm up. Reservations are required at all mountain restaurants now and we were grateful that Silver Lake Lodge could take us about 30 minutes before our reservation.
Hot chocolate (with whipped cream and marshmallows) warmed the girls right up and an oat milk latte did it for me! We grabbed some food, too- hotdog and fries, chili con carne, and a bowl of the famous Deer Valley turkey chili, too.
The stop fueled us through the rest of the afternoon. I was so proud of how well the girls skiied. We did mostly greens, and a few blues, too, but most importantly, they both really enjoyed it. While sitting next to Kaitlyn on a lift, she gave a big sigh and said "I'm just so happy to be here skiing, Mom" and my heart melted into a big ol puddle. Going more slowly and playing follow the leader through big, wide turns is all worth it to see them enjoy it so much.
Our favorite run of the day was Success, which takes you through beautiful, jaw-dropping residences and by homes that are decorated in the best mountain decor. "The Bear House" is a very popular landmark on the mountain and we stopped more than once by it to giggle at the bears.
We made it until 3:00 on that first day skiing, which was a huge win in my book! We skied back down to Snow Park Lodge, dropped our skis at the base in overnight storage, and took the two minute shuttle back to The Lodges where we promptly changed for the hot tub. Nothing feels better! We soaked (and the girls played in the snow) for a while before coming back in for spaghetti, meatballs, and a round of Monopoly Deal and Settlers of Catan.
Day two of skiing started off much the same- breakfast, gear up, head to the slopes. The only difference was that this day was SNOWY. Like, really coming down. We weren't going to let that deter us, though. We added an extra layer to the girls and bought an extra set of hand warmers, then headed out. We promised the girls that we'd do two runs and if they couldn't handle it afer that, we'd stop.
Well, we did the first run and they were loving it so much they said they wanted to ski all day! However, after the second lift ride up, getting covered with snow, and a slow ski down, they were cold and over it. We kept our word, brought them back to the condo, and made them an early lunch. Then we showed them how to use Disney+, gave them my old phone that we set up to be able to send messages, and David and I headed back to the mountain.
The snow that afternoon was INSANE. On our own, David and I were determined to explore the mountain and ski the double blues we enjoy so much, so we didn't let the snow stop us. We went all over place, laughing at how low the visibility was and enjoying skiing full speed. Afterwards we headed back to the condo for snacks, drinks, and more games. It was such a win/win of a day for all!
We were really looking forward to day three, a gorgeous, clear-sky Saturday with 9″ of fresh powder from the day before! Unfortunately we weren't the only ones. We showed up to the slopes that morning to a crowd that was like nothing I had seen before.
I'll admit we were pretty bummed at first. Waiting 30 minutes in lift lines was tough on the kids and it really changed the flow of the day, which was frustrating on our last day of skiing. We only got two runs in before our early lunch reservation (11:00) and a guy we spoke to at lunch who said he was a frequent visitor said it was the worst he'd ever seen the lines in his 23 years of skiing there.
We decided all we could do at that point was make the most of it, so David and I grabbed a beer, the girls had hot chocolate, we split some fries and decided it was going to be a great last day no matter what. After all, the day was GORGEOUS.
The runs were beautiful and powdery, the views were crystal clear. The girls were getting braver and more confident in their abilities and we were able to do more paths through the trees and venture further on the mountain. We made it over to the Wasatch lift area in the afternoon and whether it was the location or the fact that some people might have left, the lift lines were back to normal and had no wait times at all!
We skied until until the girls' legs couldn't carry them anymore, about 3:30, then we turned in our skis and boots to the ski valet at The Lodges (for Skis on the Run to pick up that evening) and changed into comfortable clothes to visit the beautiful St. Regis hotel up the mountain. Deer Valley offers complimentary car service, so we got a ride to the bottom of the Funicular at the St. Regis, a mountain side cart you ride up the mountain to the slope-side part of the hotel.
They offer complimentary hot chocolate and cider, so we got the girls a cup and we ordered spicy margaritas for David and me. The people watching is top notch and the hotel is just beautiful. It was a fun way to spend our last après ski happy hour before we headed back to the condo for pizza and Catan.
The next morning we slept it, grabbed breakfast, and our van picked us back up for our trip home. We left feeling incredibly grateful for the experience and the new memories we made.
Deer Valley is a special place and I highly recommend it. I also think it's important to note that while their staff is always incredible kind and accommodating, they also made sure to mention this time how grateful they were for visitors. It's a hard time for those that work in the travel industry and from what we experienced, they are doing everything they can to make travel as safe and fun as possible in today's current environment.
If you have any questions about our experience, please feel free to ask in the comments! <3