I know, I know, the word "ultimate" is overused, but I'm SO pumped to share this gift guide for tween girls with you today because I feel like… how are the kids saying it?… I'm in my tween mom era.
I wanted to make this as helpful as possible so I categorized the top gifts I found for each set of interests and can honestly say both my tweens would be thrilled with all of these gifts (and many they already own and love). I hope it serves as a helpful resource for you and the tweens in your life this holiday season and thank you for shopping through my links for the items that serve you. It directly supports my family and we are grateful!
The Ultimate Gift Guide for Tween Girls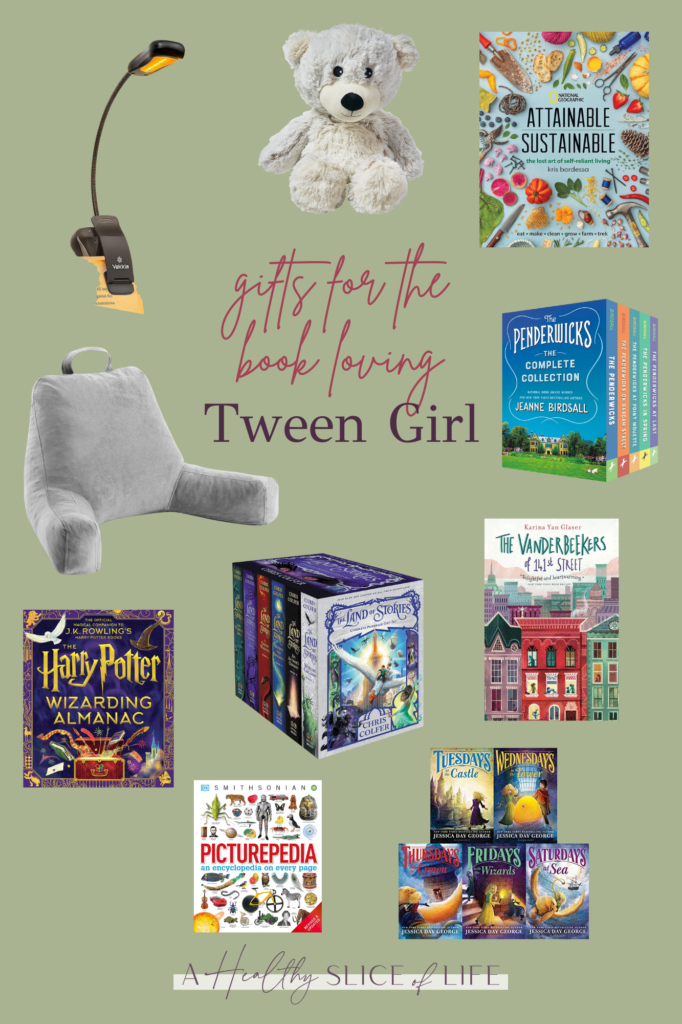 For the Tween Book Lover
Adorably soft stuffed animals that you can warm up in the microwave for a cozy snuggling partner while you cuddle up with a good book.
Blue light blocking with a soft amber glow, this rechargeable book light is perfect for evening reading.
For added comfort on the couch, on the floor, on the bed, or wherever your bookworm lands.
For the budding homesteader, this beautiful cook is full of pictures and easy instructions for a wide variety of sustainable living tasks, from candle making to herbal tinctures to gardening, canning, woodworking, and more.
The only official companion to the seven Harry Potter novels, this almanac is packed with details and pictures from all the places, potions, beasts, and more from Harry Potter.
An encyclopedia filled with everything a kid could want to know about science, technology, nature, geography, culture, sports, hobbies, history, and more- all in vibrant color!
Through the mysterious powers of a cherished book of stories, twins Alex and Conner leave their world behind and find themselves in a foreign land full of wonder and magic where they come face-to-face with the fairy-tale characters they grew up reading about.
The Vanderbeekers have always lived in the brownstone on 141st Street. It's practically another member of the family. So when their reclusive, curmudgeonly landlord decides not to renew their lease, the five siblings have eleven days to do whatever it takes to stay in their beloved home and convince the dreaded Beiderman just how wonderful they are.
Tuesday – probably the most boring day of the week. However, for Princess Celie Tuesday is the best day; that's the day the Castle adds a new room, a turret, or sometimes even an entire wing! She is the only one who takes the time to map out the new additions, and when the king and queen are ambushed, she is the only one who can protect their home.
A beloved family story that is quickly becoming a new classic, The Penderwicks books are filled with humor, family, and high jinx, these stories are as breezy and carefree as a clear June day.
Related: Parenting Tweens
For the Crafty Tween
Let her create her own unique journal to fill with her thoughts.
Featured on Shark Tank, these kits are *truly* for beginners and will walk you through each step with detailed instruction to succeed in crocheting.
Mystery powders and beakers will thrill the science lover in your life.
These metallic markers make doodling so much fun!
The year's best seller thus far for a good reason- excellent price on a colorful kit with everything she needs to make personalized clay bead bracelets.
Create, bake, decorate- we are on our third set of clay around here as the girls love making trinkets to put in their rooms and give to friends.
For the Harry Potter lover, this set is full of fun magic and details of the Chamber of Secrets.
Get creative with a real spinning pottery wheel kit that comes with everything you need to create a masterpiece.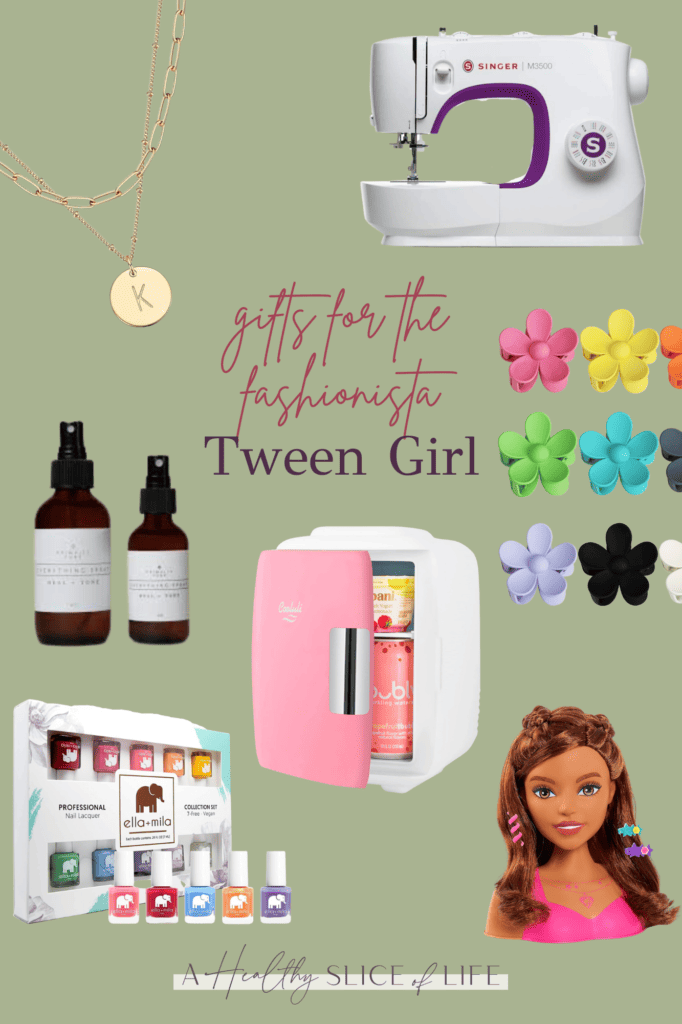 The Tween Fashionista
Mini skincare fridges are all the rage right now, and while it will hold a few sparkling waters, too she can use this to keep a refreshing facial spray or moisturizer.
Quick dry and nontoxic is the perfect combination for a tween that wants to be fashionable in a hurry.
Dual layered necklace with a touch of personalization.
Let her create her own fashion with the incredible gift of a real sewing machine and fabric to practice on.
A styling head that will allow her to practice all the latest braids, twists, and hairstyles she likes.
A fun set of colorful accessories to jazz up any outfit.
For the Room Decor Lover
Remote controlled LED lights allow her to show off her favorite pictures.
The mini size in perfect to take around with her to snap pictures of all the things she loves the most.
Any tween loves a personal touch in their rooms and this custom neon sign will let her show it off in style.
They are back in vogue and create a peaceful glow.
This small but mighty waterproof and portable speaker will allow her to rock out to her favorite tunes no matter where she is.
Add some safe ambient glow with these cute and colorful flameless candles, controlled by remote.
This beautiful diffuser is perfectly sized for a bedroom, letting her to create the mood she's after with aromas, whether relaxing or creative.
Tweens Who Cook
Hands down one of the best kid cookbooks out there, full of detailed step by step pictures for legit recipes.
The kid aprons are probably getting a little small, so level up with this beautiful apron any tween would love to wear.
Perfectly sized for beginning cooks, this cast iron is durable and brightly colored.
A unique gadget that will allow her to make delicious treats in a fun size.
Everything loves these cute and functional taco holders.
An underrated but super useful cooking tool to use from everything from pasta to salad to turning items on the stove.
For the nervous knife handler, these gloves will protect hands while allowing the use of a real knife.
Surprising Hits for Tweens
H's favorite gift from her birthday, it comes in cute colors and is super functional.
Everyone loves a cozy and cute robe to snuggle up in after a shower.
A great way to write down thoughts and favorite memories without having to dedicate a lot of time. She'll love to have so many years to look pack on, packed altogether in one journal.
For the game lover, this deck building game plays differently each time and is a ton of fun for the whole family.
Completely ridiculous, yes, but also completely cozy as a place to snuggle up with the pup and read a book.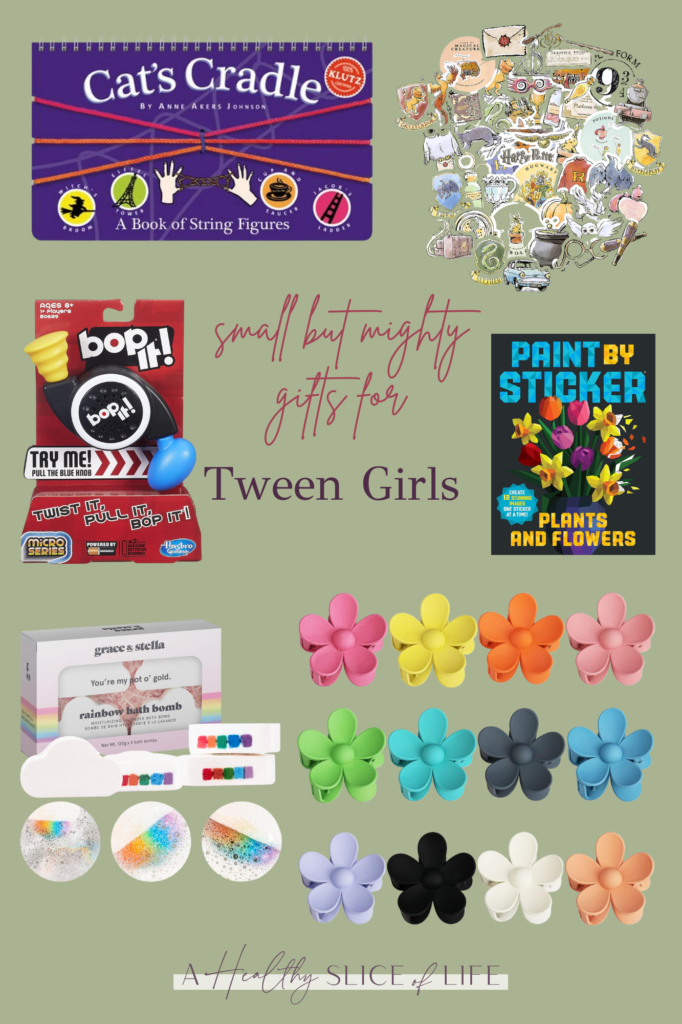 Little Gifts / Stocking Stuffers
A classic hit and great way to keep hands busy.
A fun set of colorful accessories to jazz up any outfit.
A unique twist on paint by number, these books you can take anywhere and complete by adding the correctly shaped sticker to the picture.
Hidden rainbow bath bombs will make baths colorful and fun.
A silly little toy that somehow engages tweens for longer than you'd think!
Beautifully done, this sticker set is great for decorating water bottles, computers, and more.
Experiences
Looking to gift an experience instead of a physical gift? Here are a few experiences my tweens really enjoy and would be thrilled to receive:
Escape Room
Rock climbing
Movie Theater
Bowling
Splatter Paint Experience
Audible Membership