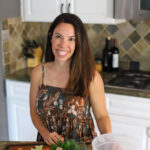 About Brittany Dixon
Brittany Dixon is a former health coach turned homeschooling mom of two girls. Her goal is to share her passion for healthy eating and natural living alongside the daily challenges and triumphs of motherhood. She shares her life through the lens of food, family, and travel.
Subscribe
Join the Healthy Slice Newsletter
Get a weekly peek behind the scenes to hear my favorite recipes, blog posts, and pieces of inspiration to kick your week off right!
Reader Interactions