I wasn't great about taking pictures of all my food yesterday. Actually, besides dinner, everything was left unphotographed. A smoothie here, a leftover enchilada there… nothing too fancy to share on WIAW anyway. So instead, I'm sharing a recipe that I devoured last week.
This idea sprang up when I was playing on pinterest and found this deliciousness from Half Baked Harvest.
I eagerly clicked over and my eyes ate up the delicious food styling of this incredible bowl and I scrolled down to the ingredients as quickly as I could. There I found that the recipe for the BBQ chickpeas simply listed 1.5 cups of your favorite BBQ sauce. Since I was so fixated on the BBQ Chickpeas, I decided I needed to find a way to create them.
I knew I wanted my sauce to have a kick and then balanced it out with the sweet goodness of grated apple.
I was focused on the chickpeas, which you can use canned or the crockpot method for dried chickpeas, whatever strikes your fancy.
However, if you aren't a chickpea fan, you can still make the sauce and use it on… well, anything! I can't wait to smother chicken, shrimp and vegetables with it come grilling season!
I ate most of these just as a side or over rice and they were delicious. These would be a great switch out for baked beans to bring to a summer cook out. Or layer them onto a salad and eliminate the need for any dressing thanks to the robust flavor of the sauce.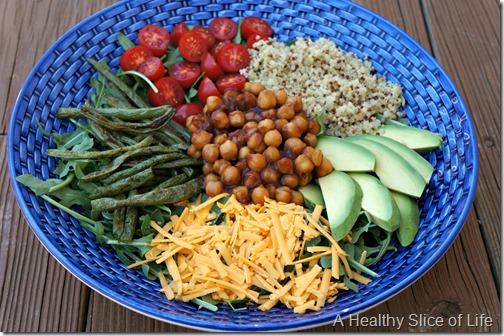 However you prefer, if you like a sweet barbeque sauce with a kick, then this one's for you!
Print
Sweet 'n Spicy Barbeque Chickpeas
Author:
Prep Time: 15 mins
Cook Time: 25 mins
Total Time: 40 mins
---
Description
This sauce has a spicy kick that is balanced out with grated sweet apple. It's great for chickpeas, but also for chicken, shrimp or vegetables from the grill. It's a medium thickness, allowing it to thoroughly coat whatever you use it on. Enjoy!
---
1/2 c ketchup
1 Tbsp tomato paste
1/3 c rice vinegar
1/4 c apple juice
3 Tbsp Apple Cider Vinegar
1/4 c brown sugar
2 Tbsp soy sauce
2 Tbsp Worcestershire sauce
1 tsp ground mustard
1/2 tsp garlic powder
1/2 tsp cayenne powder
1/4 c grated apple
1/4 cup grated onion
1 tsp corn starch
3 c chickpeas
---
Instructions
In a medium sauce pan, add ketchup, tomato paste, vinegars, apple juice, brown sugar, soy sauce, Worcestershire sauce, ground mustard, garlic powder and cayenne. Stir over medium heat for 3-4 minutes until well combined.
Add grated apple, onion and corn starch. Stir to combine.
Bring to a gentle simmer for 15-20 minutes, stirring often, until thickened.
Turn heat to low, add chickpea and mix well for 2-3 minutes.
Serve warm!
---