Good Monday morning! Is anyone dragging a bit after last night's festivities? I'm actually feeling quite energetic despite a late bedtime and lots of goodies. We spent the evening in Charlotte at a friend's party, where we took I forced everyone to take the obligatory girls picture!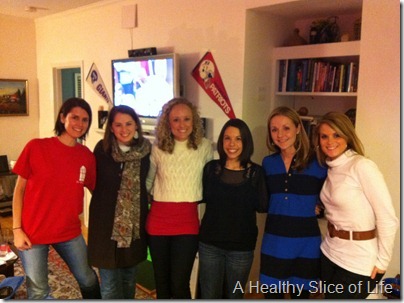 A girls picture with no sorority squat thrown it- I'm so impressed!
I had more than my fill of delicious snacks, including buffalo chicken dip, guacamole, peanuts, pepperoni rolls, chili, ice cream cake and… veggies.
Guess who was in charge of bringing the veggies? Yup, I'm officially known for rabbit food
Hailey posed for a couple pictures, too, and we learned how much of a daddy's girl she is when the only way we could get her to look in a certain direction was to have her follow the beer. Uh-Oh!
Now, with the rockiest transition ever in blog history, I 'd love your feedback on an issue. I wasn't sure I was going to mention it on the blog, knowing that certain people read who may not care to discuss the topic, but it's weighing on my mind, therefore… here it is.
Birth Control.
Anyone uncomfortable with the topic, catch ya on the flip side!
I have an appointment tomorrow with my OB and I need to figure out what my plan is. I'm currently breastfeeding exclusively and my cycle hasn't returned yet, but that's no guarantee that I won't get pregnant, and we're not ready for number two at this point.
Since I refuse to go back on birth control pills (after it took almost a year for my cycle to return once I stopped them), I'm interested at looking at a non-hormonal method, like the copper IUD. There are two types of IUDs, copper (Paragard/non-hormonal) and progesterone only (Mirena/progesterone). I'd like to go the copper route, but I hear they can create some pretty terrible monthly cramps and heavy bleeding. Eeks.
Plus, I'm not sure how I feel about having something inside me at all times. Will the idea of it drive me crazy?
I'm feeling a bit frustrated because I want to be protected, but I don't want hormones, aren't sure about the pain that I've heard about in regards to the copper IUD and don't know if I trust the 'natural family planning' method, especially since I don't think I've ever had a regular cycle.
Sigh…
So, I'd love to hear your thoughts and opinions on the topic.
What kind of birth control do you use?
Would you recommend it?
Why or why not?