Hey y'all! I'm thrilled to hear most people like the new look and I heard you loud and clear on the 'read more' feature. It's dunzo. And the font should be darker now, too. Thanks for the feedback! I'm still working on (and honestly probably will be for weeks) categorizing old posts (which is why no baby posts will show up right now- they haven't been sorted yet) and working on recipes. Thanks for hanging with me. I'm trying to get all of it done before baby girl arrives.
Speaking of, it's really hard for me to fathom that I'm almost 33 weeks pregnant. After having to be induced at 10 days past due with Hailey, I have no grand illusions that this baby will come on the early side, but you never know. Still, I am rather far along in pregnancy at this point and have some things I feel like I just need to confess to…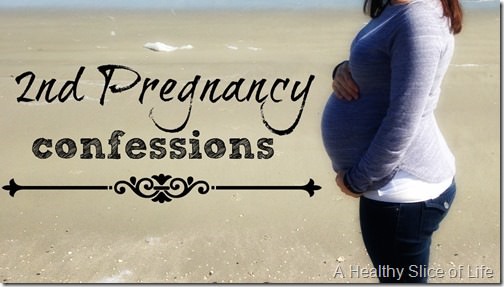 1. It's really hard to stay motivated to workout at this point. For me, working out isn't something I do because I love it so much. Sure, I enjoy the endorphin high afterwards, but I'm very results driven. I like seeing progress: faster speed, being able to lift heavier weights, more toned legs, etc. Well, at 33 weeks pregnant, I'm obviously not seeing results (and I shouldn't be). Honestly, sometimes I just feel tired. I'm keeping up the charade for two reasons: gym child care is a little break for mommy and I know exercise is good for the baby. I'm proud of myself for keeping up some form of working out and marvel at those late pregnancy runners and crossfitters, but for me, it's walks, the stair stepper and short strength circuits.
2. I wonder if I'm savoring this pregnancy enough. I'm not one that often clicks on those viral facebook posts about how we need to be more present with our kids because every day they get a little older and they will never be this young again and one day we will be old and alone and crying because no one needs us anymore. Seriously? Who needs that kind of guilt and pressure? I do everything I can to savor the moments while also, you know, running our household and working some on the side. It's a lot.
Still, I am pretty certain this will be my last pregnancy and I am humbled by what the body can do. I catch glimpses of myself in the mirror and can't believe it's me. I want to set a little time aside to marvel at it. I want to focus on those tickles and kicks that occur simultaneously on opposite sides of my belly. I want to enjoy the favors from strangers that open my doors and even laugh at the moments when someone parks too close to me and I have to crawl through the passenger side (happened more than once!). I want to commit to memory the sweetness that is Hailey wanting to kiss her baby sister and insisting on needing a bare belly to do so. I love how she always wants to give her a kiss smack dab in the middle of my stretched out belly button. Sure, I cringe at the sight of it, but man, it's sweet.
3. Chic shoes are a thing of the past. Don't be under any illusion that when I'm not pregnant I rock stilettos and fashionable flats. I don't. But I've noticed now that I really need supportive shoes. I'm on my feet for a large chunk of the day and if I'm wearing anything besides my NAOTS or my new Vionic shoes, I regret it before dinner time. Without proper support, my feet throb and my back aches.
4. I still have so much to do. For the sake of lighting a fire under my butt, let's take a look: clean the nursery, wash and put away baby clothes, buy diapers, get a keepsake bin for all of Hailey's stuff I've set aside in piles, get a present for the baby from Hailey and vice versa, finish up some freezer meals, order my breast pump, get a hair cut, dry clean the bumpers for the crib, pull all the baby stuff down from storage to clean, install the car seat, get a coming home outfit, clean bottles and parts, set up the Moses basket, figure out what I'll need for the hospital and pack a bag, oh yeah… NAME OUR DAUGHTER. You know, just a few things.
5. Shaving my legs is now a circus-worthy act. And it doesn't happen all that often. Another thing? Do you think the doctor just asks for a urine sample at this point to get a good giggle at the mental image of a largely pregnant woman trying to hold a cup under herself? I'm sorry if that's TMI, but seriously?
6. I might be doing too much. I don't list off everything going on in my life on here because… well, you'd be bored to tears. However, just like in your lives I'm sure, there is so much to be done and I'm scurrying as fast as I can to do it all. However, this past Saturday I noticed a serious uptick in Braxton Hick contractions, as in, they were coming about every 5-10 minutes. They didn't hurt, but the continuous tightening was really frustrating. I called my friend, who happens to be an OB, and she said "yeah, you need to seriously chill out. Drink some water and lay down." I did for the entire evening and night, and they were gone the next day! However, they returned yesterday. I know I need to relax some, but I'm just not quite sure how to while still getting through my to dos.
All that being said, I'm excited. I'm giddy about being in the home stretch of pregnancy, meeting our daughter, watching Hailey become a big sister and learning to be a family of four. I'm realizing that life will go on if not everything gets done… buuuuuut I really ought to at least grab some newborn diapers! 😉
Do you have anything to confess to or get off your chest lately?