This weekend was right up my alley. It was busy and relaxing all rolled into one. I'm going into Monday feeling refreshed and ready for the week, which I'm noticing is usually a rare occurrence. What's that? You'd like me to share every single fascinating detail of my weekend? Well, I don't mind if I do…
It all started Friday night with trying out a new Mooresville restaurant, Joe Fish.
Looks a little… fishy, right? I'm learning to stop being judgmental of strip mall restaurants because once inside I realized that this place is great! The people working there were seriously some of the friendliest I've ever encountered and we enjoyed munching on mussels and their baked platter. The scallops were our favorite!
Hailey decided to get a little feisty about halfway into dinner, so we switched her from her carrier to a high chair and she munched happily on a green bean for the whole meal! I'll be writing all about baby led weaning tomorrow.
Saturday morning began with breakfast out (someone remind me to take a look at our household budget today… something tells me our restaurant budget may be a little stretched lately). We enjoyed fresh omelets and some pretty amazing breakfast potatoes at a new (to us) spot, La Patisserie. I also spent a chunk of time gawking at their pastry section and swearing that I was going to learn how to bake chocolate croissants.
The afternoon was fun, as David and I decided to hit up some local open houses. Are we moving? Nope. Are we the strange couple that just likes to wonder through houses? Absolutely. How else would you find decoration inspiration like this:
The rest of the day was cozy, until out of no where it sounded as if someone was pouring a bag of crushed ice on top of our house. However, I guess that's exactly what was happening…
Have you ever seen hail like that? I hadn't. It took all of 5 minutes for the piles to form. Craziness. And then, just as fast as it arrived, the storm moved on and the sunshine returned, which worked out perfectly for us to meet some friends for dinner at … Restaurant X! Oh, how I love thee. Everything was delicious, as usual, but this time I was most impressed with David's seared tuna dish.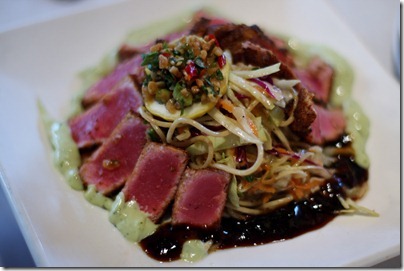 Beautiful, isn't it? Plus, pescatarian-friendly! I've said it before, but I adore this restaurant and highly suggest you try it out… even if you only go for the apple 'n ice cream-stuffed pancake for dessert. ohEmGee.
We spent almost 2.5 hours at Restaurant X and Hailey got a few compliments on her good behavior, though by the end of the meal she was ready to get out of her carrier and found a more fun spot to sit.
Sunday began with a 4 mile wog.
Welcome back instagram, my friend. It was a challenging 4.1 miles and I finished it in 47 minutes. Was it the 2 glasses of wine from the night before making it difficult? Perhaps, but it was still a good start to a special day. Why special? Because it ended with this:
Don't let your eyes deceive you; those aren't two ordinary beers. They are 2 beers that were enjoyed alongside a cheese pizza while we watched THE HUNGER GAMES! That's right. We got our first nighttime sitter after I begged David to go see the Hunger Games with me at Our Town Cinemas, a cute theater in Davidson that serves food and drinks. It was the perfect ending to a fantastic weekend. The movie was SPOT ON with the book and we loved it!
Did you go see The Hunger Games yet?
Or do you not understand the hype?