David came home yesterday around 2:00 to find me sprawled on the couch and staring at the ceiling. Kaitlyn was taking her piano lesson upstairs and Hailey was starting on her final draft of her King Midas paper. And I… was just staring at the ceiling.
I often share how much I love homeschooling because it's absolutely true. I love teaching and learning beside my kids. I love our flexibility of schedule. I love having conversations with them about life skills and more complex worldly issues alongside multiplication. I love watching them light up when we go down a rabbit hole to learn more about a topic that interests them.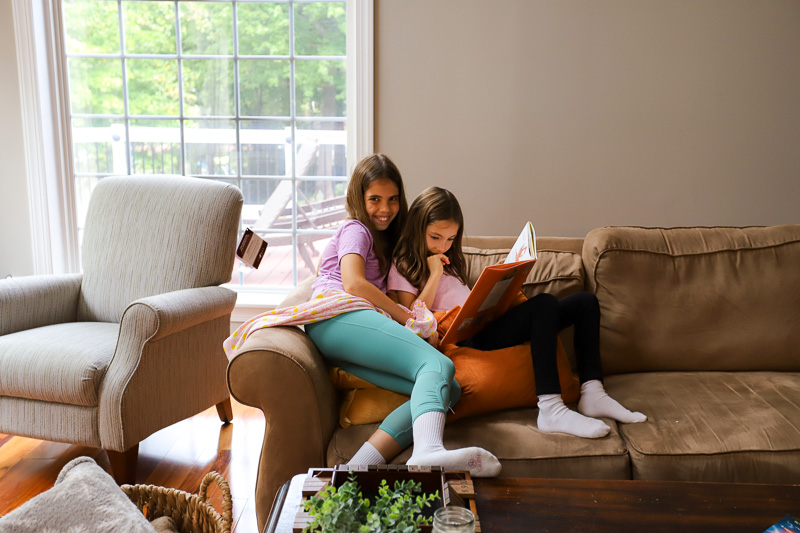 However, since two things can be true at the same time, it's also absolutely true that it takes a lot of energy and effort. And there are days that I have wondered what it would be like if they were both at traditional school all day… what would I do with all that glorious time?!
I'm speaking to this through the lens of homeschooling, but I'm pretty sure it's just parenting in general. And whenever I have a day that takes a lot out of me (ie: yesterday), I give myself a pep talk. The main gist of the pep talk is this: anything of great value takes great effort.
I'm super proud of my kids. I know you other parents feel me on this. Yes, they are a little quirky and silly, but they are also curious, kind, hard working, empathetic, and respectful kids. The fact is that raising good people takes effort. There aren't really many shortcuts to a worthwhile goal, so if it feels hard or draining to you some days, too, it's because it is hard and draining.
It's also incredibly rewarding. I know you parents feel me on this, too.
So whether you have babies in diapers, teens with more grown up challenges, a tween like me, or shoot I don't know, maybe us adult kids are just as challenging (mom- thoughts?), just know that it feels hard because it is hard. It's also one of the most important and worthwhile pursuits on the planet.
We will fall short at times because we are human but we will be successful because we keep showing up and putting in the effort.
Thank you for coming to my TED Talk/personal pep talk. 😜 I promise not every single one of these "daily diary" October posts will be an introspective journey; it's just been an unusually mentally demanding Monday and Tuesday this week!
And now, goal check-in:
More presence and patience? Yes. I think that's what wore me out.
More time outside? Yes. We did reading on the porch, went for our morning mile, backyard swinging in the afternoon, and walking with David.
Less phone? I didn't do so great on this front. There was definitely some mindless scrolling of news and Instagram. Again, I think I see it as a mental break but it doesn't end up energizing me so I need to create a new habit.
Read a novel? Nope. New habit- reach for a book instead of my phone. I did that as a new year goal and it worked great; time to reinstate it!
Less alcohol? 1 drink. While cooking dinner. I feel like vodka sounds hardcore, but I sometimes just like it more than wine. I pour about 1-1.5 ounces over ice with lemon and olives, then add water until it's about half full.
Meditate? I did. I used Headspace then cancelled my free trial. I'm switching to Insight Timer which so many people recommended!
Tracking grocery budget? No money spent.