Another summer weekend has passed us by- hope you enjoyed yours! Mine was busy and fun. Hubbs' parents were in town and it was wonderful to visit with them and catch up as we count down to baby. We grabbed breakfast by boat for the first time, and it was so beautiful out on the water in the morning.
I also made sure to still make it to the Davidson Farmers Market to pick up my weekly share. I know I've said it before, but I love farmers markets!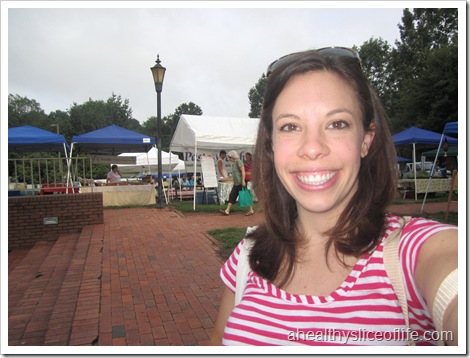 The gorgeous flowers…
Freshly baked bread…
The veggies!
The cute pups…
And my take home goodies, of course!
Between my breakfasts, lunches and dinners, I gobble up produce pretty quickly, but I know that's not the case for everyone. So when Clearly Fresh Bags contacted me about trying out their product, I was interested.
I decided to try a week long challenge with banana, since they are one fruit that seems to go brown on me quickly.
Truth be told, one of the bananas in the bag was eaten during the process (oops ;)). But after one week, I had 2 bananas to compare.
The one in the bag clearly had less spots and bruises then the one that sat countertop. The two spots on the bottom of the bagged banana were actually there before I put them in the bag (thank goodness for before pictures!).
I thought the bags lived up to their claim, and I'm anxious to try them out again. They say they are best used on whole, uncut produce, but I still want to try them on a cut avocado!
These are a great option for you if you tend to buy produce and throw some away by the end of the week. Keep it fresh, longer! I think these bags would be super for bananas, lettuce, avocados and tomatoes- and I'll be trying out lots of different produce to see which saves the best.
The best part of this challenge?
Clearly Fresh Bags is giving away 10 produce protecting bags to a Healthy Slice of Life reader!
Leave a comment telling me what you'd like to try out in these bags!
For an additional entry,
'Like" A Healthy Slice of Life of facebook and leave a comment letting me know you did.
Happy Monday 🙂