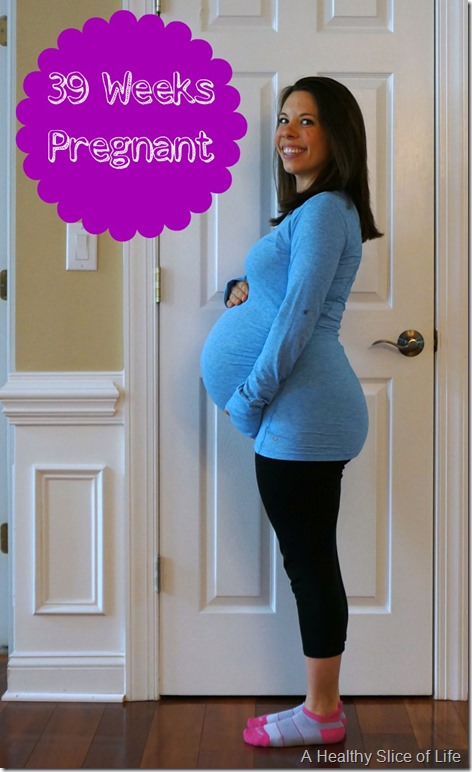 What Fruit are you? We're officially at a mini watermelon!
Due date:  May 9, 2014 … as in, next week.
How far along:  39 weeks
Gender:  Baby girl!
Total weight gain/loss:  29/30 lbs
Exercise: I've done a purposeful workout maybe 4 times in 2 weeks? Elliptical, walking and some weights. Though the number of times I've worn workout clothes far exceeds the actual number of workouts!
Stretch marks: Nada.
Swelling: Nope.
Belly button: Oh, it's out. And proud.
Sleep: Depends on the night. Sometimes I'm up to run to the bathroom 3-4 times and others, only once. Not too bad.
Food cravings: Honestly, I'm so apathetic about food at this point. My desire to cook is minimal at best. I look forward to my excitement for food to return!
Symptoms:  Two weeks ago I had every symptom in the book. Now I feel great, which is wonderful for the most part. More sharp pains 'down there' and down my legs as I can tell she is pushing on different nerves.
Blood pressure: 93/62. Baby girl's heartbeat: 130's to low 140's.
Now for some musings…
I have such mixed emotions at this point in pregnancy. Part of me is so ready to be done with pregnancy and I just want to hold my (please be healthy) baby girl in my arms and start moving forward as a family of four. The other part of me is saying to soak up the good sleep, the wiggles and pokes and the incredible (though not always comfortable) experience of carrying a life inside of me. This is most likely my last pregnancy and I want to appreciate it.
I had my 39 week appointment yesterday and left feeling a little defeated. It took a little while to find her heartbeat and the doctor concluded she is probably posterior (sunny side up) which would explain why I feel endless pokes from pointy body parts like knees and elbows. Hailey was born posterior, too, and he thinks it may just be the way my body is shaped. Unfortunately this position usually leads to a longer pregnancy, and increased likelihood on induction, a longer and more painful labor and a higher chance of needed intervention (c-section).
I have an ultrasound scheduled on Monday to check on position and growth. Until then, I'll be on my hands and knees trying to get her to turn around. Any other suggestions are welcomed!
Moms of two or more, were you emotional about your first child losing their only child status? If it isn't obvious, Hailey and I spend all our time together. She is my little buddy and is at such a (usually) fun age right now. Though she is really excited about her baby sister (as am I!), I am trying to wrap my head around the idea that it won't be just the two of us anymore. After two and a half years, that special time is over. Thank you, pregnancy hormones, for making me feel nuts.
Reading back over this, I sound like quite the debbie downer. Sorry about that! I really am doing quite well and am grateful to be sitting here at 39 weeks pregnant! The paradox of emotions I've been feeling lately is just a bit exhausting… ready to move forward, wanting to freeze time, ready for wine, wanting to video hours of footage of baby girl wiggling in my stomach, ready to sweat again, excited to meet our sweet girl and learn about who she is, hesitant about the recovery period…
To lighten the mood: my post from being 2 days overdue with Hailey.