I enjoy playing in the kitchen and putting together pretty meals for Hailey… when I have the time. Quite often, though, her meals are a hodge podge of whatever we have on hand that I can throw on her tray while she chases after me saying Eat! Eat!
Because of this reason, I decided to use her 21 month Munchkin Meals post to show off some off the odd combos she's chowed down on this past week or so.
Without further adieu… here are Hailey's tODDler meals…
The hodge podge: Brown rice with homemade salsa, chicken, carrot sticks and feta cheese
The Breakfast Buffet: Blueberries, banana, scrambled eggs, cheese and avocado
The Quickie: Annie's Mac 'n Cheese, frozen peas, frozen blueberries
The Fridge Clean Out: Cucumber, tomato, avocado, broccoli and yogurt
The Greens Hidder (because H isn't a fan of eating big leaves): Quinoa with finely chopped spinach, feta and French Vinaigrette and tomatoes.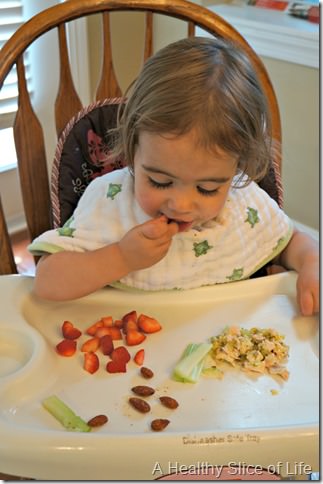 The Surprise: Tuna salsa, strawberries, celery and BLUE DIAMOND HABANERO BBQ ALMONDS! I never would have guessed she could handle the heat. She loves 'em.
The Yogurt Surprise: Stonyfield vanilla yogurt, granola and broccoli.
The 'Ok-this-is-kind-of-fancy': Mini whole wheat pesto pizza, broccoli and tomatoes
Your turn! Share what your kids have been eating…