This past Saturday my childhood best friend said I do in the beautiful mountains of North Carolina, about a 4 hour drive from where we live. The day was gorgeous, so instead of dreading spending time in the car, David, Hailey and I turned it into an adventure. First stop? Asheville!
Asheville is an adorable mountain town full of hippies, craft beer and great food. It's less than two hours from our house, so we split the road trip in half by stopping there for a few hours around lunch time.
We ate at The Laughing Seed Café, an organic, seasonal, farm to fork vegetarian spot. We ate outside to take full advantage of the beautiful weather and low humidity. My Omega Hempnut burger (House-made, omega-rich hempseed patty, red pepper aioli, lettuce, tomato, red onion, clover sprouts, grated carrots and red cabbage on a housemade whole wheat porter bun) tasted fresh and flavorful. I was in heaven!
We wandered around for a bit and I found my new favorite onesie, made by Spiritex.
The Good, The Bad and the Snugly! We hopped back in the car heading towards Murphy. I knew we shouldn't have let Hailey drive, because she decided it would be fun to stop and check out the casino. It was huge and beautiful and in the middle of nowhere. So random. I tried to play a slot really quickly, but they don't take old fashion cash anymore. So I missed out of winning my millions.
Finally we made it to Murphy, changed real quick and were off to the wedding at McGuire's Millrace Farm.
The venue was beautiful, as was Ashley, the bride.
I loved the outdoorsy theme and the chalkboard mason jars!
The highlight was seeing Ashley so happy and getting to catch up with some of my best friends from high school!
Hailey was a rock star and stayed up 2 hours past bedtime. I think it helped that my friend Toni's beautiful little girl, Kori, was there to entertain her and give her kisses on the nose.
David left early with her around 8:30 while I stayed to chat and dance.
In the morning we were up and off, back to Asheville!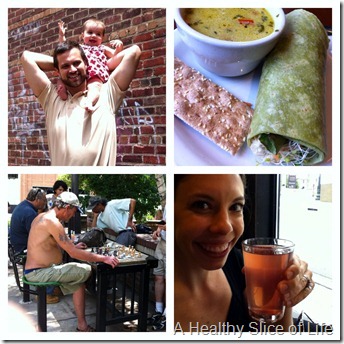 This time we grabbed brunch at The Green Sage Coffeehouse and Café. Their menu is also local and organic. I think I was meant to live in Asheville. I even tried my first kombuncha!! David and I shared a small glass, straight from the tap. I see why they say it's an acquired taste.
Finally we made it back home. I began to put life back together while David tried out one of his father's day gifts… a new ENO hammock!
His other gift was from Hailey.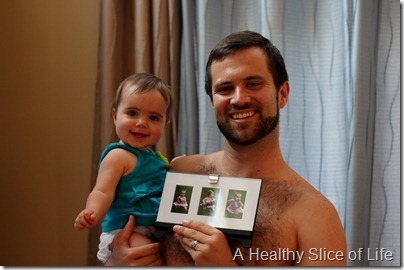 Close up, you'd see 3 pictures of Hailey, holding an "I" and "LOVE" and a "U". She's a creative little girl
Also a happy father's day to my amazing dad-in-law and the original man in my life, my daddy!
Whew… promise not to be so wordy tomorrow.
How was your weekend?