Make this quick, delicious, veggie-packed frittata on a holiday morning or prepare it ahead to heat and eat with your family in between stockings and presents! It's even great to eat as a cold dish.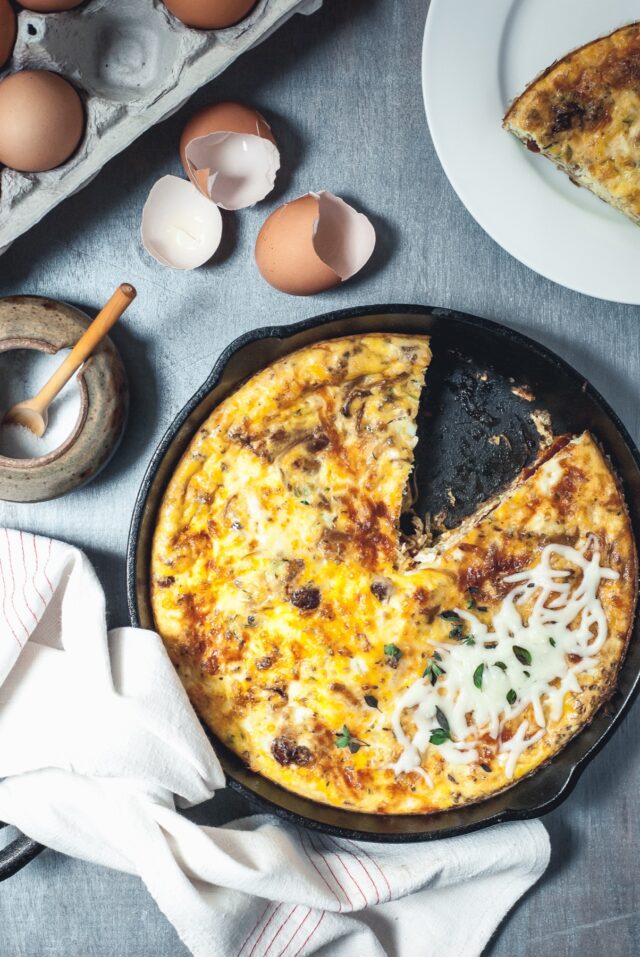 For my friends that celebrate Christmas, when do you open gifts? Growing up we did all family gifts on Christmas Eve. We would go to church, come home to eat dinner, then all file into the living room to open gifts one by one. I was always the "Christmas elf" in charge of handing out gifts and took my job at equal distribution quite seriously. On Christmas morning, we'd rush to see what Santa brought (he never wrapped presents at my house) and dive into stockings, too- always my favorite!
Now, as we combined to family traditions into our own as a married couple, we do things a little differently. Christmas Eve we do church, on the early side if we can, then come home to either eat seafood gumbo I made earlier in the day or a selection of heavy appetizers. We put out milk and cookies, perhaps check in to see where Santa is on the news tracker, read The Night Before Christmas, and put the kids to bed. Christmas morning we all first rush to see what Santa brought (he still doesn't wrap presents), then unwrap family gifts, still one by one, though I have passed my Christmas elf duties down to the next generation.
I love how this stretches out Christmas morning. Usually getting coffee and tea come first and are quick and easy to accomplish, but I never want to miss a moment of the Christmas morning joy by spending time in the kitchen cooking breakfast. We've done cinnamon rolls and make-ahead breakfast casseroles in the past, that are all quite delicious, but it you are like me and craving a slightly healthier take on a Christmas morning breakfast after an indulgent December overall, then I think you will love this vegetarian holiday frittata!
You can it ahead of time, 1-2 days before, then store it in the fridge to either serve cold or to reheat on Christmas morning. It's unique with the hearty vegetables it includes and is bursting with flavor thanks to the sundried tomatoes and oregano. Add a simply dressed baby arugula salad on the side, or maybe some fruit, or heck, a cinnamon roll and get back to the squeals and shrieks of Christmas morning joy.
I hope you enjoy this make-ahead vegetarian holiday frittata recipe as much as I do, and I hope you and your family have a wonderful holiday season!
What is your favorite holiday meal you have each year?
Print
Make-Ahead Vegetarian Holiday Frittata Recipe
Author:
Prep Time: 15 minutes
Cook Time: 35 minutes
Total Time: 50 minutes
Yield: 8 servings 1x
---
Description
Make this quick, delicious, veggie-packed frittata on a holiday morning or prepare it ahead to heat and eat with your family in between stockings and presents! It's even great to eat as a cold dish.
---
2 tablespoons olive oil
2 cups thinly sliced onion
1 clove garlic, minced
1 small zucchini, shredded and squeezed of excess liquid
2 cups cooked spaghetti squash
1/2 cup halved sundried tomatoes in olive oil, drained
8 large eggs
1/4 cup milk
1 cup shredded mozzarella cheese
1 teaspoon salt
1/2 teaspoon pepper
1/2 teaspoon dried oregano
---
Instructions
Preheat oven to 400°.
Heat olive oil in an 8-inch iron skillet. Cook onions on medium heat for 15 minutes, stirring occasionally, or until onions are nicely caramelized. Add garlic and cook for an additional minute.
Gently stir in zucchini, spaghetti squash, and sundried tomatoes.
Combine eggs, milk, mozzarella cheese, salt, pepper, and oregano in a medium bowl. Pour mixture over vegetables in skillet, making sure vegetables are evenly dispersed in pan and egg mixture covers them all.
Cook over medium heat until eggs are set on the sides. Bake at 400° for 10 minutes or until frittata is cooked and doesn't jiggle when shaken lightly. If desired, broil for 1-2 minutes or until top is browned a bit.
---
Notes
To roast spaghetti squash: Cut spaghetti squash in half lengthwise, scoop out and discard seeds. Place each squash half cut-side down on a roasting pan lightly coated with cooking spray or oil. Bake at 400° for 40 minutes or until squash can be easily poked through with a fork. Allow to cool and scrape squash with a fork to pull out strands.
Frittata can be made in advance, yet do not store in iron skillet. Remove frittata from skillet and put on a plate to chill overnight.
Serve cold or reheat in oven or microwave before serving.
Keywords: holidays, Christmas