We are a whopping six months into our first year of homeschooling! Overall, I am loving it, even if it looks very different than what I originally imagined. Over the past few months, I've received a lot of questions about homeschooling from some of you that are homeschooling yourself, thinking about homeschooling, or just think it's all kind of crazy but are interested the details of the day to day nonetheless. Here are a few of the most frequently asked questions. I'm an open book so if you are curious about anything homeschool related, please ask away in the comments and I'll be sure to answer!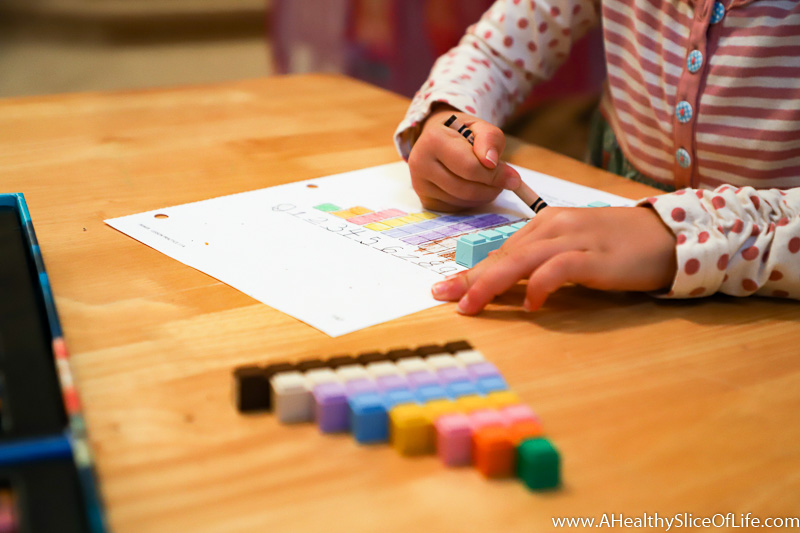 What curriculum do you use?
I opted to piece our curriculum together. I chose to put MathUSee, Bravewriter, Whistlefritz, and themed units together for us originally, but now that we are five months in, things have switched up a little. We are still using MathUSee, but I've slowed down the pace of our Bravewriter lessons to give us more time to soak in the grammar rules. We added in Handwriting without Tears. We've focused more on reading (both Hailey reading aloud to me and me reading aloud to her).
I think this will get us through the next couple of months. When we start our next year, I am looking into adding somethings in from The Good and The Beautiful, which I keep hearing people rave about. Going into first grade, I want more guidance in science and history and think TGATB lessons look visually stimulating.
What has been a challenge you didn't anticipate?
Keeping up with everything I planned out! I thought I had our schedule firmly planned, but life happens: fun homeschool events sometimes take place in the mornings, Kaitlyn has preschool events that we attend, sometimes we are out of food and have to go to the grocery store. The flexibility of homeschool is one of its best attributes, but it's taken a little while for me to get comfortable with it.
Now that I am seeing how much learning happens at the grocery store (people skills, price comparisons, percentages, etc) and that it's OK to do math or science experiments in the afternoon rather than first thing in the morning, I feel more at ease. I also understand that some days learning can't be forced and it's better to play some board games than to trudge through the math just because it what was on the schedule. Some weeks we knock out everything and more, and other weeks we do a single math lesson because we are busy exploring outside or going to other events.
How old were your kids when you started?
I count our official start to be in September of 2017, just as Hailey turned 6 years old.
What are your favorite non-school ways to get your kids out playing with other kids?
Extra curricular activities certainly help! Right now Hailey is in music, basketball, and Girl Scouts. In March she'll pick up tennis and soon after that, swim team. Girls Scouts has been especially great for her and she loves it! Other than that, we get together with other friends that homeschool (it's a goal of mine to do better at this for next year) and see our friends that go to school on the weekends or school holidays. We also go to homeschool specific offerings, like Discovery Place science classes, and we just joined Wild and Free group that I'm really excited about!
Any hard parts that people don't talk about that's you'd tell someone about to embark on the journey?
For me, there have been many more pros than cons. However, there are some tough parts. Some days we just don't click and everything feels forced. Those days are hard, but they are bound to happen. Also, for me, the ever-changing schedule has taken some getting used to. I'm a routine person, so it's been an adjustment for me to see that each week looks really different. Having friends that also homeschool makes a big difference because as homeschoolers you have more time to do things outside the home and having people to do those things with makes it so much more fun!
How do you make sure you are covering everything they need to learn?
I've realized "covering everything" is an illusion. I probably won't cover it all, and neither will the public school. Also, what a child "should be" learning is completely subjective and if you asked different teachers (Waldorf style, Montessori, unschool, classical approach, etc), you'd get very different answers of what a child should be learning when. Realizing that, I'm slowly embracing the outlook that if we are constantly learning and progressing, then we are doing just fine.
That being said, I have certainly been guilty of googling "what does my child need to know by 1st grade" and have come across multiple lists outlining specifics skill and knowledge they should have. I have found that we check most of those off with ease, which relieves my self doubt, but I'm trying to let go of this method of comparison.
Now that you are a few months in, do you with you would have homeschooled preschool too?
I honestly don't know. I love our preschool and Hailey enjoyed her experience there, and it gave me time to weigh our options and figure out our path. I don't think I would have done anything differently in our case, but if I had known for sure that I was going to homeschool, I might have skipped it. I am glad we only did three mornings a week at preschool though because I think it would have been more of an adjustment socially to go from five days a week to zero.
Do the girls ever seem jealous over each others' different situations?
Sometimes! Hailey isn't really jealous that Kaitlyn goes to preschool, but she does like to talk about the fun she had while she was there. She realizes her friends don't go there anymore either, so she doesn't feel left out. Kaitlyn however, though she loves her preschool class, will often ask to stay home with us. She's faked a cough before to try and stay with us, so I think sometimes she is jealous, but she always enjoys school once she is there.
Where have you seen Hailey thrive most as a homeschooler this year?
For me the biggest leap has been in her people skills. She's a naturally shy kid around strangers, but over the past six months she's gotten more confident in speaking to adults and meeting new kids. Now at the grocery store she will walk right up to an adult and ask "excuse me, where can I find the XYZ." She'll order her own meal at restaurants. It may sound like a small thing, but it's really cool for me to see. Now at at a playground (when she used to just stick with the one person she knew) she will walk up to a new kid, introduce herself, and ask if they want to play. It's not an academically-focused answer, but it's really been an amazing transformation to watch and I fully credit the fact that we are always out and about, meeting new people, and putting her in situations where she has to get outside her comfort zone and speak up for herself.
Do you think you'll homeschool throughout their education?
We are keeping this completely open. As long as it's working and providing more benefit than cost, we'll stick with it. If it stops working for us, we'll look into other options.
How is focusing on literature that is not twaddle going? Have you seen a difference with their book choices?
"Twaddle" is a Charlotte-Mason term without a solid definition, but when referring to books, it roughly refers to books that are of low literature quality, predictable, or insignificant. Basically, dumbed-down literature. An example would be a Disney princess board book about getting ready for a ball. I feel perfectly comfortable with that example because it's a book we own, despite my best efforts to relocate it to the trash. I really try to focus on non-twaddle books (here is a list of non-twaddle literature by grade level).
I feel like I still control most of the book choices in the house, so most fit under non-twaddle. We are reading The Little House series, Anne of Green Gables, old fashion fairy tales, and I just picked up the Boxcar Children. If we go to Barnes and Noble, they are drawn to twaddle like a moth to flame. I'm fine watching Hailey read Bubble Guppy books to Kaitlyn there, but as far as what we buy and borrow, we stick to the more quality stuff and they both really seem to enjoy those a lot! Even if they initial cover art wouldn't have attracted them initially (like Stone Soup, which they both loved).
I don't have it all figured out at six months in and I am realizing I may never feel like I have it all figured out. I am thoroughly enjoying this journey though and every time we spend 30 minutes snuggled up together reading Little House, then researching more about how to tap maple trees and make maple cakes like Laura and Mary ate, it all just feels right.
I have received so much encouragement and support from other homeschool moms. None of them feel like they have it all figured out either, but just talking or emailing with each other has been so helpful, so if you have any questions to ask or advice to share, please do!