Back when I was first curious about homeschooling, I'd ask any homeschooler I met exactly how they did XYZ. I wanted a roadmap of how to implement an effective homeschool and figured I'd follow that to a T.
Then I went into the stage of trying to prove to everyone else that I was doing a good job (AKA: trying to make it look like "real" school). And now I've grown into a place of knowing that homeschooling looks different for every single family, and there isn't a right or wrong way; it's what works for your home.
For us, a year-round approach works best. It allows us to homeschool in rhythm of the seasons. This past year we started our "new" year in early July in anticipation of our August full of travel. We started strong in anticipation of easing up when December arrives. We do a light December for many reasons: because it's one of our favorite times of year, to allow us time for holiday themed fun, to focus on family and giving, to watch Christmas movies.
As today is December 1, we are officially easing into our December mindset and schedule, which is great timing because Finley is keeping us quite busy as we figure out how to have a puppy and debate getting some help training (please someone tell me how to make her stop biting us during play).
We don't forgo learning in December, we just slightly shift our focus. As always, life skills and the feeling of family are very centric to our homeschool goals, so we amplify those and go a little lighter in other areas. Here's what that looks like:
How We Homeschool During the Holidays
We stick with math. I know, I know, but for my crew it's most helpful to have it be a steady drip. We do less regular lessons and make it a bit more fun though! We use these multiplication cards (it's a high quality set I really recommend) to drill facts everyday together in a trivia type setting. We play math-related board games. They do coding. Things like that.
We read aloud. Right now it's Ramona and Beezus, but I'm going by the library today and am looking to pick up some off this Christmas novel and short story list. The Vanderbeekers of 141st Street is a fabulous Christmas time chapter book read aloud if you need one. We also still read all over favorite Christmas picture books, too.
We focus on giving. Some things are smaller and more tangible, like bringing a note and a magic kit to neighbors that are under the weather. Or baking cookies to delivery to friends. Some things are larger. The girls love getting to pull out their "give" money and put it to work. Organizations we are focused on supporting this year: Feed NC, Discovery Place, a local church, The Christian Mission.
We spend more time on hobbies and life skills. Hailey has really gotten into sewing on her machine. Mema brought her the sweetest pillow Christmas book to sew and they made it together. Kaitlyn is working on calculating change when buying things (we went shopping for Finley's Christmas presents yesterday). She is also really into cooking right now, so we've been spending time in the kitchen.
There are also other things like piano, emailing, creating videos on the ipad, ornament crafts, Art Hub for Kids, Mystery Science videos, and basically anything that arises that they decide they're interested in.
We play and chat. More outside. More board games. More cards. More Barbies (them, not me… I can't hang in pretend play like that). We have more time to just hang out and chat (which you might think we have a ton of time to do, but somehow we stay pretty busy even as homeschoolers). Yesterday for example Hailey was talking about making money in the summer with a lemonade stand and we talked through the idea in detail, teaching her words like market research and business plan. It was really fun to watch her light up over it all.
We might sneak in a few regular lessons, too. Sometimes I can't help myself and homeschooler guilt still arises and I decide we should do a little language arts or writing. I still question our choices sometimes on whether we are doing things "correctly" and I imagine I always will. As parents we always wonder, right?
But something tells me that I won't regret having these slower December days to look back on, so I push the potential guilt and wondering what others might think aside and choose to embrace these sweet days with my girls who are growing way too fast.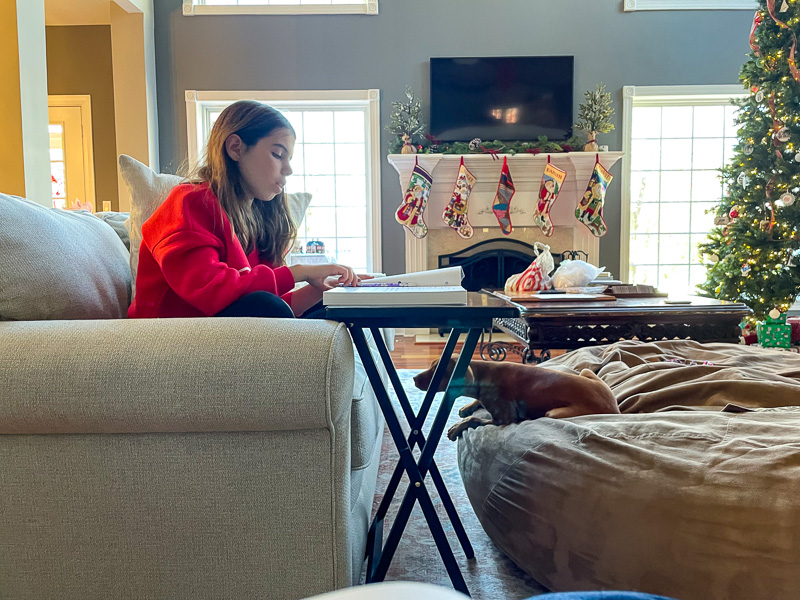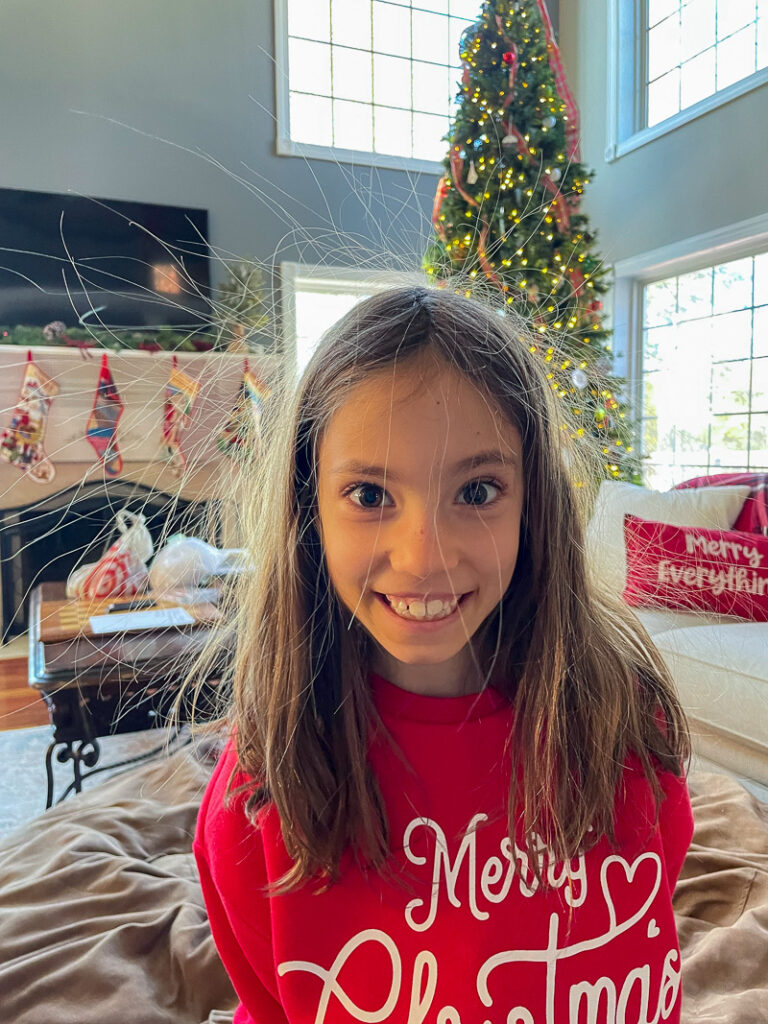 And that's it! Nothing fancy or complex. Just a more relaxed pace, which suits us well, as this time of year flies by fast enough as is. 🎄