I appreciate you understanding my baby brain yesterday. It's the weirdest feeling ever and I hope it eventually passes. Luckily the fog cleared up just enough for me to create a new and delicious dinner!
It all started with goat cheese, so you know it's got to be good 😉
Herbed Goat Cheese Spread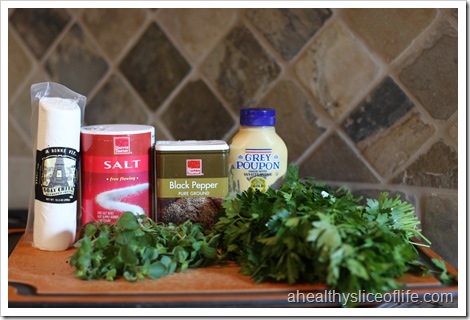 5 ounces of goat cheese, in log form
1 bunch of fresh oregano (roughly 3/4 cup)
1 big bunch of fresh parsley (roughly 1 cup)
1 tsp dijon mustard
1/4 tsp salt
1/4 tsp pepper
1.5 Tbsp water
Everything goes into the food processor together. How is that for easy?
And pulse.
Pause to scrape down the sides, and pulse again until smooth.
Use this to dip veggies into, to spread on sandwiches, lick it straight off your fingers, OR… take it to the next level.
Herbed Goat Cheese Chicken Pasta
Grill up some boneless chicken breasts outside.
Inside, slice up some cherry or grape tomatoes and baby spinach while a pot of whole wheat thin spaghetti boils on the stove.
I can barely get close enough to the cutting board with that belly!
Feel free to taste test the 'maters 😉
Drain the pasta and put in a large bowl with the spinach. The hot pasta will wilt the spinach. Add in your herbed goat cheese spread and a generous amount of olive oil. Toss and stir to coat.
Add the cherry tomatoes into the mix and plate- adding your chicken, or protein of choice on top.
Serve and devour!
Oh yeah! As much as I love basil, it was fun for my taste buds to enjoy a different variety of fresh herbs. This dish was flavorful, nutritious (fresh herbs are so good for you!) and perfect for summer.
What's your favorite herb?
I think mine is usually basil or cilantro, but I eat 'em all!
PS- This was enjoyed alongside The Bachelorette finale. Who else is thrilled this season is over? Bring on Bachelor Pad!! 😉