While I didn't enjoy the bad dream that kicked off yesterday, I ended up enjoying the early wake up. It gave me time to blog and answer some emails before setting up breakfast for David. Sometimes I cook breakfast, but more often than not I make the coffee, pull out boiled eggs, yogurt, chia seeds, and granola.
I also had time to mentally comb through the day, pick my top three, fill out the girls' "my day" charts, feed the sourdough starter, and take Finley for her morning sniffari. It all was a normal enough routine that I didn't think I'd have much to share on here; as apparently I don't remember how to share the regular day to day humdrum very well.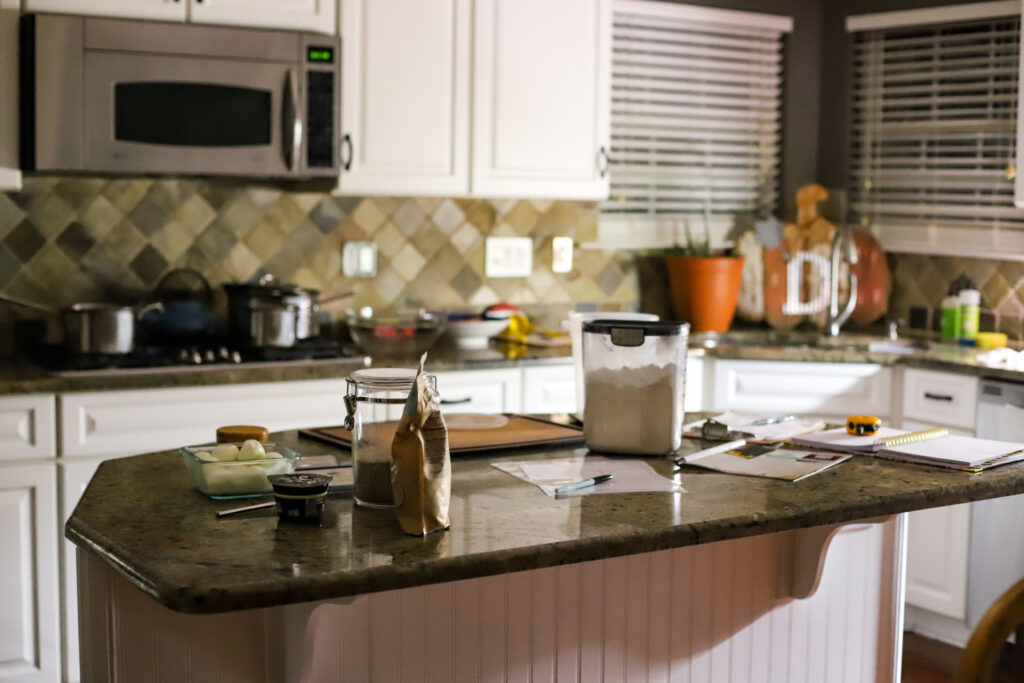 However at one point I read Kath's 6 Healthy Habits for Fall post and it got me thinking about what new healthy habits I could add into my routine. Which then got me thinking, instead of looking to add more, what if I looked at the habits I've worked hard to build overtime that I depend on to keep me feeling well. So let's chat about those- the healthy habits that have made the biggest differences for me. And if you're up for sharing, which healthy habits do you have that make the biggest difference for you?
The Morning Walk
I refer to this as a "sniffari" after a dog book I read about the benefits of a walk for dogs for the main purpose of aimless sniffing. So I credit Finley for getting into this habit, but each early morning we go on an off-leash walk. It takes about 30-45 minutes and we cover about 1.5 miles of up and down streets and sidewalks. She loves it, and I do too. Getting that fresh air and sunlight first thing in the morning helps set my circadian rhythm and starts my day off on a healthy note.
Eating More Protein
I can't tell you what a difference I've seen since adding more protein into my diet. It's been probably 12-18 months since it became a focus for me and over that time it's helped my hormones regulate (normal cycles for 12+ months now), my nails are strong as, well, nails, my muscle definition is better, and my blood sugar feels more balanced. I want to do a CGM but the fact I don't have to snack like I used to tells me my levels are steadier.
Usually I eat in the mornings first (yesterday it was a fried egg on half a Dave's Killer Bread everything bagel with cream cheese, a mandarin orange on the side, and a boiled egg). I need to learn how to focus my camera lens on the nice camera again… clearly I'm out of practice.
Then I make the girls' breakfast and while they eat I jump into reading the Gather Round lesson for the day. Yesterday we learned about goat farms and spent 15 minutes at the end of it watching hilarious compilations of myotonic (fainting) goats. Now we all want goats.
While they worked on lessons at the table I made meatballs. Well, I was going to make paleo meatballs, but Kaitlyn said she was more in a meat sauce mode, so we ended up breaking up all the meatballs into a sauce to simmer in the Precision Dutch Oven all afternoon.
The Chiropractor
I've been going to the chiropractor for about 18 months now. Since David works in spine it totally freaks him out and he's not a fan. However, I can't argue with the results I've gotten from going consistently. Before I started I had neck pain at least once every 6 weeks when it hurt to turn my head for a day or two. I also used to get numbness in my toes every so often and since neuropathy runs in my family it concerned me. Since going once a week, these issues have both completely gone away. It's not convenient to go so I just switched to every other week appointments and hoping to keep my results.
After I got home from the chiropractor I made lunch. The picture is a big deceiving because while I did have a simple tuna salad (protein!) and salad, I also had 4 pizza crusts from the homemade pizza I reheated for the girls dipped in pesto and some pretzels and pimento cheese.
David got home after lunch and we had a phone call with our website developer who is helping us build sites for Sweet Home Bearolina and The Overlook. We hope to have these launched in the next month or so. We also signed paperwork because we are officially under contract to sell the rental I told you about last week.
While we were in the office the girls turned into screen time tokens to watch Full House then headed outside to make nature potions (Halloween fun is in full effect around here).
Lifting Weights
Then David and I changed to go workout (in our makeshift, under the house gym). I am really proud of the workout habit David and I have. We workout everyday (even though once or twice a week it's just a long walk). Usually it's a 1.5 mile walk followed by a Madeline Moves workout. We do modify and rarely do the optional portion or the recommended cardio component, but we lift, and for us, that's been really good. The picture below: "Kaitlyn, will you take a picture of Dad and me near the pumpkins as we head to workout?" Nailed it.
Making More Things From Scratch
I certainly still buy convenience items, but it's also been empowering to learn I can make a lot of the things we eat myself. Today I'm attempting sourdough bread bowls from Half Baked Harvest. I had to start them yesterday but H and I are excited to see how they turn out. She requested broccoli cheddar soup and asked if we could make those fancy edible bowls like Panera has to go with it. Fingers crossed!
Looking for Ways to Add Extra Veggies & Herbs
The sauce made the house smell so good that I ended up eating my own dinner before the rest of the fam got home from soccer. I used half Wildgrain fresh (frozen) pasta and half Palmini (heart of palm noodles). I found some frozen chopped kale to add in, too. I'm not always great at switching up the veggies I choose, but finding ways to add more into a meal I do pretty well.
Also, the countertop gardens… I still love them so much. I put fresh herbs on almost every meal I eat and though I couldn't tell you exactly what benefits each one offers, I figure it can't hurt to add in a variety of fresh herbs everyday.
Prioritizing Sleep
The kids didn't get home from soccer until close to 8:30 so after eating and showering, it was 9:30 before they got into bed, which is basically my bedtime. While it's tempting to stay up later to work on my to do list or watch a Ted Lasso with David, I know what a HUGE difference sleep makes for me. So we tuck in around 10:00 to clock in those 7.5 hours.
And that's the hodgepodge of my day as viewed through the eyes of habits. You could add to this list CBD, mouth taping, deep breathing, cod liver oil, Vitamin D, unplugging, the sauna, the Lumen, and other things I am constantly experimenting with. I feel like I'm always trying to read (or listen to podcasts) and find new things to add in, but sometimes it's nice to just pause and reflect on the things you do well instead of always looking for something new to add in.
What habits do you have that make you feel your best? Have a great day, friends- off to sniffari!