Today's post is a reader request- my favorite! I am a pretty open book and love sharing how we do life and hearing how you do life in return. Today we're talking husbands that work long hours/travel…
I would love a post on balancing being a part time working mom, part time SAHM with a husband who has long work hours and travels a ton. I feel burned out by being the sole parent most days. Would love your take on this, any advice as I know your husband has crazy work hours too.
-A
I've decided to tackle this topic on a day I'm feeling bright and optimistic. Don't let that fool you into thinking I haven't had days where I want to scream IT'S NOT FAIR at the top of my lungs. As the girls have gotten older (now 2 1/2 and 5), those challenging moments have become fewer and further between, plus I can tell them to go play when I need some time to regroup, but still, I've been there.
I've had days I feel completely burned out and others where I crave validation. I want to tell David everything I've done and I want him to react with a genuine "oh my gosh, how do you do it all? You single handedly make this family function day to day, and so seamlessly, and we are forever indebted to you." Then I want a full spa day to bask in my awesomeness.
Spoiler alert: that has never happened.
But I have learned how to better deal. I never have really considered myself a WAHM because this blog is something that is such a fun passion for me, but to keep it going, it does require my time. I estimate I spend about 15-20 hours a week on the blog. Perhaps that qualifies me as a part time WAHM and maybe it doesn't but whatever my category, I do run this space and our household during the week since David works sometimes long and always unpredictable hours. (And I still feel I have it easy compared to some of my friends who have husbands that travel for weeks -or months- at a time)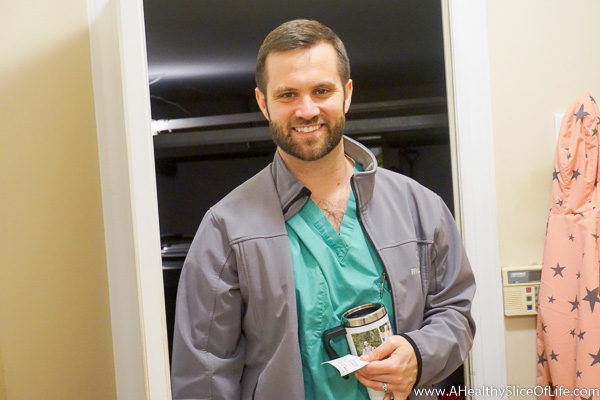 Taking on the majority of home and child care during the week took some getting used to, but over the past 5 years I've learned a few tricks that have made my life easier.
Don't let resentment overtake you. I've learned not to keep score. I remind myself that what he's out doing all day is for the family too. One of the things I love most about David is his strong work ethic and drive, so anytime I feel like my job is harder, I give myself a quick reality check that we're both working our tails off for the good of our family. It helps me feel more like a team and builds camaraderie.
Focus on the good stuff. My optimism is about 50% nature and 50% nurture. I intentionally focus on the good. I feel really grateful that my hobby turned into a part time job that allows me to contribute financially doing something I love. I feel fortunate that I get to be home with my kids. Focusing on the perks of my situation (pajama and movie afternoons!) helps me better handle the hiccups (napless afternoons, home repairs, technical difficulties online, doctor appointments, car repairs, you know, life).
Enlist help. And drop the guilt associated with it. We have bi-weekly house cleaners that I love almost as much as my children. Sure I still wipe down, sweep (almost everyday because my kids eat like rabid wolves), and whatnot, but it saves me the time it takes to do a deep clean. Whether it's cleaners, meal delivery/food prep short cuts, yard professionals, babysitter swapping with other moms, etc carefully selected outside help can make a world of difference.
Take care of yourself. It took me a while to realize that David really didn't care what I did all day, but he did care if I was happy. There have been phases when I've burnt myself out until I learned that not all solo time needs to be productive. I have a wonderful once a week sitter (that I adore). 90% of that time I spend working on things, but that other 10% allows me to fit in an occasional pedicure or take a long walk. Maybe it's wine and a girly TV show once the kids are down, or a coffee date with a friend once you drop your child at preschool, but allowing yourself to have some true "me" time isn't indulgent, it's necessary.
Create a schedule. I get up between 5:15/5:30 every morning. I don't love setting an alarm, but it's necessary for setting up my days the way I want them. I do my weekday "work" in the early morning which frees me up to be "just mom" during the day. I also schedule in downtime. I deliberately leave several afternoons open. For laundry, for play dates, for baking whatever comes up.
I've learned to do the work I can do with my kids, with them. For me that can be cooking, cleaning, or organizing. Other things like editing pictures and writing I have to do in my morning hours. I don't do those "solo" tasks while my kids are up because I found myself becoming irritable and frustrated when they interrupted (which of course they are going to) and it went against everything I want to be as a mom. Delegating certain tasks at certain times has really helped my sanity.
Have the kids pitch in. I realize a little more each day that my kids can actually do things. I told them the other day they needed to clean the floor around the table then my jaw dropped as I watched Hailey sweep everything into a pile and Kaitlyn dustbuster it up. I constantly am reminding myself that my girls (especially Hailey at 5 years old) can and should be taking on more home responsibilities.
Stay in touch with the husband throughout the day/week. David and I have a constant WhatsApp stream. We send each other funny things, updates on our days, topics to discuss later, pictures of the kids, etc. It really helps me to feel connected to him throughout the day and helps me feel like we're on a team, tackling this crazy day separately, but together.
Greet him with a smile. Have I thrust the baby at him before as he walked in the door? I'm sure I have- those baby witching hours are no joke, but I really try to not just throw the whining kids at him as soon as he gets home. I'm not saying I'm dolled up and in heels, but a quick smile and hug hello hopefully lets him know I am happy to see him and am grateful for what he does during the day for our family.
Take shortcuts. Or long cuts? When I'm solo, especially if it's for a couple days, I give baths at 3:00 pm before the girls are too tired to fight it. I make dinner/bath/bed a relaxed, 3 hour process. It keeps stress lower for all of us.
Tell him how you feel. I know I should not need validation from my husband, but knowing that has not stopped me from wanting to feel appreciated. When David tells me he is grateful for what I do, I don't blow it off like it's nothing. I tell him how much it means to me to hear that. It's work I am beyond happy to do, but it is work.
If I'm not feeling appreciated or wanting to discuss a change, I bring it up after the girls are down and we're both in a relaxed mode. Timing, I've learned, makes huge difference.
And to the 8% of men that read here, a few quick ideas to consider:
Kiss her goodbye in the morning, tell her she's beautiful with that crazy top knot, send her flowers for no reason (especially if you travel), leave a note under her pillow, and most importantly, tell her how much you notice and appreciate all that she does. Acknowledgement goes a long way (for both parties).
No matter what your situation is (WAHM, Working Mom, SAHM, or any combo of the above), you are working hard. We're all full time moms and ish isn't always a cakewalk.
Do you have a great tip for how to handle it when your husband works long hours or travels?
Military wives (thank you and your family so much for your sacrifices), I have so much respect for what you do. I'll bet you have some really wonderful tips, so please share them!