If I had any doubts about summer fun wearing my kids out, yesterday sealed the deal. We were invited to a media day at Great Wolf Lodge and we took full advantage of the activities by arriving at 9:00 and not leaving until close to 5:00 PM- and we still weren't able to fit all of it in! It was my second visit to Great Wolf Lodge, but the last time Hailey was barely one year old, and this time I felt like I learned so much more about the facility, their offerings, and how best to navigate it. Since I know it's a poplar destination for many, I wanted to share some of those tips I learned with you in case you are considering a family getaway to Great Wolf Lodge yourself!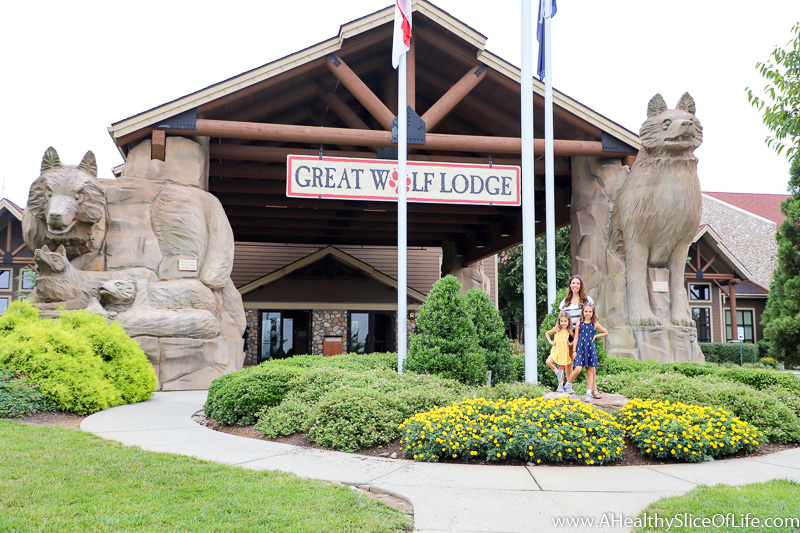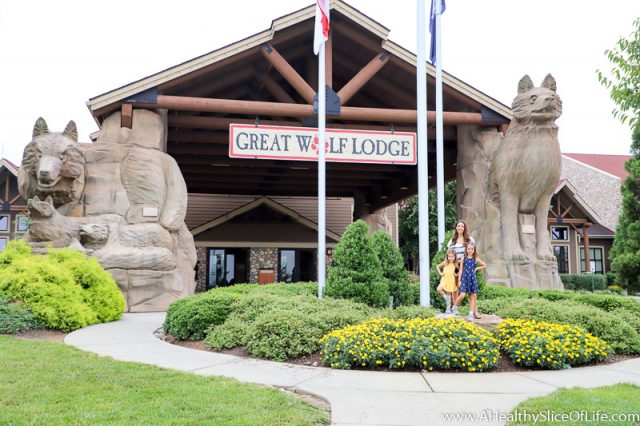 MagiQuest can take three hours to fully play.
MagiQuest is described as a video game, come to life, and you are the main player. The kids (and adults if you're into that sort of thing) choose a wand, activate it, choose a magical name, then run around completing quests by virtually capturing crystals and other paraphernalia with the power of your wand. It's chaos, as the items can be found on three different floors, so kids are running up and down stairs and down themed hallways trying to find their treasure. It's worth nothing that this game is not included in the stay. It can cost around $30 once you buy the wand and the access to the games. However, if you are a frequent visitor, you can bring your wand back the next time to use.
We completed one quest (supposedly the easiest one) and it took us 45 minutes! Part of that was a learning curve. The girls were really into it and I could see how it would be a great idea to send the kids on an adventure while mom and dad sat at the restaurant on the main floor, relaxing, and watching the craziness unfold. We chatted with staff that told us that for kids to complete all the quests, it can sometimes take 3-4 hours. That's a lot of chill time for mom and dad!
One night equals two days at the park.
Great Wolf Lodge does not offer day passes; you have to pay for a night's stay to access the facilities. However, you are allowed into the water park on the day of your arrival AND the day of your departure, so you can really maximize your stay by arriving early and staying late. They have an ideal setup for families because they offer bunk rooms. A tip? Splurge for the themed ones; the kids will lose their mind with excitement! Another tip? Take advantage of their wine and dine package. They will deliver a bottle of wine and a snack to your room so you and your significant other (or Nana, or sister, or just you!) can enjoy a chill evening after the kids crash into bed early!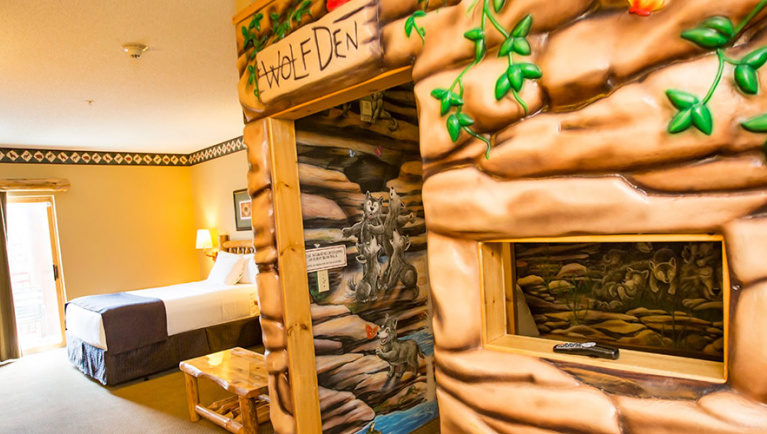 Age 5+ is where it's at.
I had a lot of DMs on Instagram asking about taking a toddler. You could totally take a toddler and they'd have a ball. There is an entire toddler area in the water park, plus other activities like story time, a miniature bowling alley, putt putt golf, and character meet and greets. However, personally I think ages 5+ will get the most out of the experience AND it will be more enjoyable for you too then without having to constantly hover over them. Hailey was in the sweet spot for this trip (age 6 1/2). She could ride all the big water slides, swim in the wave pool, participate in the ropes course, and run around doing MagiQuest by herself.
They've upped their food game.
In the water park, you'll find what you'd expect- hot dogs, hamburgers, chicken tenders, and fries. However their restaurants offer some decent options like a hummus appetizer, grilled shrimp and farro salad, and roasted wild mushroom risotto. They served us food from their catering and conference division and it was really good! The Concord location (just outside of Charlotte) also has a Dunkin Donuts in it and will deliver donuts and coffee to your room in the morning if you'd like. There is also a breakfast and dinner buffet at which children age 3 and under eat for free. They are allergy-friendly and will accommodate any allergy; just make sure to talk to your server.
Summer is their busiest season.
This actually surprised me at first because I figured winter would be popular for people looking for a break from the cold and some water fun (I also received a lot of Instagram messages from y'all saying that the Christmas decorations are worth making a trip to see). However, now that I've been, it makes sense that summer is the busiest because you can also take advantage of the outdoor activities- the outdoor pool, ropes course, and putt putt. For me, the ropes course was a highlight and if we go again, I want to make sure we go when we have access to it. Watching my girls conquer their fears and move through the course and down the zipline was definitely one of those proud mom moments I'll always remember.
All in all we had a great time. I had been eyeing a time to take the family (I was on the lookout for Groupons, but otherwise I was trying to find an time to go during the week when rates are lower and crowds are quieter), so being hosted for the day was a real treat that I was grateful to attend. I think it's worth noting that we went during their busiest season and never waited more than 5 minutes for any of the water slides, and many of them we walked right onto. I do wish I would have worn my fitbit to see how many steps I accumulated because the place is huge and has a lot to offer families.
If I left anything out or if you have any questions, ask away!
And if you've visited a Great Wolf Lodge, I would love to hear how your experience was!