I did my best to label this post clearly, so that any squeamish readers would have the chance to x-out of here before things got too in depth…
I mean it. Fellas. Non-baby-loving ladies. Dad. 😉
Last chance…
OK, I warned you.
I always knew I wanted to breastfeed, but have learned that things don't always go according to plan.
Before Hailey arrived, I read The Womanly Art of Breastfeeding, listened to the experiences of other moms and decided to wing it with anything beyond that.
I knew the basics:
nurse the baby as soon as possible after birth
make sure a lactation consultant helps you and the baby have a proper latch from the start
it's natural, but don't expect it to be easy at first
But there are some things that weren't clearly outlined for me, so I wanted to share with you some of the truths I learned along the way…
What No One Told Me About Breastfeeding
1. Nursing can hurt.
OUCH. Even with a proper latch, it takes a while for your nipples to toughen up. (I just said nipples on the blog… I warned you, squeamish readers!).
And I'm not talking about a 'oh that's a bit uncomfortable' feeling. No, I'm talking 'What the FUDGE?! Is that a rabid kitten trying to gnaw off my nipple?!' kind of pain. For the most part, it only lasts about 15-20 seconds, then if you have a proper latch it fades away.  But those initial seconds are brutal.  I cried, I cringed, I might have bit David's hand at one point…
but the good news is…
2. It doesn't always take 6 weeks.
I kept hearing to try and stick out breastfeeding for 6 weeks because after that, things get easier.  I remember thinking how long 6 weeks sounded, so imagine my delight when after only 2 weeks, I felt like we finally got into the swing of things.
Latching didn't hurt anymore and my cracked, painful nipples were healing. Hooray!
3. Lanolin is a lifesaver.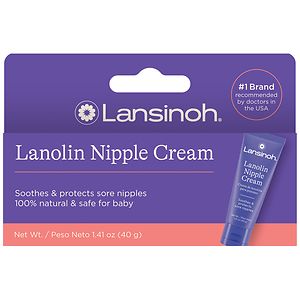 Prepare to pamper your nipples. When your newborn is eating often, your nipples barely get a break before they're being gnawed at again.
(Who knew a mouth with no teeth could wreak such havoc?)
So, in between feedings, take the time to care for yourself. Even though I was tired, after every feeding I'd let 'the girls' air dry, then smother them with Lanolin. My house was like living in a nudist colony for the first two weeks; I was always topless. It soothed and healed my poor cracked nipples and I'm pretty sure it contributed to helping them heal more quickly and made me get the hang of breastfeeding quicker than I expected.
4. Baby fingernails are like razor blades!
An infant's little fingernails bend easily and are paper thin, but don't let that fool you. Those little things can do some serious damage. I called Hailey's nails 'her little raptor claws' because if I didn't keep them trimmed and filed, it felt like being jabbed with a safety pin every time they brushed across my chest.  That lucky little girl got constant manicures with baby nail clippers and a gentle file.
[Tweet "Baby fingernails are like razor blades and other breastfeeding truths."]
5.  Breast pads will be your constant companions.
Buy them. I love this organic option. I was thrilled when my milk came in after only 36 hours, but I was not prepared for the sudden oversupply I had. I don't think my body was either. My boobs couldn't contain it all and they turned into milk fountains if Hailey didn't eat every hour.
It's the craziest thing to watch your body suddenly start squirting milk. In hopes of saving at least some of my shirts, I bought the extra large box of breast pads and suggest you do the same… no matter how unsexy they may make you feel.
Once you get the hang out it, nursing your baby is pretty awesome. 
Not only is it free (wahoo for budget friendly!), what they say is true — it's a really sweet way to bond with your baby. When David first fed Hailey a bottle, I was a little jealous. Isn't she supposed to need me for that?
There is something so satisfying knowing that you are sustaining your baby through milk that you are producing and having the ability to calm her at anytime. The body is pretty darn amazing.
What is one thing you learned through experience about breastfeeding?
Or…
Will you ever read my blog again now that I said nipples this many times in one post?