Happy Friday pizza night! Despite us being in the season of life where Kaitlyn has soccer games on Friday evenings, we still try to make this tradition stick. There is something about a movie and pizza at the end of the week that feels celebratory and restorative to all of us.
This week was a fun one. We had regular schooling at home of course, but the girls also had their first in home piano lesson (loved it!), co-op (where last minute I had to step in and teach the Spanish classes los colores), baking pumpkin cookies, a trip to Discovery Place for a media sneak peek of the new Apollo exhibit, a date night with David (we are committing to making these happen at least every other week), annnnnnd apple picking!
Well, apple picking is today and we are looking forward to it because Mema is going to meet us there and we're hoping for temperatures in the low to mid-70's.
Anyway, pizza and movie night. We watched BIG last week and it was a hit for us all. We're still working our way through this list of 31 classic movies we want to introduce the kids too (I'd say we've done about half of them at this point), but as of today (OCTOBER!) we are going to begin working our way through our Halloween movie list.
Remember the days we used to pick up Papa Murphy's take and bake every week? Do you remember when I was suuuuuper pregnant and got to make pizzas at a Papa Murphy's with Molly?
Memories… sigh… we loved it so much, but all the locations near us shut down. Still, it will always remind me of when the kids were really little because it was such a fun tradition for us.
Since they closed down, we had to get really good at making pizza ourselves, and we really have. We always use our bread machine to make the delicious, fool-proof dough. The toppings though? We like to switch them up!
Our favorite pizza topping combinations:
Pesto as a base, Italian sausage, sliced red onion, baby bella mushrooms, and tomato (usually we use sliced, but quartered grape tomatoes works, too).
Olive oil and garlic base, ricotta, fresh spinach, chopped marinated artichoke hearts, and fesh mozzarella with cracked pepper.
A veggie pie with red sauce, steamed broccoli, white mushrooms, yellow onion, and mozzarella. Don't knock broccoli on a pizza until you try it!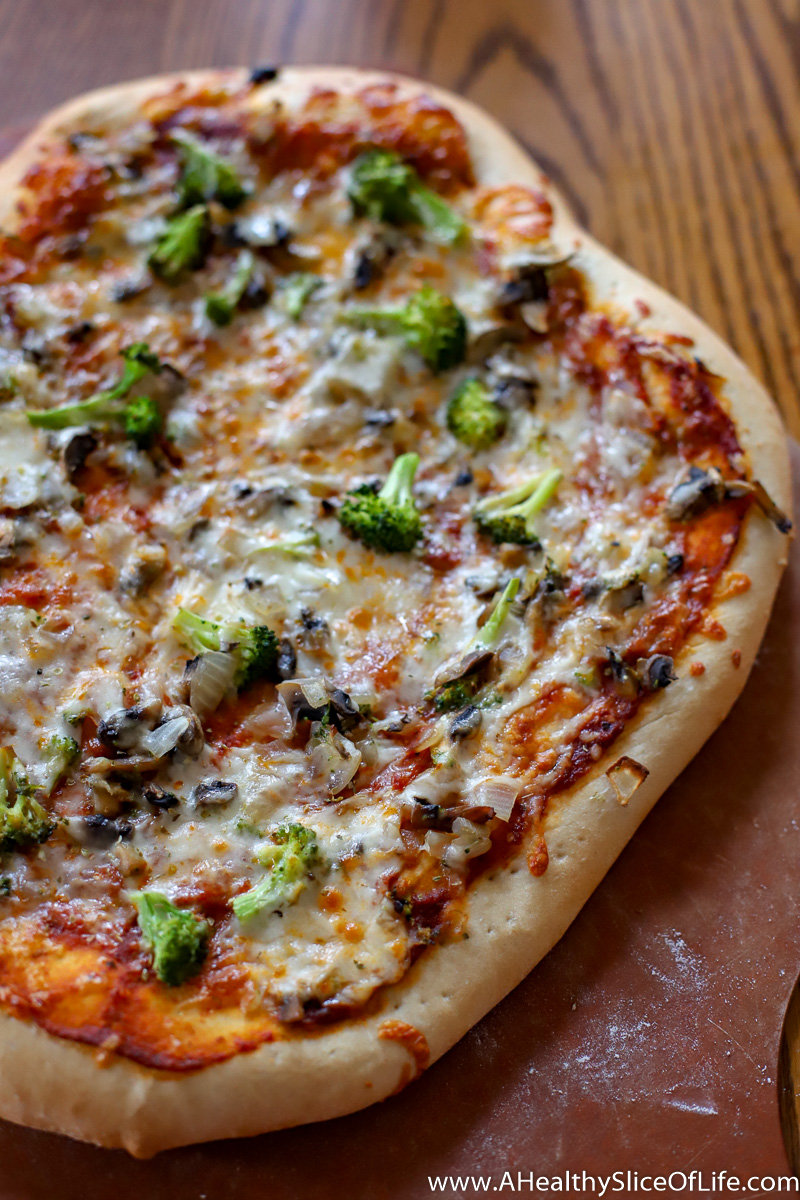 BBQ Chicken pizza with a BBQ sauce base, sliced red onion, chopped chicken, mozzarella cheese, and a sprinkle of cilantro after baking.
Of course classic pepperoni and cheese will always be a hit for the kids, too, but it's been fun to have them try different flavors and combinations on our family movie nights.
I'll also note that we have tried pineapple and ham and all stand firmly in the "it does not belong on pizza" camp. Yes, I know, I put broccoli on a pizza and still feel this way? I do. You can't convince me otherwise.
Happy weekend friends!