I can't believe it's been 8 months since I first shared with y'all about my journey with estrogen dominance. A lot has happened in that time and I figured a detailed post was in order. If female hormones aren't your thing, please feel free to skip this one, and I'll see you next week!
I'll pick up where I left off- I had been prescribed three rounds of Provera (progesterone). I finished those over the course of three months, had the repeat biopsy and got the "all clear" report back from my doctor. I was thrilled by this and since I was strongly grounded in my no-birth-control opinion, he agreed to just watch me over the next few months and see how I did.
For a cycle or two, things were OK. My cycles were still long (40 ish days), but they came fairly regularly. Then, in June, I experienced another episode of mid-cycle spotting. It was a tiny bit that lasted 2-3 days, but certainly could not have passed as a period. I felt beyond frustrated. I got mad, I cried, then I called my doctor because those emotions really stemmed from one place- fear. Since I also was having some stomach issues at the same time, I wanted to come in and have him rule out any scary stuff, then we could decide where to go from there.
Estrogen Dominance: IF, Macros & Fasting Insulin Levels
It took me about two weeks to get into his office. During those two weeks I had decided to hop back on the intermittent fasting train. I ate each day between 11:00 AM and 7:00 PM, then fast until my next eating window. I was slightly worried about getting enough calories in during the shortened window, so I paid Madeline to create a macro plan for me. I tracked for about a week in My Fitness Pal to get an idea of the appropriate amount of macros I should be eating, then stopped tracking, but stuck with the general guidelines I had learned. Basically, I had to try harder to get more protein and healthy fat was my friend when combating estrogen dominance.
Once I got into the doctor, I had calmed down. Through an in-depth conversation, ovary ultrasound, and blood work, he assured me I didn't have anything worth overly worrying about. My ovaries were both still poly-cystic, though, and again he brought up the idea of trying me on Metformin, a diabetic drug that would help control my blood sugar and insulin response. Again, I said no, but I wondered if medication would really be my only answer.
A few days later I received my blood work back from my doctor, who was baffled by the results. My fasting insulin was 4.0 and my fasting glucose was 77, which was a significant drop from the previous results. The only thing I had really changed during that time frame was going back to intermittent fasting, so I decided to stick with it since it seems to be helping me develop more insulin sensitivity.
*I know IF is all the rage and trend right now, but I've done enough research to know it's not for everyone. I'm doing this for my own personal health reasons and under the supervision of doctors. I am not advocating that this is the right path for anyone but myself, so you do you.
Marinated Chicken and Noodles over Palmini with Roasted Broccoli
My doctor told me he didn't want to try Metformin on me anymore because he didn't see what it would be able to do now that my blood levels were in this range. He said he was going to put a call into an endocrine specialist friend and ask him about me. I told him I was going to look into finding a holisitic/integrative doctor to meet with in addition to him and I was grateful that he was on board with that (because I love my doctor and didn't want him to think I didn't trust his expertise).
So began my hunt for a functional medicine specialist/integrative doctor that specialized in estrogen dominance.
Finding an Integrative Doctor
The first doctor I tried was an acupuncturist. The session was half therapy-like and half medical which I really enjoyed. However, I did not enjoy the acupuncture. I feel I'm in the minority here, but it was uncomfortable for me physically (after about 20 minutes some of the needles were aching at the entry points). She also did not seem to have the overall encompassing view of my situation in the way I was looking for, so while I enjoyed trying a new approach, it wasn't the right fit for me.
The next doctor I visited for a 15 minute meet and greet. He was a chiropractic doctor. He asked questions to get a brief overview of my situation. I enjoyed his insight and his perspective about each person's health being unique and through a series of tests and questions, he would be able to create a plan and supplementation tailored specifically to me. He was upfront with the total cost of the program, which isn't cheap, and I left this appointment feeling hopeful, but not completely certain.
I called a third integrative doctor that was recommended to me, but they wanted to charge me $250 to come in for a meet and greet, without asking me at all what my concerns or issues were. I understand these practices want to be upfront with their costs, since insurance rarely covers much, but I was turned off by the experience and did not pursue it.
Finally a fourth place was recommended to me. It was an hour drive away, but since I had heard it mentioned by several people, I decided to go for it. It is a doctor group that practices integrative medicine and is able to bill insurance for some of the tests, so I booked an appointment.
I was impressed immediately by the presentation of the office. It seemed very professional, like a traditional doctor office. They called me back on time, took a few vitals, then I met with a nurse practitioner.
Honestly, I wasn't sure when the first part of our conversation started out talking about trying to opt organic when possible because I felt like yet again I wasn't with someone that was on the same page I was, but then we sat and talked for over an hour. With each passing moment I fell more in love with this experience. We talked about everything from my symptoms to my stress levels to my diet. She listened to what I said and was direct and knowledgeable with her responses. She looked at my previous blood work but also looked at my tongue and nails. It felt like the blend of Western and Eastern medicine I had been searching for and I felt heard and understood.
After we talked, I was sent directly to get blood work done. We ran different blood panels as well as a food sensitivity test.
I derived so much value from meeting with her alone, but I'm even more excited because we have a plan moving forward.
Estrogen Dominance – Finally, Proof via Bloodwork
A month, and multiple vials of blood, (I had to go into a LapCorp near me for hormonal blood work since that has to be taken at a specific time during a woman's cycle) later I was back in her office to go over the results. I was fascinated! Some of the big takeaways were these:
I have super low progesterone.
I have super high estrogen (finally confirmed via testing not guessing).
I have low pregnenolone (a hormone naturally produced in the body by the adrenal gland and is also made from cholesterol. Pregnenolone is the starting material in the production of testosterone, progesterone, cortisol, estrogen and other hormones).
I have a legit sensitivity to almonds and dairy.
I have a yeast overgrowth in the gut.
She was actually very surprised I wasn't feeling more symptomatic with my hormone levels the way they were and assumed that my current diet was controlling my symptoms decently well. She recommended I start taking bioidentical progesterone either through pill or cream form. I asked if we could try a supplement method first. She agreed and so we will check in again with blood work in three months to see how my updated dietary changes and supplementation are helping my body.
Estrogen Dominance: Diet and Supplements
This is my current plan:
Eliminate all the foods from my diet that registered as a 0.25 or higher on my food sensitivity test. For me, that's almonds, sesame, all dairy, eggs, chickpeas, green peas, peanuts, and soybeans.
Eat paleo-"ish." She agreed that keeping my carbs lower would be best for now and focus on getting them through whole foods like vegetables, fruits, and a little bit of grain here and there.
Sleep at least 7 hours a night, though I think my body prefers 8.
Spore-Based Probiotic to encourage healthy gut bacteria
Amazon A-F to fight the yeast overgrowth
Vitex with Chaste Berry to help convert estrogen into progesterone
DIM to help lower estrogen
Iodine for thyroid support (my free T3 was a bit low)
Digestive enzymes (I take at one meal daily) as needed to help with digestion
Yes, it's a lot. But I'm going all in. I even ordered a monster pill organizer to set myself up for success.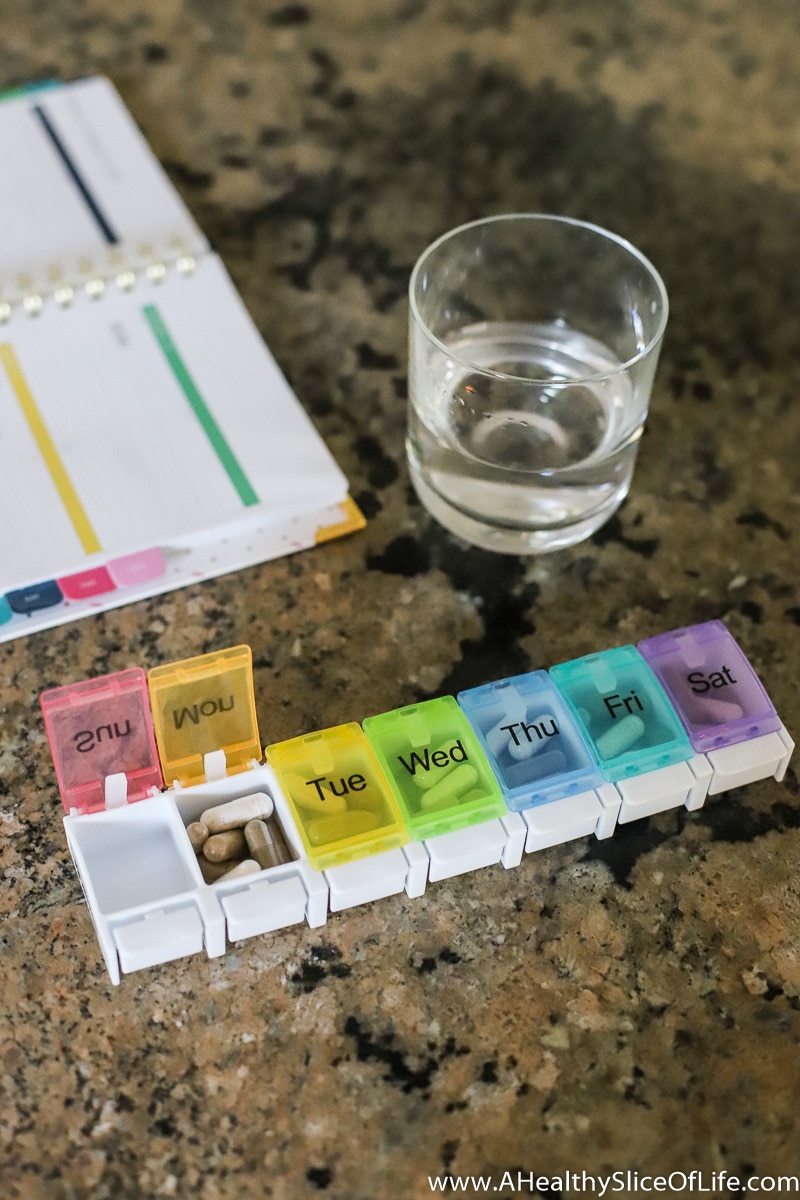 I share this with you because I've gotten questions from so many of you saying you are going through your own hormone and gut health frustrations. Obviously everyone's journey is unique and what I'm doing for estrogen dominance isn't necessarily what will work for you. However I'm hoping by sharing my path that I can encourage you to be your own advocate. It can be time consuming and really frustrating and it's bound to come with a few ignorant comments about how crazy or restrictive you're being, but stay the path. We are (for better and worse) in the driver seat for our own health and it's worth investing in so we can enjoy life and feel our best.
I'll check back in with my doctor in three months to see how things are going.
I know this was incredibly long and detailed, but if I missed anything or you have any questions, please feel free to leave them in the comments and I'll be sure to answer them!