I can always tell a good vacation from how I feel when it's over. Sometimes extended weekends away are fun, but I return home feeling tired from travel and days behind on my to-dos. This vacation? I'm arriving home feeling refreshed, exuberant about things to come and … well, maybe a little behind on things like laundry and housecleaning, but those aren't really important, are they? I didn't think so. This is life: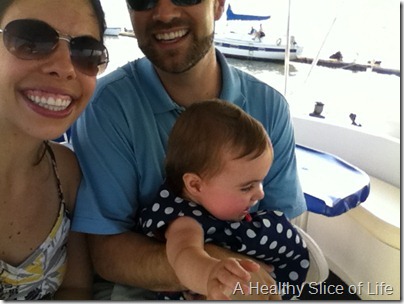 Poorly taken pictures in the moment while we are all laughing. Bliss. Hanging out with good friends just sweetens the experience. Hailey agrees.
Currently I am staring a virtual folder packed full of photos and trying to not be that girl that posts every single picture of vacation… but then I figured it's Monday and surely some of you wouldn't mind scrolling through a few pictures while you wait for your coffee to kick in, right?
I hope you don't mind because I want to show you so much, from our 4th of July golf cart parade of Sullivan's Island
To the coolest bars in downtown Charleston!
I wasn't sure of where to eat first with so many amazing options, so when my new friend Brittany tweeted that she thought I'd like Puree Organic Café, I said great!
I was stoked when I saw how adorable it is, but the real clincher is that this place is geared towards offering nourishing, organic meals for the whole family, including the littlest members… babies! Not only do they have the fanciest high chairs of any restaurant I've ever been to and wooden toys for Hailey to play with, they also include homemade organic puree blends of fresh foods for babies alongside mouthwatering adult options.
They're also cool and casual enough that they didn't mind Hailey putting her feet on the table. Aren't babies impressively bendy?
I savored my grilled cheese with sautéed kale and tomatoes with a quinoa salad and split the barley bowl with Hailey.
I really want to recreate this barley bowl that was bursting with flavor, so I did some ingredient guessing while Hailey played with Brittany.
They became fast friends! I'd like to say that all my eats were this clean, but c'mon, it is vacation and when it's 100 degrees out, sometimes you just need ice cream from Kilwin's!
Ice cream turned out to be a slippery slope (pun INtended) when it led to happy hour which consisted of a raw margarita and DElicious shrimp 'n grit fritters with Andouille sausage, pepper jelly and arugula from High Cotton. (Gina, can you please figure out how to make something similar to these and send me the recipe?!)
A margarita and a Charleston Cocktail (Maverick vodka, Madeira, iced tea, lemonade and mint infused syrup over ice) later and I was in the groove for meeting new friends!
Hi horsey. Of course, it wouldn't be a vacation to Sullivan's Island without a trip to Poe's Tavern. The fish tacos did not disappoint, but David's Amontillado Burger stole the show with it's guacamole, jalapeno jack cheese, pico de gallo and chipotle sour cream.
We did a few things besides eat. Some days we spent time swimming dunking Hailey.
After a few tries and a chorus of cheers greeting her post-dunk, I'd say she got quite comfortable with the pool. She loved floating and swimming around with dad. On those days, we balanced out our indulgences with healthy dinners cooked at the house. Shrimp taco turned salad? Nailed it.
For breakfast we tried out yet another local gem (Mount Pleasant is FULL of them), Page's Okra Grill.
They say their mission is to buy quality food and prepare it correctly. Sounds simple, right? We followed suit and ordered simply with bacon, eggs, grits and waffles.
How impressive can such simple dishes be? Let me tell you, VERY impressive. The waffle was fluffy and the perfect amount of maple-y sweetness. Hailey inhaled it. The bacon was crisp and packed with pure flavor, not grease. The grits? Creamy dreamy. High five, Page! We had checked Sullivan's Island, Charleston and Mount Pleasant off our list, but I was interested in exploring Daniel Island as well (for non-southerners, all these places are within 10 minutes of each other on the coast)
Daniel Island was pretty awesome. So much green space; so many parks!
On a recommendation, we grabbed lunch at Vespa Pizzaria while we were there and I fell a little more in love with the Charleston area when I bit into the incredible veggie pie.
Even though I ate all vacation long and didn't even hit up half the spots I'd like to try, so it looks like we'll have to go back, try The Mustard Seed and finally meet up with Christina (I hate that our schedules never matched up!). Well, there you have it. More than you probably cared to know about what I ingested on vacation. Now off to reminisce a bit more before finally starting the day…
Do you have any summer vacations planned?
Where are you going?