I did not want to drag out the Disney Dream cruise recap. Really. Yet after I picked out just my favorites from over 500 pictures, I still ended up with over 70. Sure, I could not share them all, but don't you know me by now? SHARE ALL THE PICTURES. So, that's what I'll be doing in two parts- part one this morning and part 2 this afternoon. If you are interested in the food, see that review here. Still to come, Disney Cruise Tips for Taking Toddlers. Then, I'll be done. Promise.
Ok, part one covers days 1-2 over our 4 day/3 night Disney cruise to the Bahamas on Disney's Dream.
We drove from Charlotte NC to Port Canaveral, which is about a 9 hour drive depending on traffic. We left Thursday afternoon, stopped to stay the night in St. Augustine, which meant we only had a little less than 2 hours to drive Friday morning. Since our time slot to board was 11:30, this was perfect. Mickey and Minnie called us while we were driving to say they were excited to see us and Hailey was in disbelief. I highly recommend setting up that complimentary call!
We were SO excited when we arrived. It was $60 to park in a garage right next to the ship. Though crazy crowded, the check in process actually went very smoothly.
True to schedule, we were walking through Mickey's giant head by 11:30 and onto the boat. They announce each family as they walk on board and then there we were, in the center of the Disney Dream!
The ship is beautiful. At this point we only had our carry-on bags with us. We couldn't get into our rooms until 1:30 and luggage isn't guaranteed in your room until 5:00, but we had everything we needed in our bags. The girls and I headed straight to lunch while David went straight to guest services to get tickets to meet the princesses. The tickets are free, but limited, so the sooner you grab them, the better.
After lunch, the girls were pretty bewildered. Since we couldn't yet get into our rooms, we opted for getting out of the crowd and headed to the top of the boat to Goofy's Sport Deck.
The girls thought this was the coolest and loved climbing all over the putt putt course, no ball or club needed.
At 1:30 we, along with everyone else, headed for our room. We had a great spot on the 7th floor, midship.
The room was actually larger than I anticipated, but still, it's a cruise ship. It was well set-up though and worked perfectly as our home base for the trip.
The bathroom is divided into two different spaces, which is a nice touch. A tub and sink in one and the toilet and another sink in another.
We went for the room with a veranda which was WELL worth it. We settled in and got to watch the land pull away as we set sail. From there, the girls were exhausted, so they both napped (Hailey in the bed and Kaitlyn in the pack and play Disney provided) which David and I sipped a beer and watched the ocean from our veranda.
The girls were woken up at 4 by the mandatory safety drill (which is mandatory, so you must leave your room). Luckily we ran into this guy on our way out, which helped get them out of their post-nap funk.
After the drill, we went to dinner, then to check out the open house at the kids' club. Hailey was sold from the moment she got to wash her hands in the special swirling water hand washers upon entry.
You have to be 3 to be in the kids' club, but during open house we all got to go.
It's pretty much a kid's paradise and the girls loved running into all the different areas, giggling with each new discovery.
It's very well secured and Hailey loved it, so knowing we'd be back, we went to check out the nursery.
The nursery is smaller, but super cute, and an additional hourly cost, where as the kids club is free (save a $36 gratuity added on to your room bill at the end). Kaitlyn seemed sold on the nursery so we left her there (reservations are encouraged, but we never had a problem taking her there whenever) and then dropped Hailey back at the kids club.
David and I stopped back by our room to grab a bottle of wine.
We found that turn down dervice had come by and set up Hailey's bed alongside a cute towel animal- love those!
After a glass of wine, we grabbed the rest the bottle and took off to explore the ship, including the adults only area and pool.
Then we kicked our tired feet up and watched the sun go down.
When we returned to get the kids, both were happy as could be in their respective areas.
After baths, we all crashed into bed. Surprisingly we all slept well in the same room (the thick dividing curtain helped). Kaitlyn woke up a little early that first morning, but we pulled her into our bed and she passed back out hard.
Excited to be in nearing the Bahamas (Nassau), we chose to have breakfast on the deck to take in the views.
Our scheduled time to meet the princesses was that morning, so we stopped back by the room for the girls to change into their princess dresses. On the way to Anna and Elsa, we found Sophia!
The characters all have times where they do meet and greets in the mail lobby, but there always is a line. There are some characters though that just wander the ship. I think my favorite spotting of all was sleepwalking Goofy!
He literally stumbled off the elevator and bounced around into walls. Both Hailey and I were almost crying because we were laughing so hard.
Fortunately they move the kids through pretty quickly and sometimes you even get surprised by another friend trying to sneak around behind you.
Anna and Elsa were tucked away in the Animator's Palate, which was set up as a winter wonderland.
girls' Frozen Fever dresses (currently on sale!)
The girls were so excited to meet them, though a little shy.
Walking around the outer decks on the way to the other princesses, their shyness faded and soon they were making everything a stage and belting out Let it Goooooooooooooooo…..
It was pretty darn adorable.
When we reached the other princesses, they were all in a line and we moved right through them.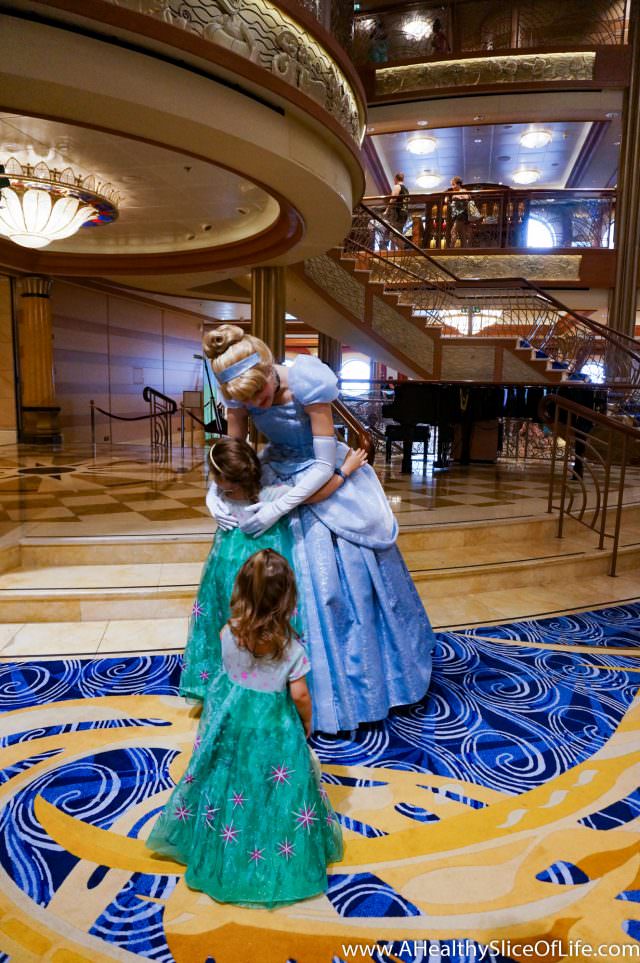 The princesses were wonderful. They gave hugs and somehow mustered up the energy to be genuinely thrilled to see each new child.
They stayed true to their character's mannerisms and story and really were a lot of fun.
I bought a classic Disney storybook for the characters to sign and since you can no longer drop it off at guest services to be signed, we brought it with us to each meeting.
Once we met all the princesses, we were ready for some less-structured fun so we all changed into suits to head out to the pool area.
Why does she look 18 here?!
We finally arrived on deck 11 where the fun in the sun began!
You also like…
Disney Dream Three Day Cruise with Toddlers: What You Need to Know
Disney Dream Three Day Cruise: Food Review
Disney Dream Three Day Cruise Review: Part 2