This post is a compilation of my best tips for those considering going on a Disney cruise with a toddler.
You can see details of our Disney Dream 3 night cruise part 1 here, part 2 here and what to expect from the food here.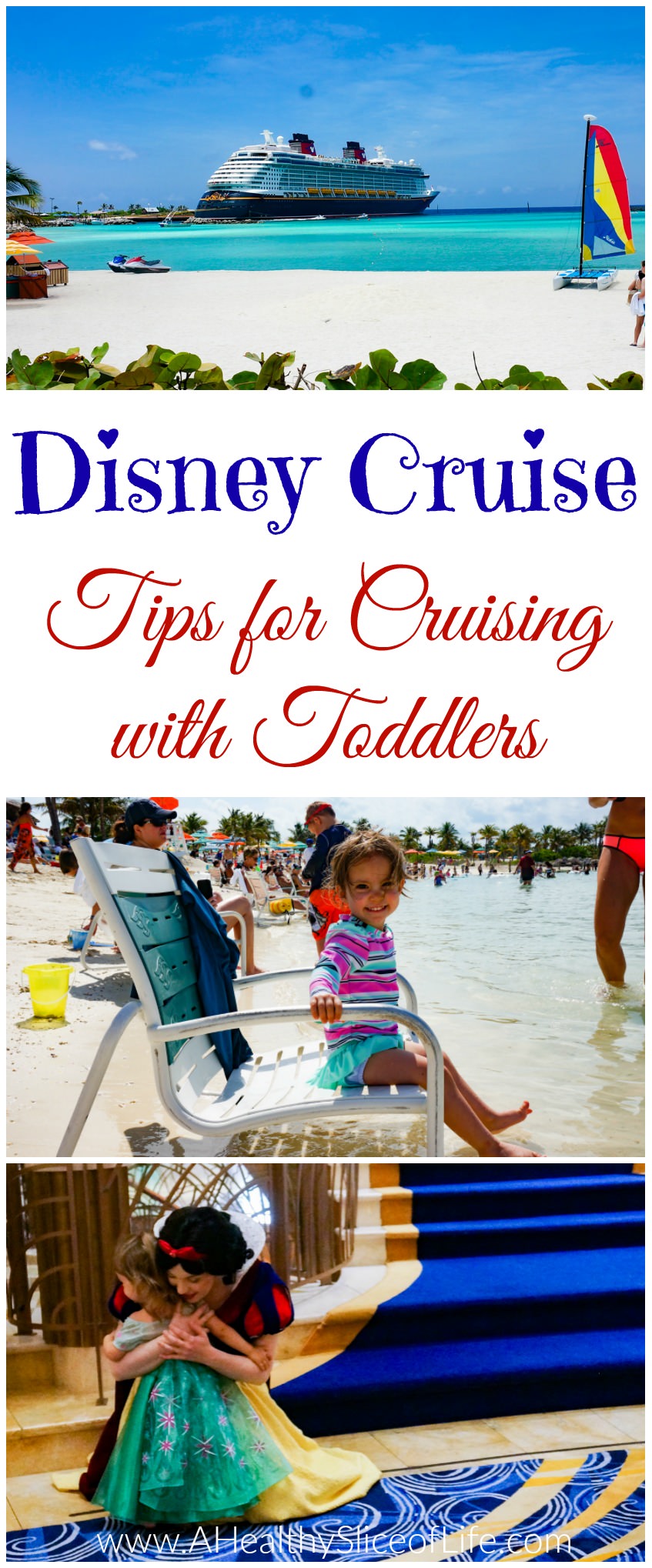 We hadn't planned on going on a Disney cruise, but with Hailey at 4 1/2 and Kaitlyn at almost 2, I was beginning to feel the Disney itch. Still, I thought the parks might be a bit much for us since we are planning on doing Disney once and going all out versus an every year attempt.
We heard about the cruises, then, it was almost like we couldn't stop hearing about them. Everyone we talked to raved about the cruise. After a few Disney cruise youtube videos, we were sold. Still, everyone we knew who went had slightly older kids. With Kaitlyn being just shy of 2 and still in diapers for the most part, I wasn't quite sure what to expect. So, I am writing this post with the framework of everything I wish I'd known before our cruise with a toddler.
Tip for Doing a Disney Cruise with Toddlers
Pick an early time to board. A few weeks before your trip, you will be sent login information to check in early online. Do it as soon as you can. Through this login you an choose your time to board the boat, alter your dining time, make reservations for the nursery and everything else, etc. We chose 11:30 to board the boat because we were unsure of our drive time. If I did it again, I would choose 10:30 or 11:00. When traveling with a toddler, this provides time to get on board, get princess tickets at guest services, eat lunch, then go down for a nap right at 1:30 when you are allowed into your room. The safety drill at 4:00 is mandatory and you can not nap through it. There is a loud announcement and you are required to leave your room, but if you nap at 1:30/2, you will still get in adequate sleep before the drill.
Bring the Ergo. Strollers are allowed, but in my opinion, are cumbersome. I saw people struggle to get through the lines with one and then the only option is to take the elevator. We opted for the stairs most of the time because they are right next to the elevator, always less crowded and it was nice to move a little with all the food and drinks we were consuming. I could easily put Kaitlyn on my back in the Ergo and move swiftly through the crowds. Plus, I could stick a diaper, wipes and any other item I needed in the Ergo pocket.
Children younger than 3 are not allowed in the kids club. This is a bit of a bummer, but understandable. There is a great option for children 6 months-3 years old though- the It's a Small World Nursery. The nursery is an additional cost of $9 an hour. They will feed, change and play with your child. Your child can even nap or go down for the night in the nursery, as they are open until midnight or later. We never had a problem just dropping her off, but I have heard it can get busy and space is limited so reservations are encouraged. You can make these when you check in online. Here is a post with more pictures.
Request a pack and play. You can do this when you book the cruise and it's wonderful. I debated bringing out own because I'm weird about cleanliness, but the pack and plays they provided were in great condition and very clean. Plus, with the pack and play they also provide a diaper genie with liner and everything at no extra charge!
Children that are not potty trained are not allowed in the pools. Kind of a bummer, yes, but there is so many other things to do to stay busy. First of all, the pools are rather small to begin with, so it's not like you could really go swimming. Instead, take advantage of Nemo's Reef splash pad on deck 11. It is large and offers so many different kinds of squirting and splashing that your toddler will not miss the pools. There is even a water slide, just their size.
[Tweet "Considering taking a @disneycruise with a #toddler? Read this first! via @ahealthyslice! #disneycruise #dcl"]
Embrace ahead of time that you won't be able to do it all. You will receive a Navigator newsletter each morning with all the activities of the day. It can feel overwhelming. Do you skip nap time to go see Mickey? Do you need to push it to see a show? While some things were with switching around our schedule for, I knew that the experience of just being away from home and on a boat was pretty exciting to Kaitlyn already. Knowing my kids do much better when the get adequate sleep, I went in knowing we wouldn't be able to do it all. With that mindset, I actually ended up really pleased at everything we did fit it and know there is still more to do if we ever go again.
Stay on the ship at port. We didn't get off the boat in Nassau. Our girls weren't old enough to do the excursions anyway, plus wandering around a town (with questionable safety) didn't seem like it would appeal to them. Instead, we stayed on the boat and enjoyed a smaller crowd of people for the spashpad, lunch, water slides and getting around in general.
Pack waters. I packed a 24-pack of bottled waters in our luggage and checked it, so I didn't have to carry it. It was delivered to our room with our luggage and a lifesaver. On board they were selling bottled waters- 12 bottles for $20. It was great having fresh water to grab in room to fill up night time water cups (remember to bring your own sippy cup with a lid too if you want to bring a drink back to the room or carry it around the boat with you).
Dinners are still long, consider bringing toys or using the nursery. The servers are speedy and even bring kids food out first, but still, toddlers aren't known for wanting to sit still for long. The restaurants have a highchair and crayons waiting, but it is still a good idea to bring a few small toys OR put them in the nursery to have dinner there. I think my personal favorite though is the quick switch. Have them bring your toddler's food with your appetizer, then after your toddler eats, one parent can go drop her off in the nursery then return to finish your meal together in a more relaxed environment.
Bring a princess dress. They are for sale on the boat, but obviously very marked up. Little girls are wandering around in dresses everywhere and our girls begged to wear their dresses all the time. You don't need anything super fancy, Amazon has some great options, but it is definitely worth bringing one with you.
Don't forget a hat. I was surprised that we weren't actually in the sun that much, but when we went onto Castaway Cay, there wasn't much shade, so a hat is necessary.
Spurge for a room with a veranda. Our girls napped every day for about 2 hours. We were able to sit on the balcony, watch the ocean and islands and sip a cold adult beverage (remember, you can bring your own beer and the rooms have a small fridge to keep it cold!). I honestly don't know what we would have done without it.
Pack diapers, wipes and a change of clothes in your carry on. To reiterate, your checked bags are not promised to be at your room until 5:00, so make sure you have everything you need packed in your carry on. If you are going to put your child down for a nap, this could also mean a white noise machine, lovey, sippy cup, change of clothes, etc.
Get the early dining option. The first dining service is at 5:45 pm. The second is at 8:30 pm. I can't even imagine doing 8:30 with a toddler, but maybe you are more brave than I.
Check out the toddler/baby-specific activities in the daily navigator. Disney maps out specific activities for babies and toddlers each day. We never made it to the toddler play times, but they exist. I also saw them setting up for the Diaper Dash in the main lobby. The crawling race looked adorable and hilarious!
Friends that have been on a Disney cruise with a toddler, what is your best tip?
And if you are considering one, leave your question below and I'll answer!
You may also like…
Disney Dream Three Day Cruise: Food Review
Disney Dream Three Day Cruise Review: Part 1
Disney Dream Three Day Cruise Review: Part 2
Disney Dream Three Day Cruise Video