I was recently reorganizing all the categories and posts for my new site design, and had myself a heck of a walk down memory lane. While little stories about our days are tucked into all kinds of posts, I'm really glad to have a collection of these day in the life posts, too. It's neat to see how our days evolve and challenges change as the girls grow. So here's a peek into life currently- a winter Monday!
I woke up at 6:00 and made my way to my yoga mat that is permanently rolled out on the living room floor. I'm trying to make it a daily habit, so for a couple weeks now, I've done 5 minutes of yoga a day. It's silly how proud of myself I am for it and though I intend for the practice to be longer at some point, I don't plan of increasing it anytime soon. Right now 5 minutes feels manageable.
After yoga, I make a cup of earl gray tea and headed to the office. David is already gone for work, so I enjoy the early morning quiet while posting my recent reads post, working on other posts, and returning emails.
At 7:40 I hear Kaitlyn's bedroom door open. She usually sleeps until at least 8:15, but has been waking up earlier the last couple of days. She walks into the office bleary eyed and crawls onto my lap. I give her a big hug and sit for a minute before telling her I need to finish some things up. We have an understanding that I work until 8:00, then I'm all theirs.
She makes her way to the couch, puts on her ear phones, and wakes up slowly while listening to a Playaway audiobook.
True to my word, at 8:00 I tie things up and head to the kitchen. I've been on a smoothie kick lately. Frozen mixed berries, frozen half banana, half an orange, an inch of fresh ginger, baby spinach, MCT oil, spirulina, collagen, and water.
I blend it up, then take it to get dressed with me. Leggings, a new sweater from my recent Stitch Fix box, vitamin c serum, a small squeeze of CC cream mixed with my sunscreen, blush (I'm looking for a new one- any recommendations?), and a swipe of Telescopic mascara later, and I'm ready for the day.
I walk upstairs to open the door to Hailey's room at 8:30. I tell her good morning as she starts to stir, then I head to the kitchen to get breakfast going for the girls. This week is cinnamon raisin bagels (Kaitlyn's choice) and fruit. I make myself a fresh cup of tea (green this time!) and while the girls eat, I start on our history lesson.
We use Beautiful Feet for Early American History and the fact that it is literary based makes it the perfect subject to start the day with, since it's just reading a book and discussing it together.
After breakfast and history, we break. They go get dressed while I check our meal plan then make the marinade (this one is my current favorite!) for the pork tenderloin for dinner.
Hailey and Kaitlyn usually get distracted while getting dressed, so I have to interrupt a game of Barbies to remind them to keep moving so we can get through their responsibility charts.
Finally I corral them back at the kitchen table and Hailey asks to do math while brushing through her hair (not because she is eager for math, but because it's her least favorite and she wants to get through it). I set her up with her Singapore workbook and she gets to work on word problems while I start with Kaitlyn on her Good and the Beautiful language arts.
For the next hour and a half we do language arts, math, and reading. It sounds so dry when written like that, but it usually looks like- do a little math, walk to the mailbox to check the mail, do reading, then have a conversation about which Barbies are getting married and why while hanging upside down off the couch.
Late morning we eat again (snack plate for them, salad for me) while we finish up with science (currently learning about the human body). I use a combination of the Good and the Beautiful Human Body Unit Study, picture books, and Mystery Science (always the girls' favorite).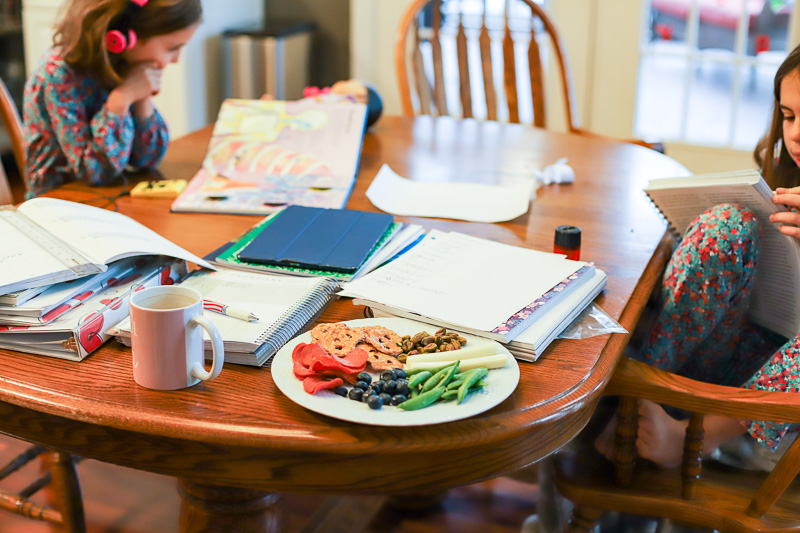 After that we hop in the car to head to the chiropractor. I get adjusted, then we swing by Whole Foods in search of artichokes, but they are sold out, so I grab asparagus instead. Since it's a rainy day and we are already south on the highway, we decide to visit The Homeschool Room and pick out some new books.
Just like a library visit, the drive back home afterwards is nice and quiet. The favorite new books from our trip include: Thank You, Mr. Falker (which always makes me cry), a few easy readers about the Titanic and figures in American history, and The Secret Lake (a book I know nothing about but Hailey thought looked exciting).
By the time we got home it was close to 2:30. For finishing their charts the girls earned their screen time tokens and opted to cash them in immediately. Kaitlyn used hers to watch some show on Netflix about a mermaid and Hailey used her to play games in the Reading Eggs app.
While they did that I did a little laundry and read my latest book, The Four Winds by Kristin Hannah.
David ended up working later than anticipated so instead of working out late afternoon, I played some games with the girls and we ate snacks (applesauce for them, Chana Masala from a pouch in the pantry for me). Finally the rain started to subside. Monopoly Deal is a favorite lately for shorter games, as is Ratatat Cat.
At 4:30 David and Hailey took off for her soccer practice. I wanted to move my body somehow, so I set Kaitlyn up with painting and her audio book while I headed to our makeshift home gym to run (even though I mostly walked) on the treadmill and watch Firefly Lane on my phone.
Less you think Kaitlyn stayed put the whole time, she didn't. 30 minutes later she was beside me asking to push buttons on the treadmill, so I got in another 5 minutes or so then called it quits. We went to the kitchen and she "helped" make dinner. Helping with dinner means whisking the hollandaise sauce a little, but mostly getting out 17 containers and mixing water and spices together between them to make potions.
David and Hailey got home just shy of 7:00 and we all had dinner and listened to stories of soccer practice.
After dinner these days usually looks like one of two things. Either we play a couple rounds of a short game while I clean up the kitchen or the girls brush up and get in pajamas and we all meet on the couch where I read Harry Potter (currently on the 5th book) to them aloud while they color pictures and David cleans the kitchen (option B is my preferred choice).
Afterwards, even at ages 9 and 6, it still feels like it's a struggle to get them into bed most nights. Kaitlyn either needs a little lotion for her hands from Hailey's room or they want to trade books for the night, but typically after a couple stern- Girls. Bed. Now. they are in their beds by 8:30/8:45.
We go give them each a kiss goodnight then David and I usually plop onto the couch to watch TURN, a series based on Washington's spies. After that we chat a bit, wash up, and call it a night by 10:00/10:30 which is a whole new ballgame for me, considering I used to be asleep on the couch by 9:00 during my early morning workout days.
No day looks the same, but for the most part I enjoy the sweet moments and challenges of them all, though we are reallllly looking forward to warmer days and more outside time. The rain in NC has been constant and after multiple days of it in a row, it really wears on us all. Bring on spring!