Dad passed away May 22, 2020 after two years and seven months of battling mesothelioma, a cancer doctors told would kill him in 12 to 16 months after diagnosis. We said goodbye to Dad only two weeks after we were all together to celebrate his birthday. For much of my life I denied a day like that could ever come. My family is my world and to now be living in a world without my dad in in still feels foreign to me, though as I write this, it's almost been a year.
Because of covid, we were unable to have any kind of memorial for him soon after his death. In some ways I'm grateful for that because I don't know how anyone can pull themselves together enough to organize something so quickly. Though I remember the evening after Dad died vividly, sitting with Mom on the dock on a beautiful spring evening watching the rest of the world carry on as usual while our world had just crashed to a standstill, the months after Dad's death feel very much like a blur to me now.
However, I also see how funerals, memorials, and celebration of life ceremonies help bring some closure to losing a loved one, and we decided in late 2020 we would schedule Dad's celebration of life for May 1, 2021, on his birthday weekend, on which he would have turned 80 years old.
As the date crept closer, Mom, Kris, and I pieced together the details. We knew that despite how hard the day might be to get through, we wanted to tone to be celebratory, to honor Dad's spirit. Things came together nicely and before we knew it, it was the week leading up to the event.
The Monday before, which was last Monday, everything hit me like a ton of bricks. My feelings of anxiety and sadness shot through the roof. I don't even know if I could pinpoint the exact reason- the fact that a marking of his death would make it feel more final? Wanting to do my feelings for him justice in the words I chose to say? The fear of truly not being able to handle it because I still am unable to talk about him without tears welling up in my eyes? Probably a combination of all of that, and more.
I actually shared this on Instagram stories and was overwhelmed with the response I received; hundreds of messages filled with prayers, encouragement, love, and advice from those that have walked this path of losing a dear parent. I can't tell you how much those messages helped. Not only the tangible advice (waterproof mascara), but the urging to let myself experience the emotions that came up through the week and not to repress them and the assurance that I'd be surrounded by such love that day and would feel held by it.
The whole week was full of emotional ups and downs as I watched the weather, worked on my words I wanted to say, and tried to find an outfit (which I failed miserably at and ended up wearing an old dress from my closet that Dad liked and ended up being the perfect choice). Then on Thursday afternoon, the day before we left, I got a sign that I swear came straight from Dad himself and it gave me the nudge I needed to walk into the weekend with peace.
Friday morning we loaded up and headed down to Georgia, arriving by lunchtime. Mom, Kris, David, the girls, and I went to the venue for a test set up. My brother is the tech wizard of the family and wanted to get the slideshow he put together up and running so we knew there wouldn't be any hiccups the next day. I had seen the slideshow before but pictures and music are a powerful combination, and just hearing the music paired with the memories choked me up and I had to walk out for fresh air.
Late afternoon on Friday we welcomes family to the house. My Aunt Pat (Dad's sister), my cousins, Kristin and Erika, and cousins of Dad's, many of whom I had never met, all came over for food, wine, and conversation. Mom's friends had all generously dropped off a dish to contribute so Mom didn't have to think about food, and the vibe was merry and joyful.
We filled our plates and sat on the porch and listened to the kids shriek while trying to catch frogs, and got to know each other better while sharing stories of Dad. It really was a wonderful intro to the weekend.
Saturday morning I woke up feeling pretty good. We fell into the typical routine of coffee and making breakfast for the kids that aren't allowed out of their room until 8:00 (though we clearly heard them up since 6:15).
The event started at 2:00 but we knew we wanted to make a morning visit to set up and make sure everything was in place. We couldn't have asked for a more beautiful spring day. It was warming up nicely but without the humidity that Georgia is so well known for.
However, this is when the emotions started to hit me. Perhaps it's the music from the slideshow or seeing the venue set up that made it feel so real, but tears started to bubble up as the reason all this was happening hit me hard.
Once the linens were out and the microphone was tested, we went back to the house for lunch. My stomach was in knots and I wasn't able to eat much of anything. I took a few minutes to go sit on the dock in the sun with my eyes closed to center myself. Dad would do this quite often and anytime I'm near water I feel connected to him.
Around 1:00 we all headed to the venue. We turned the music on, watched the food and drinks get set up, and got ready to welcome our friends and family. I was doing OK emotionally as long as I avoided the slideshow; just hearing the songs would trigger my tears.
Soon, people began to arrive, as a trickle at first, then they began pouring it. It was quite surreal and a mix of emotions if I'm being honest. Seeing so many people from throughout the different stages of my dad's life was incredibly touching, as was seeing friends of mine I haven't had the chance to hug in so long. I felt a mix of joy at all the love in the room and the impact of the reason why we were all here. I smiled and laughed, then would break into tears when hugged.
The beginning was quite a whirlwind. In a twisted way it was like being the bride at the wedding, in high demand. Everyone wanted to pay their respects, give a hug, and many (my favorite thing) told a story or memory about Dad.
Despite forgoing any kind of alcoholic beverage (I wasn't sure if it would take the edge off or heighten my emotion and I wanted to be fully present so I abstained), the first hour was a blur of emotion and conversations. At 3:00 it was time to move to the tent.
Banks and Shane, an Atlanta band, has been tied to my family's life for decades. My mom and dad's first date was seeing them at a Steak and Ale in Atlanta. They played at the party for my mom's 40th birthday. They played and mine and David's wedding. We even saw them all together in 2019. And for this occasion, Paul Shane asked if he could pay his respects in music. And so he did.
He played Carolina in My Mind, Three Wooden Crosses, and ended by playing my parents' song, like I had heard him do so many times over the years and dedicate to them, Desperado. Hearing the words, watching Mom- this was when my tears really started flowing.
After Paul sang, Mom got up to say her speech. It was beautiful. She recalled memories from how they met to poignant moments in their life together. She was so eloquently able to put into words their relationship and Dad's essence as her best friend and love of over 42 years.
Kris spoke after Mom. His words walked us through special moments and memories of childhood through adulthood. He made everyone laugh at times, and cry at others. I was so proud of him.
The kids, unprompted, stood close by and would run and give hugs after the speeches. It was heart warming and brought some levity to the tent.
Then it was my turn. I had been in turmoil about what I wanted to say all week, wanting to do Dad justice and adequately express how much he means to me. Mom, at one point, finally reminded that we could stand up there and talk all day and we wouldn't be able to say enough to convey what Dad really meant to us all and that resonated with me. So I stood up and poured my heart out the best I could.
I tried to speak as slowly and clearly as possible, however I felt my voice shaking and tears fall as I made my way through my words. Still, I felt very much in the moment and saying aloud to everyone what was in my heart was a true release and felt healing for me. It's a moment I know I'll carry with me forever.
We opened up the floor to anyone else who might have some words they wanted to say and laughed as people recounted Dad's actions of the golf course when a shot didn't go his way and heard stories of how he helped people through his practice.
As we were wrapping things up, Kaitlyn ran up and grabbed the microphone and my left eyebrow immediately shot up. What the heck was she planning on saying here? Before any of us could ask she stood behind the table, that hid most of her, and said clearly into the microphone how much she loved Papa John and how he would always make her laugh by tickling her. My heart burst right open; it was so pure. Kyla and Hailey followed suit and it was such a sweet moment!
Mom tied things up by reading a beautiful poem she had come across and then that was it. For me, it felt like an enormous exhale. The tears stopped; the story telling, catching up with friends, and laughter began.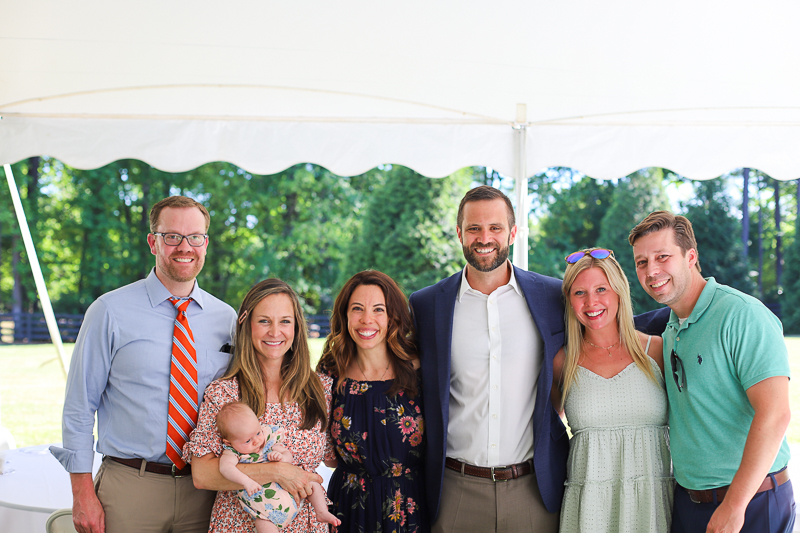 People trickled out slowly, but we stayed and chatted with friends that were able to stick around. A silver lining was getting to see people we love but don't often get to spend time with.
Soon it was time to go to the family dinner so we hugged friends goodbye, took one last deep breath, staring at the beautiful outdoor space, then loaded the kids in the car to head to the clubhouse.
Mom, Kris, and I all immediately ordered martinis and it began to feel the true celebration part of the day.
Surrounded by family, from cousins and aunts and uncles that I've known my whole life to Dad's cousins we were just beginning to get to know, there was so much connection and love in that room.
Eventually that started to wind down, too. David took one for the team and took the kids home to bed while Kris, Cara, and I basically closed the place down with heartfelt, raw conversations over a final martini.
When I finally made it into bed that night, I felt a peace. Life will never be the same (as some friends that have also lost a parent told me "you lost your dad and that will never be OK), but the family Mom and Dad built is one I'll be grateful to be part of for the rest of my life. There is so much love and laughter to be had and I'm ready to continue to walk forward with Dad in my heart.