Use the code "ahealthyslice" for 10% off all Branch Basics starter kits.
Let's start this off with some real talk. Healthy living is very important to me. However, I'm far from perfect. That used to bother me and I'd try even harder to make sure everything in my life was as natural and pure as possible- and you know what happened? It freaking wore me out. So I stopped striving to be the healthiest of the healthiest and committed to being true to myself.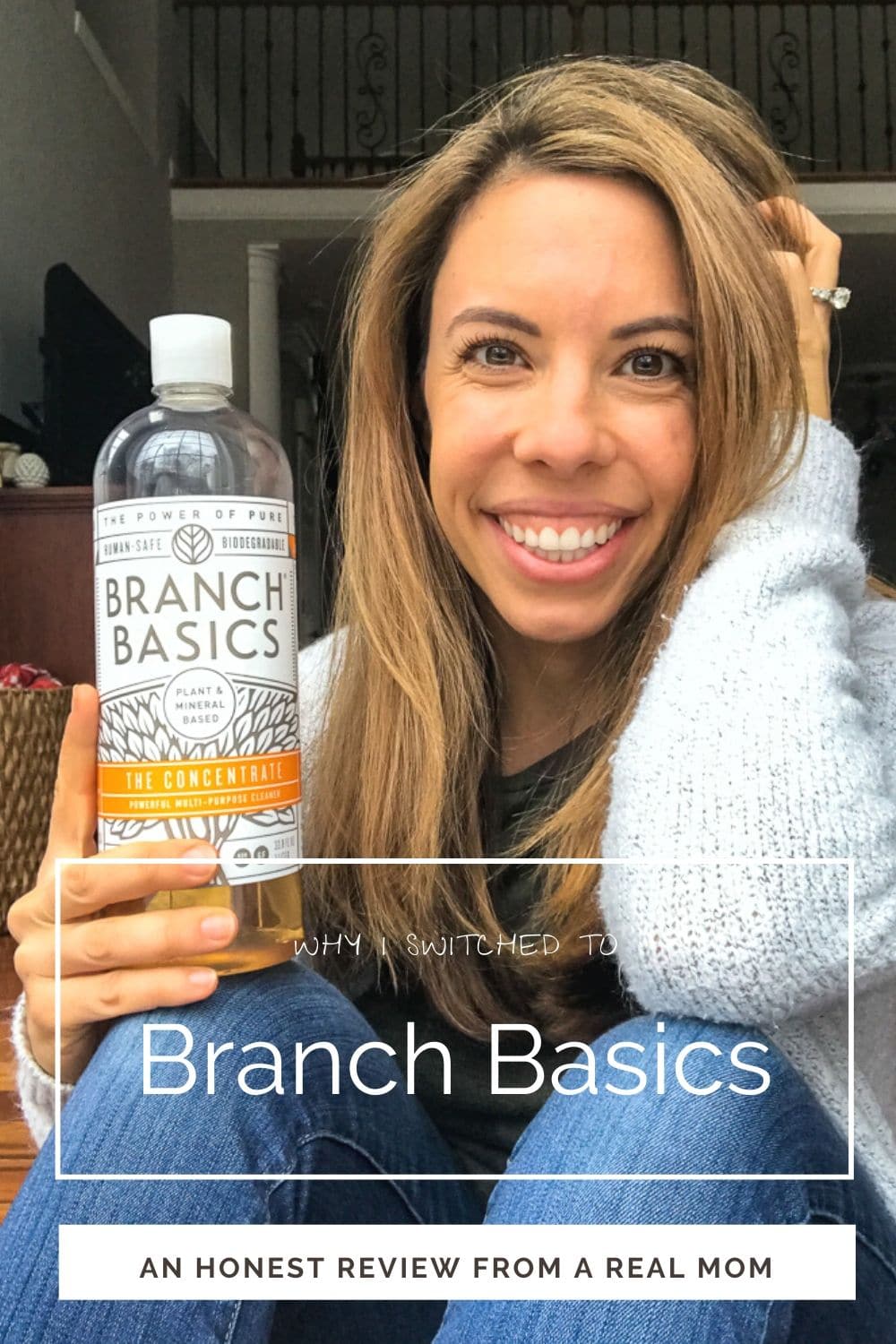 My true self aims for a healthy lifestyle as much as I can afford and handle while still living in the real world. It means I don't freak out if the kids eat a piece of cake with food dye in at a birthday party, but I don't buy foods with dye in them for us at home. It means I look to buy the cleanest sunscreen option, but would prefer my kids to have on sunscreen at all versus burn because I didn't have the zinc with me. It means sometimes I have to use the heavy hitting oven cleaner because baking soda just can't cut it.
However, I'm slowly trying to change over our daily habits to be healthier and greener. So when a simple change can be made for the betterment of my family, I make it.
Using Branch Basics is an example of a simple change that can make a big impact. In this Branch Basics cleaner review I'm going to share with you how I found it (Instagram ads because I'm a modern mom like that), my skepticism, my reasoning into why it was a change I wanted to make, and how it works in real life situations. So lets's go!
Branch Basics Cleaner- What Is It and How Does It Work?
Branch Basics is a natural cleaner. They define "natural" (because goodness knows it doesn't actually mean anything- thank you marketing gurus) as plant and mineral based, free of harmful preservatives (no alcohols, methylisothiazolinone, phenoxyethanol, sodium benzoate, or potassium sorbate). biodegradable, and not tested on animals.
The cleaners are concentrate-based, meaning you buy the bottle of concentrate then mix it in the bottles (you can use your own bottles, but theirs are nice to have because they have the measure lines marked clearly on the bottle). It takes a small amount of concentrate to make each cleaning mixture, so depending on how often you clean, it lasts a long time.
Why Did I Choose to Try Branch Basics?
I've gone into detail on my frustrations I've experienced during my estrogen dominance journey. According to blood work, my attempts are working at balancing my hormones. I've altered my eating habits, my daily supplements, and my routine, and now also have switched to green cleaning products for the majority of my cleaning. Mainstream cleaners can be full of endocrine disrupting chemicals, so I figure another area to choose green and clean in is a good thing.
I'm also down to my last two pieces of plastic Tupperware, but can't ditch it all yet because I haven't found a glass container in a large enough size to hold all my washed salad greens. Any tips for that one? I don't ever microwave it though, so I've got that going for me.
What Are the Ingredients in the Branch Basics Concentrate?
The all-purpose cleaner, window cleaner, bathroom cleaner, and hand soap are all concentrate-based. According to Branch Basics, they aren't into mailing water, so they send you the powerful concentrate and you make the cleaner yourself with varying amounts of concentrate and water (that are clearly marked on the bottles). I like this concept. Though it takes some using it to trust that it really works, it's nice to be able to refill your bottle as needed and not have to mess with a lot of different products.
According to their site, the ingredients in the Branch Basics concentrate are the following: Purified Water, Coco Glucoside (Sugar-Based Cleanser), Chamomilla Recutita (Chamomile) Flower Extract*, Decyl Glucoside (Sugar-Based Cleanser), Sodium Citrate (Food-Grade Emulsifier), Lauryl Glucoside (Sugar-Based Cleanser), Sodium Bicarbonate (Food-Grade Baking Soda), Sodium Phytate (Plant-Based Antioxidant), Sapindus Mukorossi Fruit (Soapberry) Extract*.
Do I know what all those are? Nope, sure don't. But I love that they list it all out! I've had experience in the past with products that say they are green but then don't tell you everything that's in it.
Does Branch Basics Kill Bacteria, Viruses, and Mold?
In order to qualify to be an official "antibacterial" formula, a product must contain a registered EPA pesticide (source), so technically, no, it's not an antibacterial cleaner. The product works in same way hands washing works- by removing germs from surfaces without contributing to the growing issue of antibiotic resistance. I actually like this because I'm a little skeptical of using antibacterial everything and it's overuse possibly contributing to superbugs. Just washing it away feels like the better choice to me.
But Does Branch Basics Really Work?
First let me say I haven't used it on any terrible messes- I haven't treated blood stains or mold or the stomach bug with it yet. The stomach bug is something that really unnerves me, so it's hard for me to let go of the power of bleach on that one.
However, I have used it for laundry (it got out berry stains!), cleaning counters in the kitchen and bathroom, wiping down windows and mirrors, and spot cleaning the floor. For those things, I have been very pleased. It cleans surfaces very well without leaving behind a residue. There is no scent (though you can add essential oils if you want one), and I appreciate that. Kind of like the overuse of hand sanitizer, I think sometimes we are led to believe that the more powerful and stringent option is always better, but for day to day life messes, I really like the more gentle, yet effective, products from Branch Basics.

Branch Basics Discount Code
I reached out to the company and said hey, I like your stuff and am going to write about it- can I get a discount code to pass along? They said yes! If you're interested in making your spring cleaning a greener experience this year, CLICK HERE for my (affiliate) link and use the code "ahealthyslice" for 10% off all starter kits.