For more on baby led weaning, check out my book!
————————————-
For this month's Munchkin Meals, I wanted to share a look at some of the very first foods babies might like, if you're starting your own baby led weaning adventure.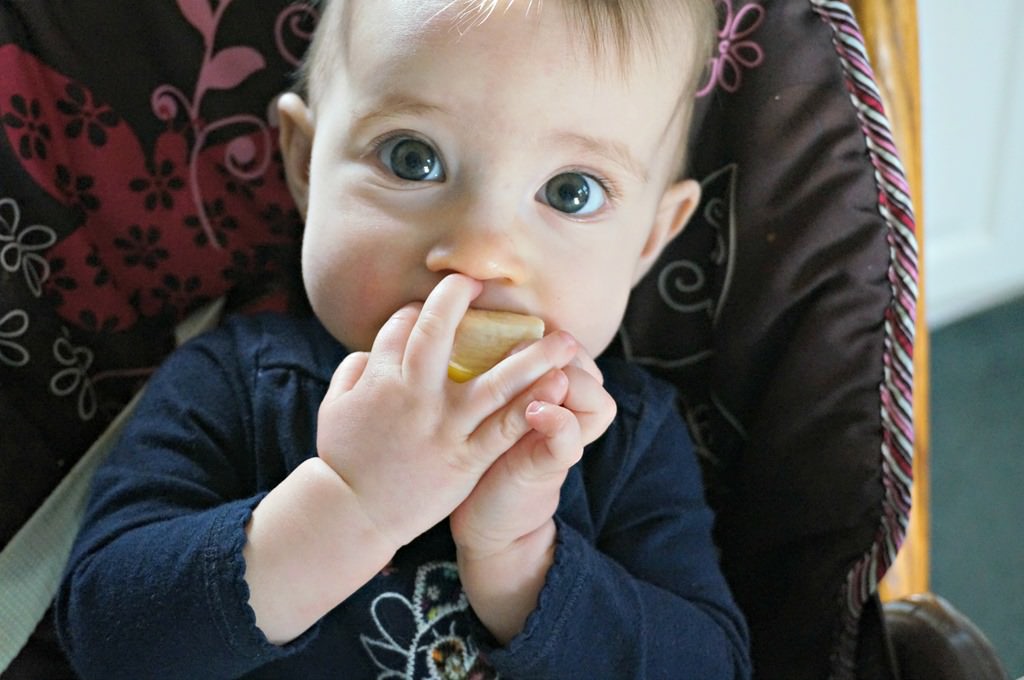 A few days before Kaitlyn turned 6 months old, we got started on our solids journey. Kaitlyn's first food was roasted sweet potato sticks (just like Hailey's) and, like most baby-led adventures, I'm not sure how much of the mess made it down the hatch.
A few weeks later, more of the food was starting to move into her system and it became more fun to watch her feel, taste and experience food. Plus, when your baby starts to eat more on her own, your hands are feed up to start working on dinner or cleaning up (always stay close and watch the baby eat, of course!).
Here are the foods I've found to be great for starting out with baby led weaning.
[Tweet "Here are six great foods to try when you start baby led weaning!"]
Baby Led Weaning First Food Ideas
1. Steamed Broccoli.
So little prep work, so nice. Since broccoli has built in handles, all you need to do is steam it (and let it cool) and it's ready to go. Kaitlyn munches on the 'tree' end and seems to get a kick out of the texture.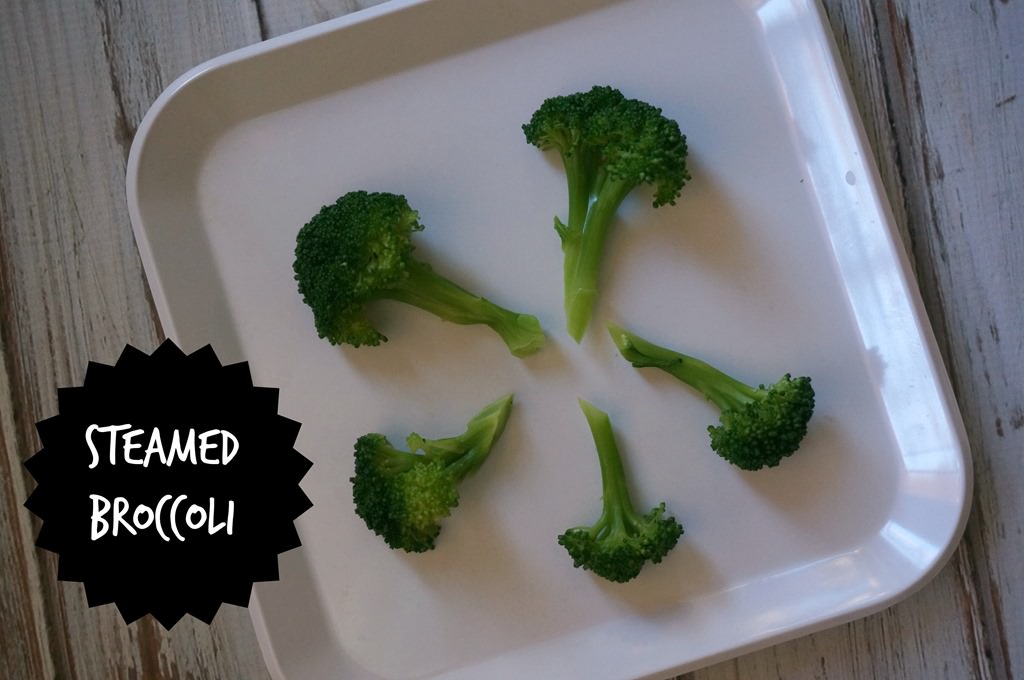 2. Roasted Sweet Potato Rounds.
These are a big hit. Sliced, tossed in olive oil, then roasted and cooled. I keep these in the fridge and warm them up a bit before giving them to Kaitlyn. Last night she ate 3 by herself, spitting out the peel.
3. Steamed Green Beans.
Another food naturally built for baby led weaning because Kaitlyn can easily grab one end and still have enough sticking out of the other end to chew on.
4. Banana.
Cutting to expose just a small end the banana makes it easier for Kaitlyn to pick up. Once she eats the exposed end, I cut it a little further down and let her keep going.
5. Butternut Squash.
Roasted into sticks makes this sweet vegetable easy to grab and eat.
6. Pepper Strips.
These are great because it's so easy to just cut off a couple strips and throw them on her tray. They are easy to grab and Kaitlyn seems to really enjoy the taste. I never really expected her to eat a lot of it (no teeth!), but she sucks long enough that she has worked some of the pepper flesh off and into her tummy on multiple occasions.
Other great options include:
Avocado: cut into long sticks. I have heard (but haven't tried myself) that you can coat the avocado in crushed cereal (like Cheerios) to give it an easy-to-grab coating.
Corn on the Cob: cut in half, boiled and cooled, makes for an easy item for baby to pick up and gnaw on.
Zucchini: cut into rounds and roasted makes it easy to grab and eat.
I like to start with vegetables and slowly introduce fruits before moving our way into meats, grains, etc.
We've had so much fun with food (especially our clean up crew, AKA Koda the dog) and will be back to share more about the journey!