Last week we had a big shipment of Adirondack chairs we ordered for the cabins arrive. David said he was going to have to pick a day to run them up to the Tennessee mountains, but when we noticed a few day gap at the cabin, we decided we all should go for a fun (and productive) late summer hoorah, complete with a day at Dollywood's Splash Country!
Saturday after Kaitlyn's TKD tournament, we headed west, and three hours later we were picking up Mellow Mushroom pizza to enjoy on the back deck of Bearolina overlooking the most beautiful mountains.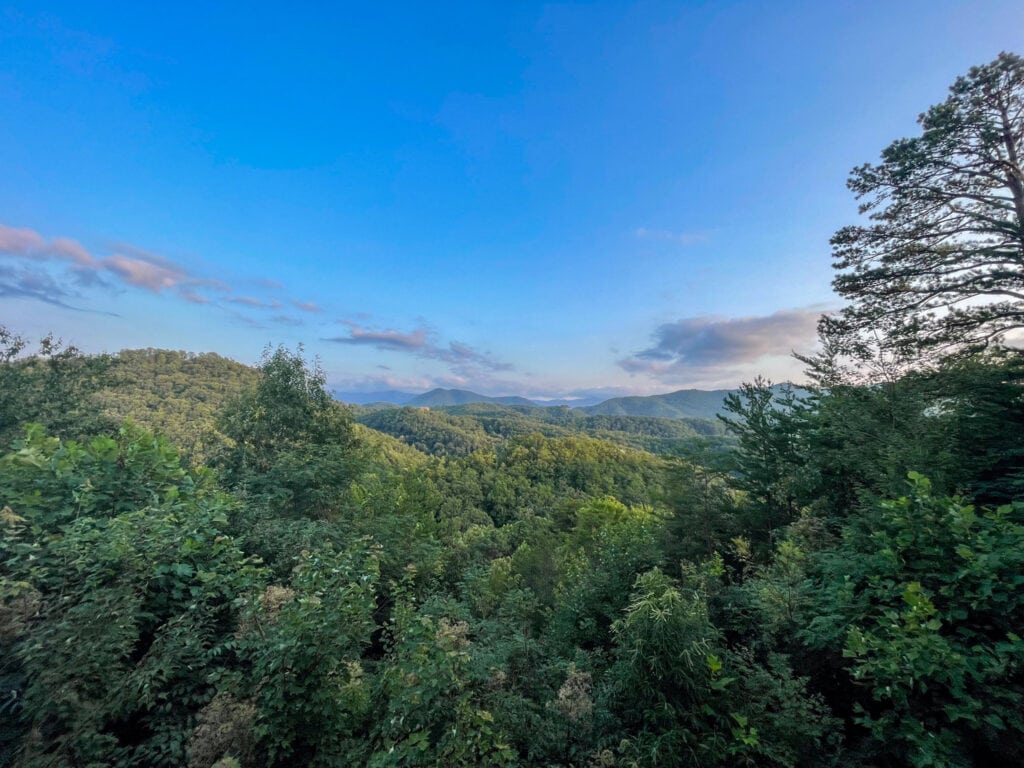 There are so many options of fun things to do in the area, but our kids have never been to a water park, so when we saw that Dollywood's Splash Country was still open on Saturdays and Sundays (through mid-September), we knew we wanted to take them.
We last visited Dollywood in the fall for their Harvest Festival, which was such a delight. I love Dollywood for it's cleanliness, downhome feel, and relaxed vibe. I was pleasantly surprised that Splash Country followed suit, especially with the cleanliness! It was a fun and laid back way to enjoy a day with the family.
We arrived to a fairly empty parking lot just before opening time at 10:00 AM. We breezed through the entry and set our towels and waters on four chairs in the shade right next to the wave pool. Our kids had never experienced a wave pool, though they both love wave jumping in the ocean, so they immediately lit up and part of me wondered if we'd ever even leave that one spot.
I managed to lure them away by telling them our friends recommended we head straight to the water coaster, River Rush, as the line tends to get longer as the day goes on. We waited for less than 5 minutes to hop into the four person tube. K was extremely nervous and it was probably too much of an adventure to begin her on, but it was a fantastic ride, complete with both ups and downs, just like a rollercoaster, but on a water slide!
We all disembarked laughing, except for K who later would tell us she enjoyed it (kids, man…), but at the time was shaken up by the adrenaline. So we eased up from there, taking our time as we made our way over to the other rides.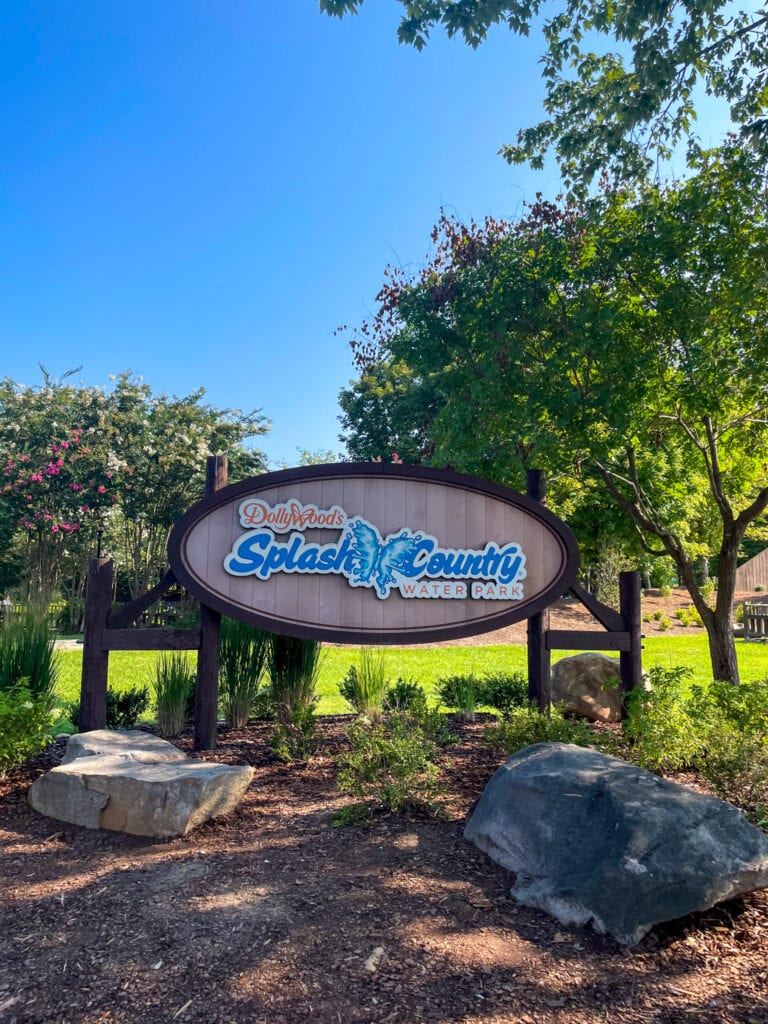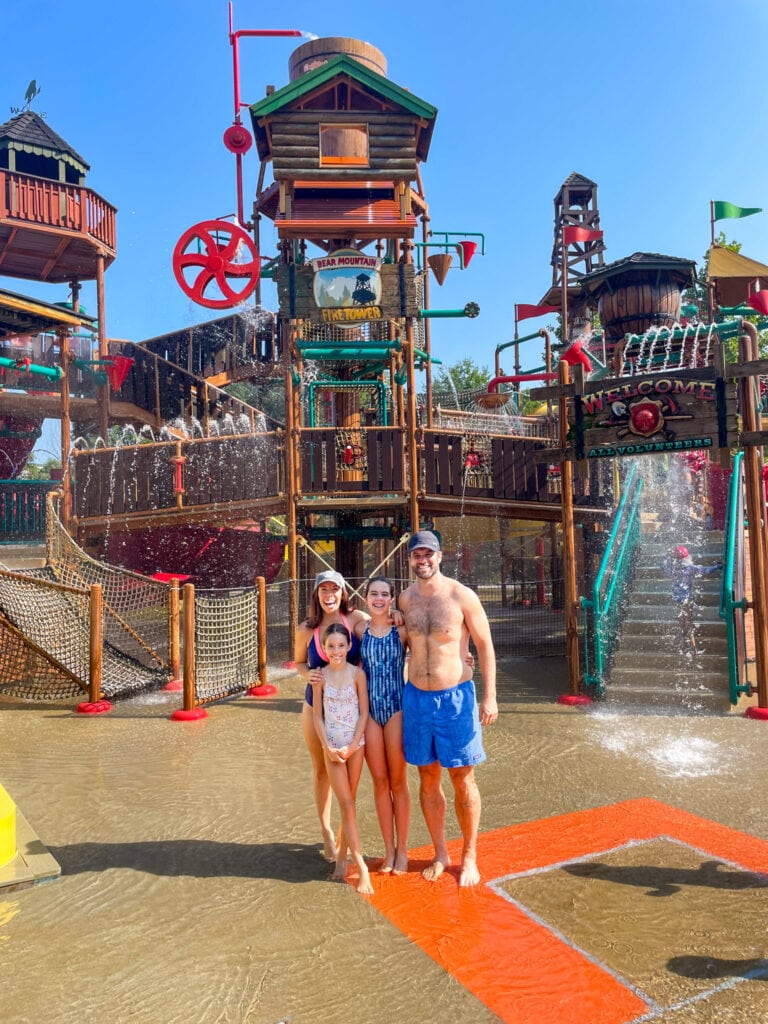 I loved the size of Splash Country. I felt confident we could cover all the rides we wanted to within the allotted hours without the need to buy a fast pass/line skipper. The longest ride we waited in was 30 minutes, but many of the rides we waited for less than 10 minutes. There is a large variety of options, from the lazy river and wave pool for more relaxed play, to tube rides through tunnels and around twists and turns, to rides where we could race each other going head first on water mats.
We enjoyed a lot of the tube and mat rides, riding most of them multiple times. When the kids wanted to spend time on the giant splash play structure, David and I took the opportunity to ride the most thrilling ride, Fire Tower Falls, which feels like a direct vertical drop. I thought someone was going to have to push me down the slide because my hands were shaking so much at the top, but it ended up being great fun!
We ordered burgers and chicken sandwiches to fuel us mid-day; and maybe we were just hungry, but they were surprisingly decent. After lunch we rode a few more rides and raced multiple times down the water mat slides that had no line at all. By the time we headed out of the park around 3:30, we were water-logged and happy that we had fit so many rides into our day. What a fun way to send off summer!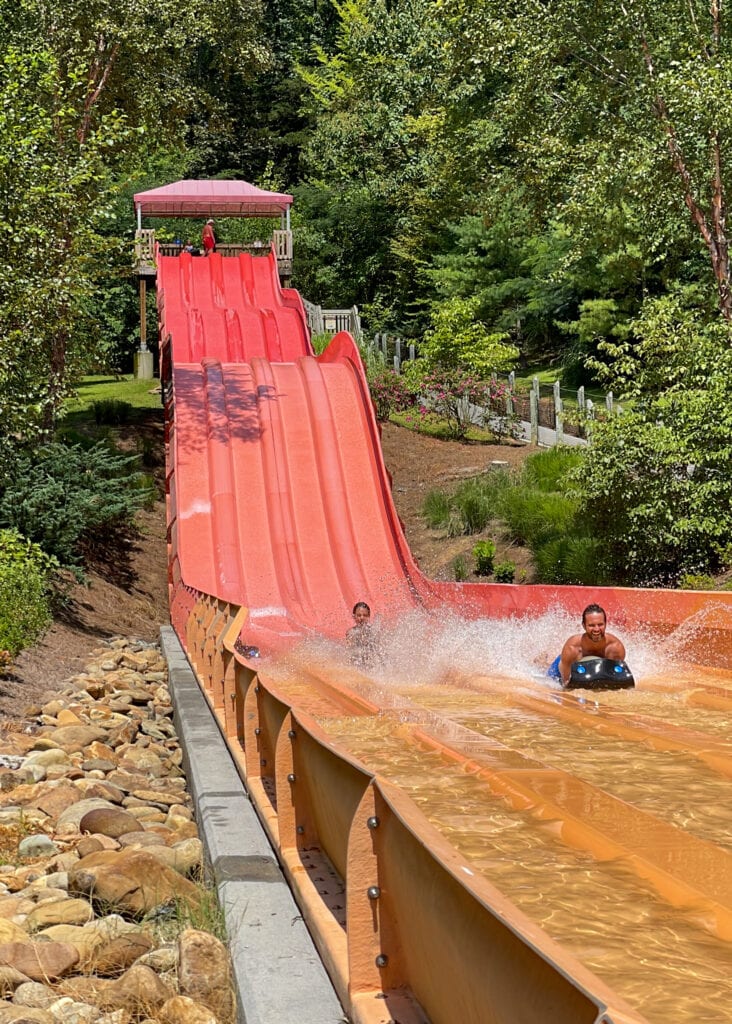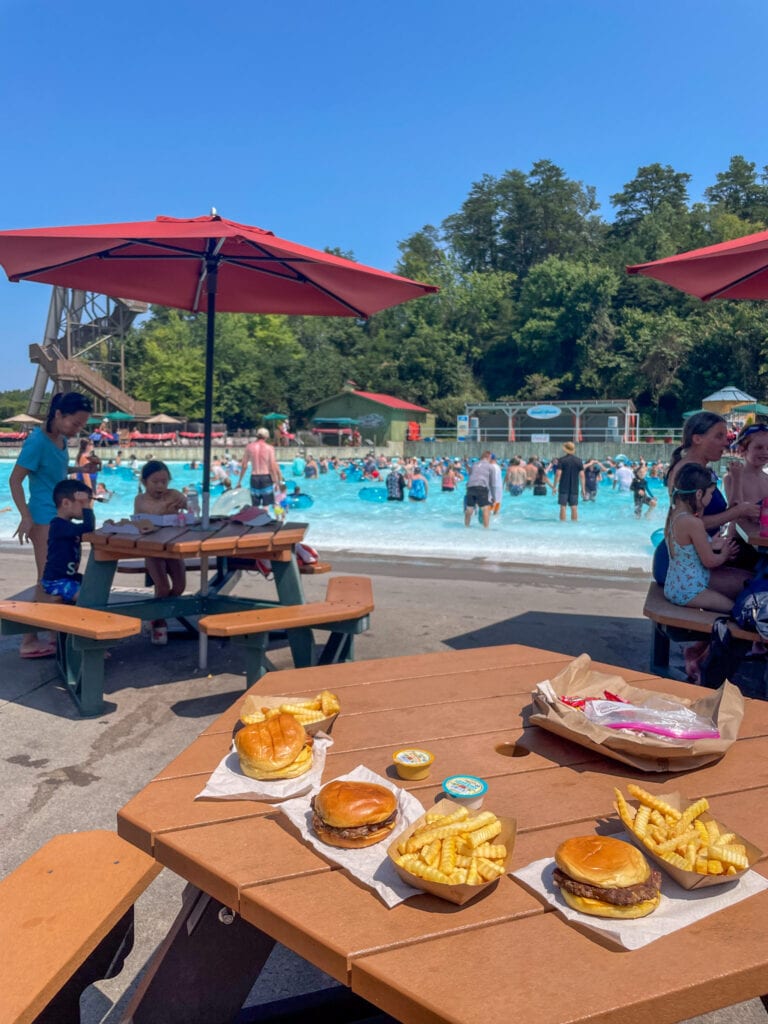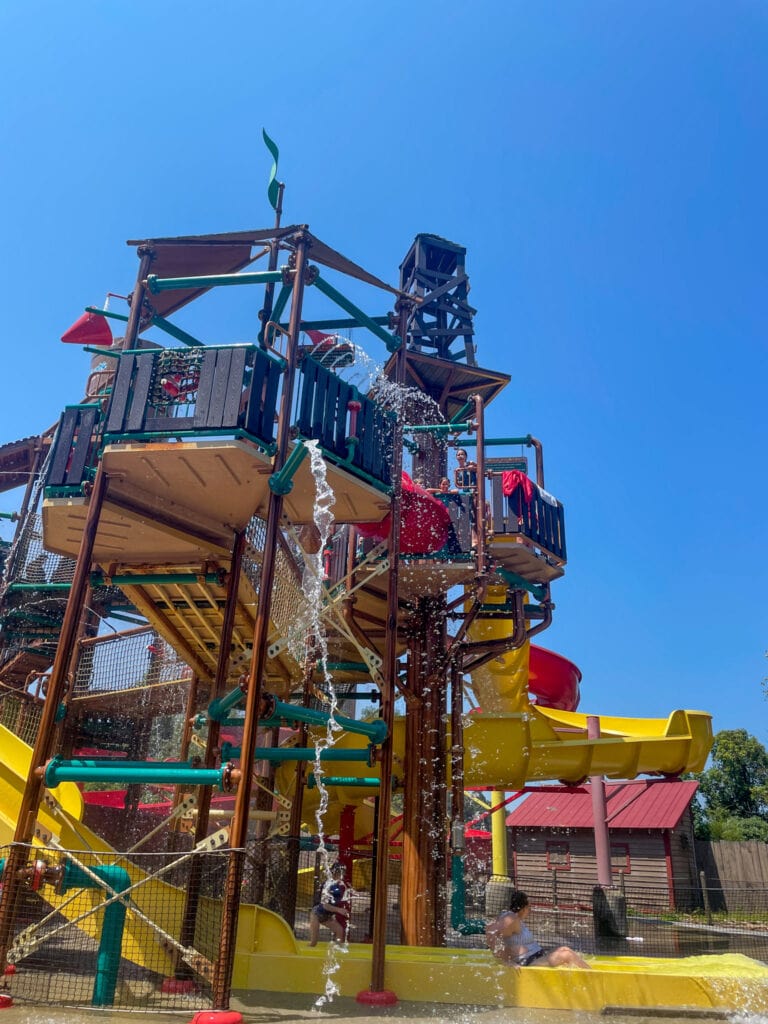 Back at the cabin we all showered, then headed over to try a new spot we had heard of in Townsend, Peaceful Side Social. It's a family-friendly spot with a large outdoor area, an attached creamery, and delicious food offerings (from both the inside menu of snacks, woodfired pizzas, and entrees to the outside taco truck with chips, dips, and tacos).
There were a bunch of kids running around, playing cornhole and toddling on the grassy hill playground. We enjoyed both our food and the homemade ice cream from their attached creamery. Townsend is such a peaceful side of the smokies and I am always grateful when we get to spend some time there.
After dinner we returned to the cabin for an epic ping pong tournament and some shuffle board. We watched a black bear wander by, which was a treat! We see them quite often on our cameras, but seeing one in person is always exciting.
It definitely was a full day of summer fun, which helped balance out nicely the next morning when we assembled Adirondack chairs, changed lightbulbs, fixed the dishwasher, dusted fans, and other housekeeping items. And by the next evening, we were back home- a quick but enjoyable getaway to the beautiful mountains of east Tennessee!